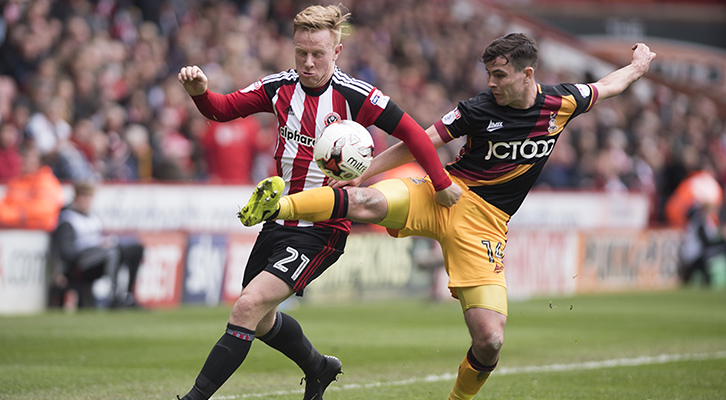 Josh Cullen is relishing tackling the Sky Bet League One play-offs over the next few weeks
Cullen won four Player of the Season awards at Bradford City's awards dinner on Monday
The midfielder also praised his fellow U23 Hammers as they qualified for the Premier League 2 play-offs
Josh Cullen is excited at the prospect of potentially helping Bradford City achieve promotion to the Sky Bet Championship via the play-offs in the coming weeks.
The Bantams have secured their spot in the top six and await confirmation of their play-off opponents after the final regular round of fixtures, which take place on Sunday.
Cullen, whose form for the Yorkshire side saw him win four Player of the Year awards on Monday night, says he's looking forward to the atmosphere generated by the play-off games and potential trip to Wembley.
"These are the games you want to play in," he said. "The play-off atmosphere is special and these are very exciting times for everyone at the club.
"It didn't work out for us last season but we've had a brilliant year and we go into the play-offs with confidence.
"Obviously you don't want to look too far ahead. We have two very tough games and every team in the play-offs deserves to be there.
The play-off atmosphere is special and these are very exciting times for everyone at the club

Josh Cullen
"But getting to Wembley, as a player, is what you dream of. You don't know how many times it will happen in your career but when it does happen you want to give it your all and have no regrets."
Cullen emulated fellow Hammer Reece Burke by becoming a multiple winner at Bradford's Player of the Season awards on Monday.
The 21-year-old midfielder won four awards, including Social Media Player of the Year and the JCT600 Player's Player of the Year.
"It's a great honour for me. To go as a loan player to pick up four awards is a very nice feeling. It's a good personal achievement," added Cullen.
"Reece Burke did really well here last season so I suppose we're keeping up the reputation of young players coming through at West Ham."
Cullen also had his say on West Ham United PL2 qualifying for the Premier League 2 Division 2 play-offs on Monday, after beating West Bromwich Albion 4-0.
The midfielder helped the U21s win the Premier League Cup last season and believes his teammates can go all the way and achieve promotion.
"It's been good to see the lads doing so well. I've made sure to keep a close eye on it. We've had a lot of players out on loan in the second half of the season and it's great that the younger players have stepped up and done so well."