After playing a starring role in the launch video for West Ham United's Season Ticket renewal campaign recently, brothers Alfie and Oliver Cranfield no doubt had a spring in their step as they headed into school to share the experience with their class-mates.
However, it wasn't only their Hammers-supporting friends who were suitably wowed by the pair's screen debut, as revealed by dad James, who appears alongside Alfie, 11, and Oliver, six, in the video.    
"I picked Oliver up from school," said James, "and his teacher rushed over to tell me that she had been to the Leicester match with her kids and suddenly saw Oliver's face on the big screen!
"She was so excited and of course Oliver was proud that the whole class got to hear about it.   
"Then one of Alfie's mates called him and said he'd seen him on a screen near the station, which obviously made his day, so the whole thing has been great for them. 
"They absolutely loved being involved in the video," added James. "We sat down together to watch it and they thought it was fantastic, pointing out all the scenes they were included in and getting really excited.
"For the boys, it's an unforgettable experience and I'm so pleased that we got the chance to take part in something like this for the club that we support and follow." 
James, Alfie and Oliver, from Collier Row in Essex, feature in several scenes, from the boys kicking a ball around in their garden, to enjoying some pre-match fayre at London Stadium and belting out Bubbles at the top of their voices during the game.
"That's pretty much how it goes for us," said James. "The boys are always out in the garden playing football, although I was probably a bit calmer for the video – normally I'll be shouting at them to hurry up and get ready to leave!
"And if you ask the boys about our matchday routine, they'll say that we leave home then have to come rushing back because dad has left the Season Ticket cards on the side in the kitchen!
"But after that we follow the same routine, get to the ground, have a hot dog and a drink, then go to our seats to soak up the atmosphere and get ready for the game.
"I think for a lot of people that matchday routine and build-up is as big a part of the day as the football – and in years to come hopefully the boys will remember that side of it with real affection."
James has been able to take full advantage of West Ham United's commitment to affordable family football at London Stadium, enjoying every match with Alfie and Oliver together this season – something that may not have been possible before the move to our new home.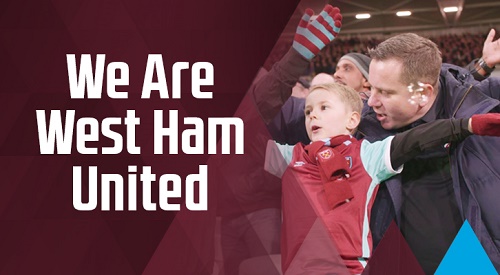 "I think it's fantastic that the club are doing everything they can to help families," he said.
"I've renewed our Season Tickets already because I just think it is great value. The kids' seats are still only £99, which works out at just over £5 a match. It costs more than that to watch non-league football now!
"I'm also impressed that the club have frozen the renewal prices. I think a few people thought that they might go up after the first season, so I can't fault anything that West Ham have done to allow families and youngsters to watch matches.
"I'm happy with where we are in the stadium, the boys have got to know everyone around us and really enjoy it, and we've had some great experiences so far.
"Our seats are down in the corner of the West Stand, next to the Bobby Moore lower, where Manuel Lanzini jumped in after scoring the last goal when we beat Crystal Palace in Janury.
"And Oliver doesn't stop going on about it now – he loves telling people about the day Lanzini jumped into the crowd right next to us!"
Reflecting on West Ham's inaugural season at London Stadium so far, James conceded that things haven't been plain sailing but summed up perfectly what drives his love of the claret and blue. 
"This season was always going to be tough," he said. "Especially on the back of the last year at the Boleyn, which was such an unbelievable campaign that almost had a touch of magic to it.
"Now we are in a brand new stadium with new surroundings, and it takes time to get used to. It's a learning curve for everyone, but one thing West Ham fans have always been famous for is rising to the occasion when times are tough.
"The Payet situation earlier in the year proved that, and for me it's all about that special and unique emotion of being a West Ham fan that means so much.  
"That feeling when you're singing Bubbles and the hairs on your arms stand up – there's nothing like it, and for my two boys to have fallen in love with it in the same way I did is all I could ask for."