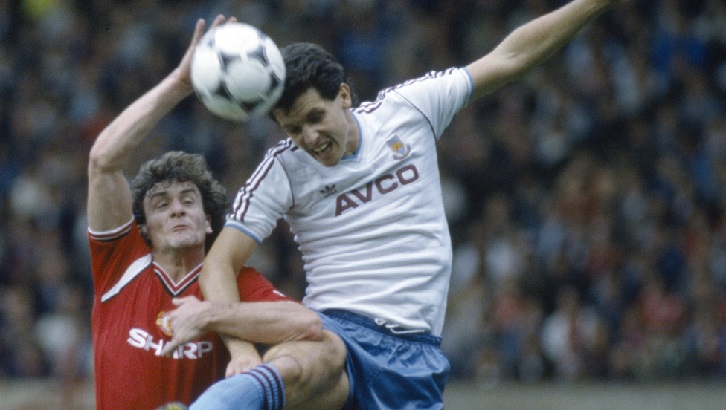 Former defender Tony Gale played 368 times for West Ham United between 1984 and 1994, scoring seven goals and helping the Hammers finish a record-high third in Division One in 1986.
The defender, who also played for Fulham and won the Premier League title with Blackburn Rovers, is now a popular pundit and commentator for Sky Sports, Premier League Productions and NBC.
Here, he looks ahead to Saturday's visit to Stoke City…
Hello everyone,
I'm looking forward to seeing how my old team West Ham United go against a Stoke City side managed by a player who gave me some really tough assignments as a player.
During his time with Manchester United, Mark Hughes was a top, top striker.
Sparky was probably one of the most difficult players I've played against, backing into you, trying to feel you, rolling you and he was also one of the best volleyers of the ball I've seen in football.
I have a lot of admiration for him as a manager as well, particularly the work he has done at clubs like Fulham and Blackburn and now onto Stoke, because not only does he get results, but he gets results playing good football.
His staff at Stoke, Eddie Neidzweicki and Mark Bowen, are friends of mine and altogether, they work well as a team and have had another good season.
What their Chairman Peter Coates wanted was a transformation and a change in style, which was the most difficult thing and was perhaps a little unfair on Tony Pulis, who established them as a Premier League team.
In establishing that style, he has had to sign a few flair players and he's got the likes of Marko Arnautovic and Xherdan Shaqiri who have come into the team, which has made it a bit easier.
I have a lot of admiration for Mark Hughes as a manager as well, particularly the work he has done at clubs like Fulham and Blackburn and now onto Stoke

Tony Gale
Defensively, they play the ball out from the back now, even players like Ryan Shawcross, and you find the central defenders splitting wide on the edge of the area and they play through midfield.
They're a good team to watch and every time I do a commentary on them I think 'Lucky me' because I think they're a team who are good to the eye.
I think they've taken their foot off the pedal after they got to a position of reasonable safety in the Premier League, and it's a case of a team easing off.
I spoke to a couple of the boys up there and they've been having a bit of stick off the crowd, so hopefully we can use that for us, that maybe they are under a little bit of pressure. I don't see why the crowd are moaning, though.
Everyone was saying before the game that we'd settle for a point because Everton were the form team, but I think it's fair to say that we played well and we did what we had to do.
Sometimes you don't go out there and entertain and you can't always play teams off the pitch, you've got to work out how to stop them.
Romelu Lukaku didn't have a shot on goal, Ross Barkley was anonymous and our players did their jobs. If any team was going to win the game, it was going to be us. We were the better team.
Let's hope the same thing happens on Saturday, although I'm sure my old adversary Sparky Hughes will have something to say about that!
Galey