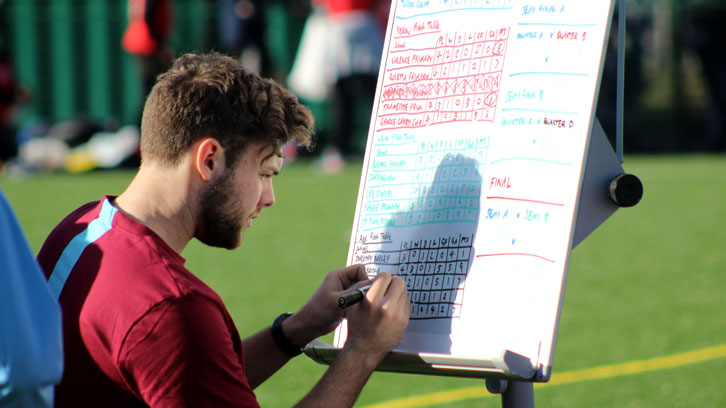 West Ham United Foundation and the Football Association are pleased to announce that they will be delivering three FA Primary Teachers Award courses free of charge to all practicing or aspiring primary school teachers across east London and Essex during the 2017 summer term.
This course gives applicants ideas for lessons using games based around movement skills for 5–11 year olds and the basic principles of invasion games. The tutors show how differentiation and assessment for learning can be embedded in PE lessons and also give guidance to those teachers who might run a school team.
Throughout the course, the tutors will also explain the importance of high quality PE in schools in order to develop confidence, self-esteem and belief amongst children and also the benefits of PE in raising academic achievement across other school subjects.
Candidates will gain a resource booklet and a recognised qualification on completion.
At the end of the course the learner will:
Have a greater awareness of the contribution of invasion games have to KS1 & 2 PE purpose of study
Understand The FA's playing and coaching philosophy (England DNA)
Understand how to set up an organised football activity session
Understand how to organise basic FUNdamental games to help develop Physical Literacy
Have an understanding of how to modify practices to manage difference
Understand how to set up 4v4 games for young players
Have an understanding of how to further their knowledge and understanding of association football through attending relevant courses
Dates and Venues
Monday June 26th 2017 - West Ham United Foundation - 60a Albatross Close, Off Woolwich Manor Way, Beckton, E6 5NX  
Thursday 29th June  - Emerson Park Academy - Wych Elm Rd, Hornchurch, Essex, RM11 3AD 
Thursday 13th July - Woodlands School – Woodlands Approach, Off Nether Mayne, Basildon, SS165BA
Time: 9am until 3pm (arrival from 8.45am)
Cost: Free of charge
Tutors: Creag Lawrence (The FA) & Lead full time staff from West Ham United Foundation
Other info: Come prepared for some low-key practical activity.  Please bring a packed lunch.
If you are interested in attending the course, please contact Ross Williams – [email protected]
The deadline for applications is Monday 12 June 2017.