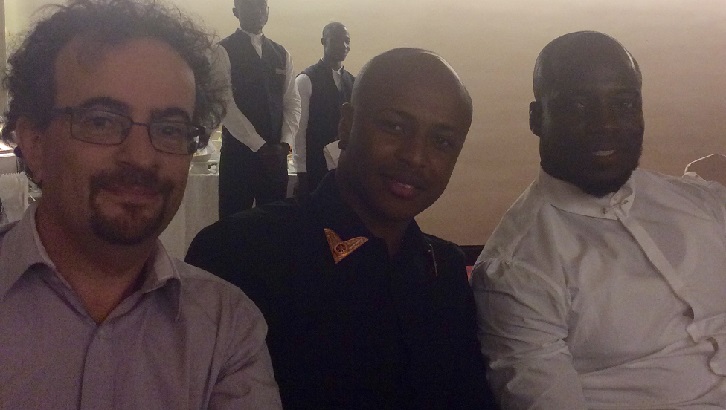 British High Commissioner to Ghana Jon Benjamin is spreading the West Ham Way throughout Andre Ayew's homeland...
Jon Benjamin has appeared on whufc.com before, back in 2013 when he was British Ambassador to Chile and tracked down Javier Margas in the capital, Santiago.
The following year, Benjamin swapped countries to become British High Commissioner to Ghana and non-resident Ambassador to neighbouring Togo, Benin and Burkina Faso.
He finishes there at the end of June to return to the Foreign Office in London for a three-year home posting – which means he will finally get to see his beloved Hammers play in their new London Stadium home.
"I have supported West Ham all my life, given my family's East End origins, first watching games at Upton Park in the early 1970s," he began. "I particularly remember a 4-3 win over Everton in 1974 and was at our FA Cup final win over Arsenal in 1980. Back then, my favourites were of course Brooking, Bonds and Devonshire."
Subsequently, he was a loyal Season Ticket Holder, at least whenever on a home posting in London. That has not been that often though, as a 31-year Foreign Office career has so far taken him to Australia, Indonesia, Turkey and the United States (New York), as well as to Chile and now Ghana as ambassador.
He is not the only Hammer amongst the senior ranks of the Foreign Office though: Tom Fletcher, former Ambassador to Lebanon and Mark Lyall Grant, a previous Ambassador to the US and now the Prime Minister's National Security Adviser are big West Ham fans too.
"In Ghana, I oversee a High Commission of nearly 200 staff, of whom about 75 per cent are Ghanaians, representing 12 different departments of Her Majesty's Government," he explained. "My tasks include overseeing bilateral political, trade, aid, cultural, defence, law enforcement and immigration relations, and a lot of media work.
"I am also in touch with the UK's vibrant Ghanaian community too:  there are at least a quarter of a million Brits who claim Ghanaian heritage, including the actor Idris Elba, the fashion designer Ozwald Boateng, TV personality June Sarpong and footballer Danny Welbeck."
I have supported West Ham all my life, given my family's East End origins, first watching games at Upton Park in the early 1970s

Jon Benjamin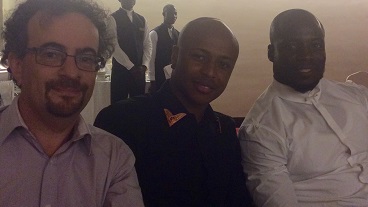 The high commissioner also knows the four Ghanaians currently playing in the Premier League Daniel Amartey at Leicester City, Jeffrey Schlupp at Palace, Jordan Ayew who recently joined Swansea and, of course, our very own Andre Ayew.
In Accra, Jon often sees Jordan and Andre's Dad – Abedi 'Pele' Ayew, who in his own right is perhaps Ghana's most famous player ever in his home country. Benjamin is also in touch with John Paintsil, another Ghana-West Ham connection of course.  
"Ghana is a football mad nation which follows the Premier League closely with virtually every game live on cable TV – which often means several games on simultaneously" he continued. "Yes, that's right, you can catch virtually every West Ham game live from a sofa on Accra!
"I've become good friends with some of Ghana's best-known national team players, such as Asamoah Gyan, and already knew Andre Ayew well before he joined the Hammers. When he did, some Ghanaians even thought I had personally brokered the deal!
"On one trip back to Ghana last year, Andre brought Ashley Fletcher with him on a Betway promotional trip, and I was fortunate enough to catch up with them for dinner with legendary former captain of Ghana's national team, Stephen Appiah. "
Benjamin's influence during his three years in west Africa have also included the launch of a twitter account dedicated to Hammers fans in Ghana, which you can follow now at @GhHammers.
You can also follow Jon Benjamin's personal account on twitter at @JonBenjamin19.
Keep your eyes peeled to whufc.com for more stories about some of the people who make West Ham United much more than just a football club.
#WeAreWestHam