Terry Westley lauded his young U23s as they sealed their place in the Premier League 2 play-offs
The youngsters were terrific in a 4-0 away victory at West Browmich Albion
With Blackburn Rovers only managing a draw against Aston Villa, West Ham finished fifth and will take on Wolves in the play-off semi-final
"It was some performance," claimed Terry Westley as his young Hammers confirmed their place in the Premier League 2 play-offs with an emphatic 4-0 thrashing of West Bromwich Albion on Monday.
The U23s travelled to the Hawthorns knowing results elsewhere had to go their way in order to finish in the league's top five, even if they were to beat the Baggies.
And beat them they did in style, with goals from Dan Kemp, Martin Samuelsen – who bagged a brace – and Nathan Holland finding the back of the net in the perfect away performance.
With Blackburn Rovers only managing a goalless draw against Aston Villa, the Hammers celebrated qualification to the play-offs with a semi-final tie at Wolverhampton Wanderers to follow.
Naturally, Westley was delighted with the outcome of the evening and praised his team for a complete display.
He said: "It could have been our last game tonight, and we wanted to really play well. We wanted to see evidence of all the work that's been done over the last three years, and that culminated in a brilliant win away from home and also qualification [for the play-offs] with Blackburn and Villa drawing. We got both things we wished for.
"Tonight, all credit to the players because it was some performance. We started right on the front foot. The front four really caused their back players problems. That was the difference.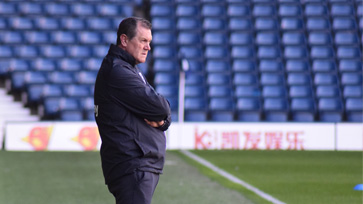 "If you do your money on good front players, they can open teams up and win you matches at any level. That was the standout.
"I read an article this week about Martin Samuelsen and confidence. People give players confidence, and you saw tonight what an absolutely outstanding talent we have on our hands.
"He's only 19 and we had too much for them. Let's not forget how talented some of our players really are."
And the age of the starting XI was something Westley was keen to point out, having fielded an extremely young side.
"Our left-back [debutant Reece Hannam] was U16, the two centre-halves are U18, [Dan] Kempy is U18. [Joe] Powelly and Jahmal [Hector-Ingram] are U18 players. We are still very young in this league and the style and the philosophy of how we played tonight was the real thing for me.
"I couldn't be happier with the way we played and that culminating in the play-offs. Now we go up to Wolves in a very tough match because I think they finished second, so it will be tough for us, but I think we will keep trying to play the way we played tonight."