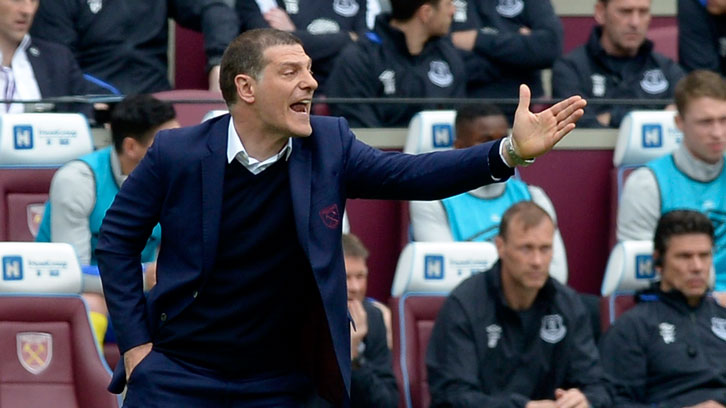 Slaven Bilic is keen for his West Ham United side to build on their run of five points from their last three Premier League games as the 2016/17 finishing line comes into sight.
After picking up a useful point against Europe-chasing Everton on Saturday, the Hammers moved ever closer to the first target of 40 points - but the boss is still aiming higher with the top half of the table within reach.
Next up is a trip to Stoke City, with Bilic aiming to add a cutting edge to the solidity shown against the Toffees.
He said: "Maybe 38 points will be enough, but maybe not. For every team, every game is going to be extremely hard to win because almost every team is fighting for something.
"You don't want to go into the last couple of games or the last game with the radio on, wanting to know what the score is there and there.
"We want to avoid that and, to be comfortable, we need a few more points. We want it, not only to avoid [that situation] but also to climb up the table. Still we can finish really high if we win a few games.
"We need to approach every match game-by-game and try and win it. Or at least don't lose it. Then, move on to the next one and try and try.
"I'm not talking about only about keeping the distance, but also about climbing the table.
"Ronald [Koeman] said after the game, and he's very honest and straight, that only one team played today and only one team deserved to win. That was us.
"We were better than them on Saturday, they are not happy with their performance. If they played like that [regularly] they wouldn't be where they are.
"Part of the reason why they played like that was us. You can't say that they were a team without motivation to play for something. They are not middle of the table and waiting for the season to finish, but we were on top of them and aggressive."