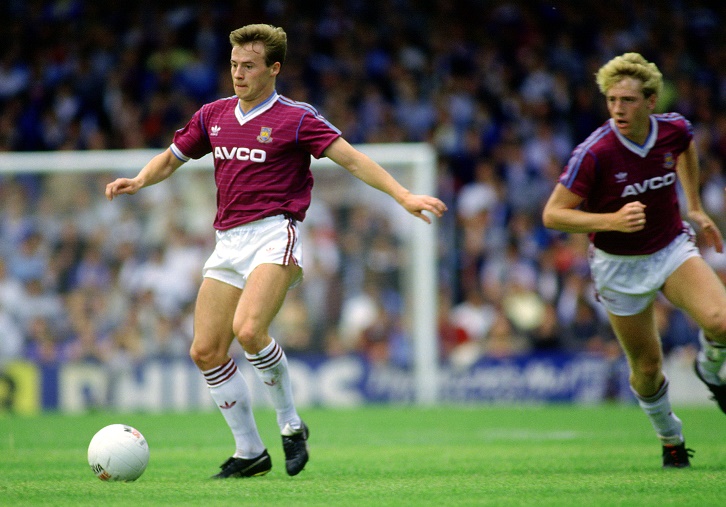 As someone who enjoyed a successful career with both West Ham and Everton, Mark Ward truly knows what it means to be Claret and Blue.
Born in Prescot, Merseyside in October 1962, the winger joined his boyhood heroes Everton as a schoolboy but was left devastated when the club released him in his first year as a professional for being too small.
He battled back to forge a career at Oldham Athletic, before John Lyall paid £250,000 to bring him to West Ham in the summer of 1985. 'Wardy' became an instant fan favourite at Upton Park thanks to his pace, skill and fully-committed approach, and played a key role in the record-breaking 1985-86 campaign, when Hammers reached their highest-ever league finish.
Despite remaining one of the club's most consistent performers over the next three years, Mark suffered the pain of relegation and the departure of Lyall in 1989 and, after falling out with his successor Lou Macari, joined Manchester City in December 1989 after 165 appearances for the Hammers.
In 1991, his career came full circle when he signed for Everton for £1m and finally achieved his dream of playing at Goodison Park. After three successful years with his boyhood heroes, he joined Birmingham City and then had further spells with Huddersfield and Leigh RMI before hanging up his boots...
It will be a very tough game for West Ham given the amount of injuries and suspensions Slaven has.
Thankfully, though, they have picked up those four points from their last two games that have pushed them into a relatively safe position, and hopefully they will approach this one feeling more relaxed and confident. I've seen a lot of West Ham this season and it obviously hasn't gone as well as everyone hoped, especially after such a fantastic campaign last year. It's a shame that they haven't been able to build on that, and there are probably lots of reasons why, but the main thing now is that they make sure of their Premier League status - which I believe they have already done - and look forward to next season. I've got a lot of respect for Slaven and the chairmen, who I know from my time at Birmingham, and I know how much they all want success for West Ham.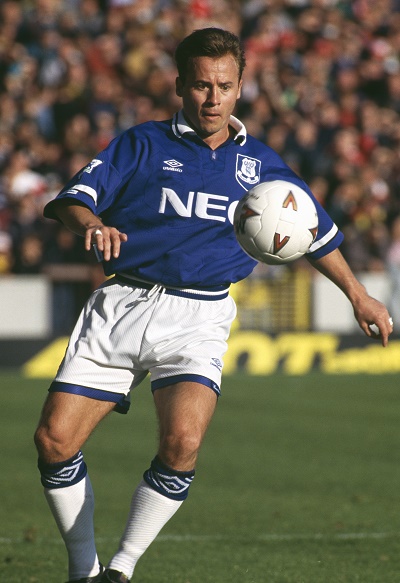 Everton are in great form at the moment and Romelu Lukaku will no doubt be looking forward to the game.
His record against West Ham is phenomenal - I think it's nine games in a row he has scored against them. Sometimes as a player you just have those certain teams that you just seem to play well against and it almost becomes psychological. I remember mine was Sheffield United - I always seemed to score against them or have a brilliant game. I wouldn't say Lukaku is unplayable but on his day he is a very difficult opponent, and West Ham's central defenders will need to be on top of their game against him. There are obviously suggestions that Winston Reid will be back from injury and that would be great news for Slaven, because he has been one of the more consistent performers, and James Collins has also played very well lately.
In some ways, you can compare West Ham's season to what happened to us after 1985-86.
We obviously had an exceptional season, that no-one really saw coming, but it became far more difficult for us the following year. Basically, teams sussed us out, and took us a lot more seriously. The tactics towards us changed, and then we suffered injuries to some key players, which hadn't happened the previous year. Suddenly things can become difficult very quickly, and I think that has been the case for West Ham this season. They've lost vital players for long periods - including Payet altogether of course - and that is always going to have an impact. Mind you, it shows how much football has changed when you think that, after finishing third in 1985-86, we didn't make a single new signing that summer. Imagine a team finishing in the Champions League places now and not buying any new players!
A lot has been said about the new stadium and its effect on the team but, I've got to be honest, I don't really buy into that.
A game of football is a pitch and two goals, and that doesn't change whether you are playing at London Stadium, Goodison Park, Anfield or Hackney Marshes! As a player, that was my philosophy, it didn't matter where I was playing. There have been a number of reasons for West Ham's struggles this season, but I don't think the stadium is one of them, and it certainly can't be used as an excuse going into next season and the season after. At the end of the day, it is a fantastic arena, with 57,000 fans packed in, and we've seen at times how special it can be. I know I'd love to be playing there!
I actually watched the video highlights of the '85-86 season recently and, I have to say, how good were we!
I was staying with a great friend of mine, Mick Tobyn, while working down here, and his son Danny put it on. I'd just got in, I was knackered and just wanted to jump in the shower, but I sat down and started watching it, and I had to watch it to the end! I had never really looked back on it, and it made me realise how special that team was. It was fantastic to be a part of, and I will always treasure those memories.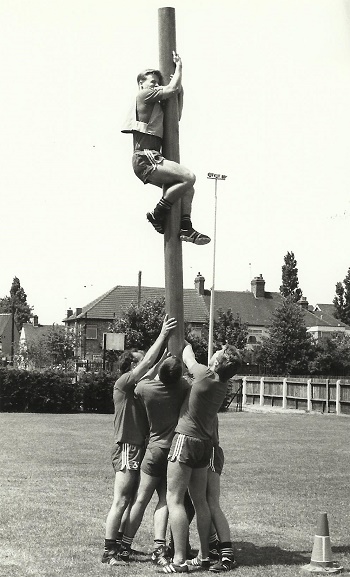 I can say for sure now that I would never have left West Ham in 1989 if John Lyall or Billy Bonds had been in charge.
I had a personality clash with Lou Macari and, basically, I felt that man wasn't good enough to manage the club I loved. I didn't like the way he wanted us to play - for him to say that I couldn't collect the ball from Phil Parkes throwing it out was ridiculous. With the players we had in our side, yet he wanted Parkesy to kick it long. And Parkesy couldn't kick it anyway because his knees were dodgy! In hindsight, perhaps I should have been a bit more patient, because it was a bit of a kick in the teeth to see Macari go and Bonzo take over just a couple of months after I left. That was the story of my career, though. I left Everton in 1994 under Mike Walker, and just a few months later my old boss at Oldham Joe Royle came in and took them to FA Cup glory that season!
West Ham will always have a piece of my heart but I think everyone knows that Everton is in my blood.
It was almost 10 years to the day between them letting me go for nothing and buying me back for a million pounds. I made my home debut at Goodison Park against the champions Arsenal, the long wait to pull on the blue shirt, coming out to the Z Cars theme. I'd taken a kick from Stuart Pearce the week before when we played away at Nottingham Forest, but I wouldn't go in for treatment in case the physio stopped me playing against Arsenal! I scored two goals in a 3-1 win, and I always say it was probably my greatest ever game of football. And although my departure from West Ham hadn't been very pleasant, I have to look back and say that it actually led to me achieving my boyhood dream.
I've worked hard to get my life back on track since coming out of prison in 2009.
I made a big mistake, and I paid the price for it, but I appreciate what I've got now and life is positive. In 2014, I got married to Michelle, who has made me very happy, and we are about to set up a small floristry business in Liverpool, which we hope will be successful. I do some work on the after-dinner speaking circuit, and I've also set up a successful West Ham pre-match event that takes place at the East Ham Working Men's Club at Upton Park before Saturday home games. The idea came from something similar that happens in a pub near Everton, and so far it has been a great success. We have a former player come in for every event, and lay on buses afterwards to take everyone over to London Stadium. It's great for me personally to stay involved, and to still have that bond with West Ham fans that I cherish so dearly.