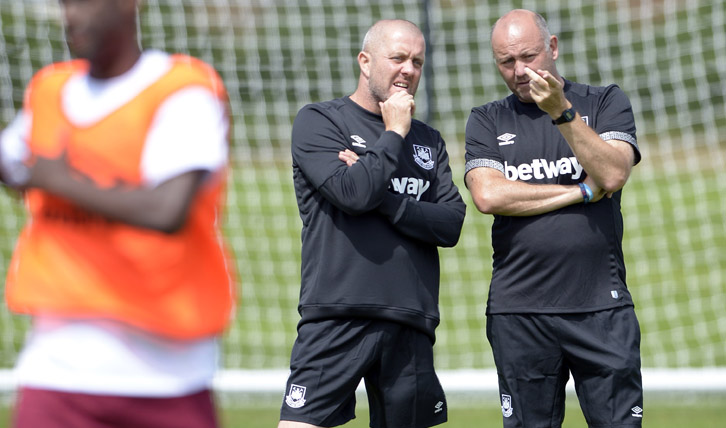 West Ham United U18s travel to Manchester United tomorrow (1pm)
The Hammers haven't played a competitive fixture for three weeks 
Mark Phillips thinks his players are looking forward to the final few tests of the season
Mark Phillips believes his U18s are relishing their final few fixtures which see them take on some of the biggest teams in the Academy scene.
The Hammers take on Manchester United today (1pm) at the Aon Training Complex after a long three-week break from competitive action.
With three games left to play this season, assistant boss Phillips hopes his team can end another terrific season on a positive note.
"It's a game that all the boys are looking forward to," he said. "We're not sure what we're up against but the lads are relishing it. "
"It will be a bit of a balancing act with the U23s who have a really important game on Monday night, which they have to win. So, we don't know what personnel we'll have at this stage."
It's a game that all the boys are looking forward to. We're not sure what we're up against but the lads are relishing it.

Mark Phillips
The Hammers last played against Liverpool three weeks ago, and despite going behind with a few minutes to play, they deservedly hit back in the dying embers to snatch a point.
Steve Potts's men started on the front foot from the first whistle and went close when Jahmal Hector-Ingram forced the keeper into action from a tight angle.
The Hammers emerged from the interval with the same intensity and missed a terrific chance to take a deserved lead. Hector-Ingram returned the favour for Anthony Scully who shot over from point blank range.
Against the run of play though, Liverpool snatched the lead with just minutes to go. A mix-up in the Hammers defence allowed Okera Simmonds to slot home from the edge of the box.
But the Hammers got their just rewards in injury time. Hector-Ingram was brought down by the Liverpool keeper and up stepped Joe Powell to fire home the penalty and give the visitors a deserved point.
"If you look at the chances we had, we had numerous occasions where we should have scored," Phillips continued. "On chances created, we definitely should have taken more than a point.
"It was a long six hour coach journey. To get off the coach, have little time to warm-up and then play a competitive game of football is testament to the boys.
"We were very pleased with their performance. It was up there with one of our best performances of the season against good opposition."
Phillips now hopes the tasks coming up will spur his young players on to finish the season well.
"We had a friendly recently against Barnet which was a worthwhile exercise and a good, competitive game.
"You won't get three bigger games than Manchester United, Manchester City and Arsenal. They're among the biggest teams in this country and that's an incentive for us to keep going till the end of the season.
Kick-off between West Ham United U18s and Manchester United is at 1pm on Saturday at the Aon Training Complex.