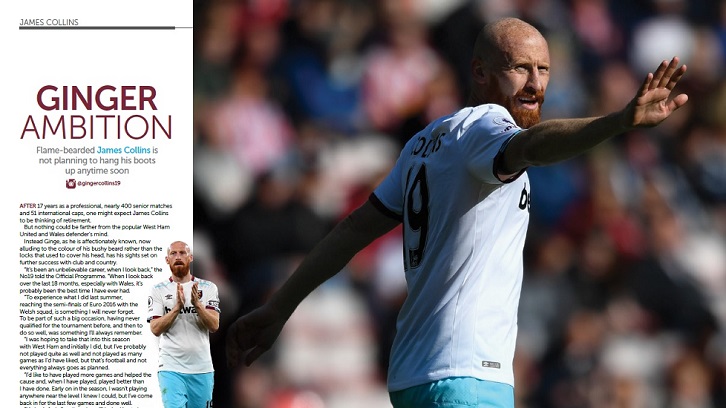 James Collins is relishing the challenge of facing in-form Everton striker Romelu Lukaku
Defender spoke to Saturday's Official Programme about the task of marking the Belgian
Issue also includes interviews with Alvin Martin, David Cross and Blues-supporting boxer Tony Bellew
James Collins will need to use all his experience when faced with the challenge of the Premier League's best centre forward on Saturday afternoon.
Powerful, fast and clinical, Everton's Romelu Lukaku has a league-leading 24 goals to his name, while he has also netted nine in eleven career appearances against the Hammers.
The Welshman has played against Lukaku six times in and Everton shirt and the Belgium international has scored in all six of them. Of those six games, the Toffees have won all four in the Premier League, with the Hammers securing a draw before progressing in a thrilling FA Cup third-round replay in January 2015.
The defender admits neither Lukaku nor Everton are his favourite opponents, so he is eager to end the 23-year-old's record of having scored on all nine appearances for the Blues against the Hammers.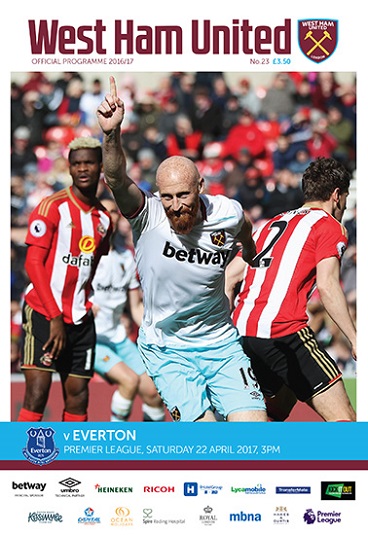 "I've played against loads of centre forwards in my time who are deadly in the box, and we will have to be on our toes as every team you play against these days seems to have a striker who is capable of scoring 20-plus goals a season, so in that respect it's no different than any other game," Collins told Saturday's Official Programme, when asked about the challenge of marking Everton's No10.
"Of course, Lukaku has got a good record against us, and we probably haven't defended as well against him as we could have done in games gone by.
"Physically, he has got everything, he is big, strong and he can finish so it's going to be a tough game. He's obviously on top of his game, but I'm happy with the way I'm playing at the minute, so I'm looking forward to pitting my wits against one of the best strikers in the Premier League.
"It's going to be a tough afternoon for all of us at the back, but I'm pretty happy with my form at the moment and I'm looking forward to a good challenge."
Saturday's issue is packed full of exclusive content, including columns penned by Joint-Chairman David Gold, manager Slaven Bilic and captain Mark Noble.
Also inside, fans can enjoy Ian 'Moose' Abrahams' interview with Everton-mad boxer Tony 'Bomber' Bellew, Ken Dyer's discussion with 1980 FA Cup hero David Cross and a revealing chat with Liverpool-born Hammers great Alvin Martin.
With the complete lowdown on Saturday's visitors Everton, the Official Programme is the essential guide to your London Stadium matchday. At just £3.50 for 100 action-packed pages, it's great value too!

Grab your copy in and around London Stadium on Saturday, from the Stadium Store, or order online now.