Stopping Romelu Lukaku at London Stadium will be crucial if West Ham United are to get a result on Saturday, says Slaven Bilic
The boss believes the Belgian is currently one of Europe's top scorers
Lukaku has scored in his last nine consecutive matches against the Hammers
Stopping in-form Everton striker Romelu Lukaku will be vital if West Ham United are to beat the Toffees at London Stadium on Saturday, according manager Slaven Bilic.
The Belgian has been a constant thorn in the side for the Hammers over a number of years, having scored in nine consecutive games against the Claret and Blues, including the opener in October's Goodison Park meeting between the two sides.
And Lukaku, with eight goals in his last eight Premier League games, will be the main danger for the hosts' defence to worry about once again on Saturday, believes Bilic.
The boss said: "It's a job for our defenders [to stop Lukaku], but not only the defenders, to stop him. In some games we've played against them, our defenders were really good against him but last time he scored a goal.
"He is an individual and he can do you harm. It's about the teamwork though and we have to stop the service. The more you stop the service, the less likely he will hurt you.
"You try to get him out of these positions he's really good in. We have to stop the service and when it does come, to get close to him and double up on him.
"Lukaku is really good. He's also consistent for his age. People forget how young he is because he's been on the radar for a long time. He's been scoring goals since he went on loan from Chelsea and every season at Everton.
"He's been getting better and better and that's why he's been linked with a lot of big, big clubs."
Still only 23-years-of-age, Lukaku has already scored 81 Premier League goals in less than 200 appearances and has been on the top of his game this side of Christmas.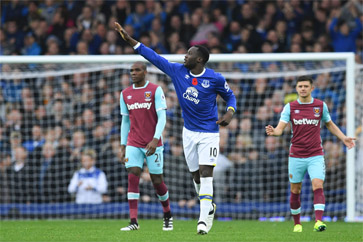 And despite transfer speculation surrounding the Belgian ahead of the summer window, Bilic thinks Everton have shown great ambition to keep hold of their sough-after talent so far.
"Everton have done a really great job to keep him and they've showed with that how big and ambitious they are," he continued.
"I rate him really, really high like most people do, and for me he's definitely one of the best strikers not only in the Premier League but in general in Europe.
"Sometimes it does not have to mean you are not ambitious if you have to sell a player. OK, they sold John Stones, but with that money they bought Yannick Bolasie, Idrissa Gueye and Ashley Williams; it doesn't mean you're not ambitious."
Currently sitting seventh in the league table, Everton have had a successful first season under Ronald Koeman and Bilic believes the Dutchman has built a strong team, meaning Lukaku is not the only danger.
"They are a very confident team now, especially at home where they broke that record with all the wins. Last year with Roberto Martinez they were very good up-front and offensively but they were a bit unlucky and also they were vulnerable at the back, not only with a back-four or back-three but as a unit.
"They've now kept that offensive part of their game really well, but they are much more solid. Espeically in midfield, they have legs, aggression and energy with the players they have got.
"With Tom Davies, Ronald Koeman showed he had guts to put him in to play, he's 18."