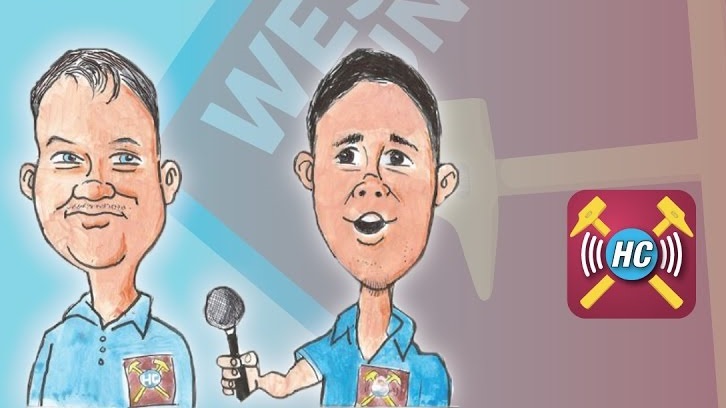 Aberdeen-based Geo Mackie and Berkshire plumber Gonzo have enjoyed three years helping Hammers Chat from all over the world...
The wonders of the internet and social media mean West Ham United fans from all over the world can connect with one another instantly.
Two members of the Claret and Blue Army who have taken full advantage of the new-found ease of communication are Aberdeen-born Geo Mackie and Berkshire-based Gonzo – otherwise known as the pair behind the popular YouTube channel and online forum Hammers Chat.
With nearly 5,000 subscribers, Hammers Chat provides news, views, previews and vlogs by supporters, for supporters, around every first-team match and other major announcement and event affecting the Hammers.
The duo also sit down, albeit hundreds of miles apart in their respective homes, to record the their weekly, hour-long, Cup of Tea with Geo and Gonzo show, in which the two Season Ticket Holders discuss matters in depth.
In addition, Hammers Chat have also expanded their offering onto the water, with pre-match boat parties held just a short distance from London Stadium on the canals criss-crossing Queen Elizabeth Olympic Park ahead of every home game.
So, who are Geo and Gonzo? And what led to two fans living in different countries to join forces?
"My old man is a West Ham fan and it wasn't really an option for me," Geo began, explaining why a man who lives 400 miles from London Stadium, and makes a 12-hour bus journey to and from every home match, is a Hammer. "It was just part of my upbringing and I never knew any different.
"At school, myself and my younger brother were surrounded by Manchester United fans, with the occasional Liverpool one thrown in."
At 43, nearly two decades older than Geo, Gonzo's love affair with the Hammers dates back more than 30 years.
"I have been going to West Ham since 1983 where my first ever game was a 10-0 win against Bury in the League Cup," explained Gonzo, who is a 43-year-old married father-of-four and runs his own plumbing business when he is not cheering on his heroes.
"I founded Hammers Chat as a forum in 2014 and Geo joined shortly afterwards and he used to produce a weekly betting blog for the website. It was his idea to branch out and start a YouTube channel which was great fun. I'd never have done it without him so I made him partner in Hammers Chat and we've not looked back since."
The pair's big breakthrough came in 2015, when they published a vlog showing the route from the Boleyn Ground to London Stadium, which was seen by Joint-Chairman David Sullivan.
"It was basically myself and Geo fooling around but people seemed to like it!" Gonzo recalled.
I founded Hammers Chat as a forum in 2014 and Geo joined shortly afterwards and he used to produce a weekly betting blog for the website

Gonzo
Geo, who picked compatriot Christian Dailly's 2005 Play-Off semi-final goal as his favourite West Ham moment alongside the Final Game at the Boleyn Ground, admitted he was unsure how his Scottish accent would be received by his fellow Hammers.
"I was a bit 'iffy' as my accent doesn't exactly fit, but I had a chat with Gonzo and we decided that we had been winging it since day one, so why not continue to do so!" he recalled.
"I have tried to embrace the fact that I am not local and that there are thousands like me dotted all around the globe, so I tried to come up with a concept which would allow people to get involved, no matter where they are from or what their accent sounds like!"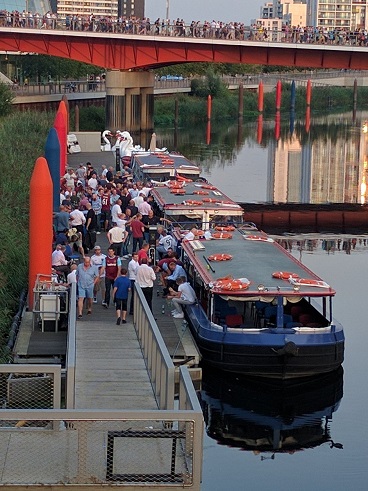 While Geo and Gonzo, who sit together in Block 229, continue to attract thousands of viewers to their YouTube content, their matchday boat parties have caught the imagination of fans seeking a different experience on their visits to Queen Elizabeth Olympic Park.
"I met a few members of the forum last season and thought it would be a good idea to have a one-off boat trip around London Stadium so members could meet one other," Geo explained. "They had digital friendships, but I thought if I could give them an opportunity to meet one other, it would be worth doing.
"A conversation or two later with the boat operators and we had agreed to host fans before every home game on the canal from then on and I am very pleased to say they have been a success!
"I cannot thank everyone that has attended enough for giving it a try and those who come back are the reason it has worked and will do next season too!"
Three years on from the formation of Hammers Chat, the venture is proving to be a great success, but Geo admits the pair have no real idea where the concept will take them in the future.
"We don't really have an aim for the channel, as such, just to keep trying to bring something which connects Hammers and to continue to allow fans from around the world to have their say on a passion we all have in common, West Ham United," he said.
"We will keep trying new things and if it works, great, if not, we go again. We have a complete new series coming to the channel soon and all West Ham fans are invited to get involved in and hopefully it will inject a bit of fun into the channel.
"What else are we planning? We are not 100 per cent sure yet, because we don't know ourselves, that's the joy of winging it!"
You can join Hammers chat online here and start following on Twitter @hammers_chat.