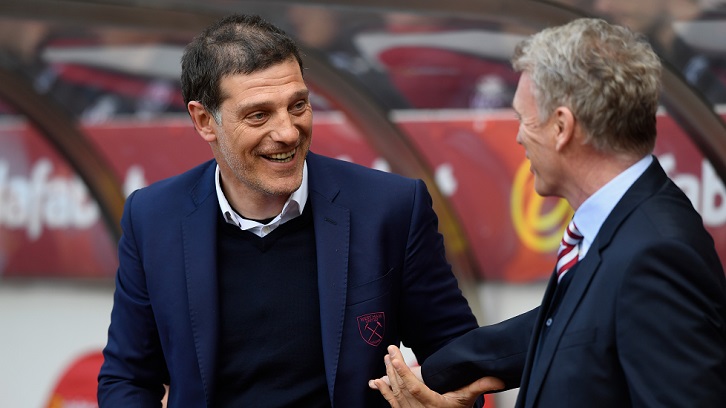 Slaven Bilic says West Ham United are looking to finish the season strongly after picking up four points from their last two Premier League matches.
The Hammers host in-form Everton at London Stadium on Saturday, having beaten Swansea City and drawn with Sunderland, and Bilic is expecting the Toffees to provide a sticky test.
The manager also revealed that Winston Reid will be fit to face Ronald Koeman's side and responded to speculation about Diafra Sakho.
Slaven, you have taken four points from the last two matches and are now on 37, but will that be enough to keep you in the Premier League?
"I don't know if we have enough points to keep us safe, but we have five games to play and I think that we still need points, because we don't want a situation where we are waiting for other results to go with us and wonder 'Is it going to be enough?'.
"The good thing is that we have four points from the last two games and have a bit of a cushion and also we have motivation because we are three points below mid-table, let's say it like that.
"It's also stupid to think that way, even if we were safe, because we can't think 'That may be enough' because we still need points."
Is it your aim to finish in the top half of the table?
"We are looking both ways. We can't be arrogant and say we are not interested in what is happening below us. We are pretty much in that situation, still, and we want to get out.
"We want to look above us, of course, but that is a theory because the only way we can get into the situation where we are only looking up is by winning games, so we need points, starting from Saturday against Everton.
"OK, these last two games made the situation for us a little bit easier, but there are still a lot of games to be played and 15 points to be decided. Some of the clubs have six games left, so of course we need points."
You have some good news about one of your most important players?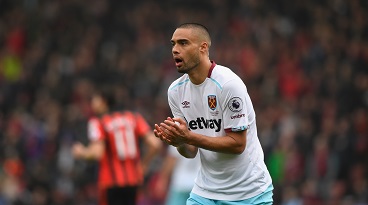 "Yes, Winston Reid is back. He's been training with the rehab and fitness coaches for a week now and they have done good work on his fitness, so he is back and trained with us on Tuesday.
"We know from before that he doesn't need many games to get his form good, so it's big for us of course because he's one of our major players, one of the senators, as I call them. It's a big boost for us for the remainder of the season.
"He is one of our best players of the season, so we are expecting him to make our defence more solid."
What can you tell us about the situation with Diafra Sakho not being involved at Sunderland at the weekend?
"It was in the 'papers that I had a row with Diaf, but no, there is no rift between us. I called Diaf on the day we travelled to Sunderland and asked him what was happening because he got injured and all that.
"He said 'I am only frustrated because I have a small injury but I hope to be back for the game against Everton' and we will see that. There was no argument whatsoever between us.
"I can say from my direct conversation with Diaf that it's not the case and it's not true what it said in the 'papers."
You said you need to kill teams off, as it has been a problem this season?
"Yes, in many games this season, in our last two away games for example at Hull and Sunderland, we scored early goals and were on top of them for 15-20 minutes, but we have to punish them.
"Against Swansea we won 1-0, but in the second half we created three or four chances and we really had to score goals.
"At Sunderland, especially when we scored our second goal and when a point was not good enough for them, so they were risking and throwing bodies up front, they were leaving space behind and we should have exploited that and used that to our advantage and killed the game off."
Next up on the fixture list is a home game with Everton. What sort of test are you expecting from them?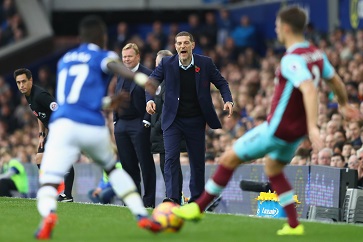 "Well, it's a very difficult game. They are playing well at the moment and are still fighting for one of those top six positions. They have done well and have improved a lot.
"But, you know, it is about us. Recently we are playing good at home. OK, we are in the position that we are but, in 2017, in all the games, it was only Manchester City twice and the second half against Arsenal away that you say they were better and they deserved to win.
"All the other games were like 50/50 and we had a chance to win any of those games. I'm talking Bournemouth and Hull away, Leicester, West Brom and Swansea at home, and now the game against Sunderland.
"OK, Everton are going to be tough, they are a good side, they have more than enough points and are highly motivated to finish as high as possible and all that, but we are very confident."
Finally, how important will the support of the Claret and Blue Army be at London Stadium this Saturday?
"They were very important for us during this season, not to mention last season when we made history and they were brilliant for us.
"We asked for them to support us against Swansea and they gave us a boost in energy for that 90 minutes to keep a clean sheet and produce a solid performance. Now, I'm sure they are going to be the same against Everton.
"Their backing has been very important for me personally because the most important thing about a Club is the fans. We are playing football for the fans and if there weren't fans, we wouldn't be speaking about football now."