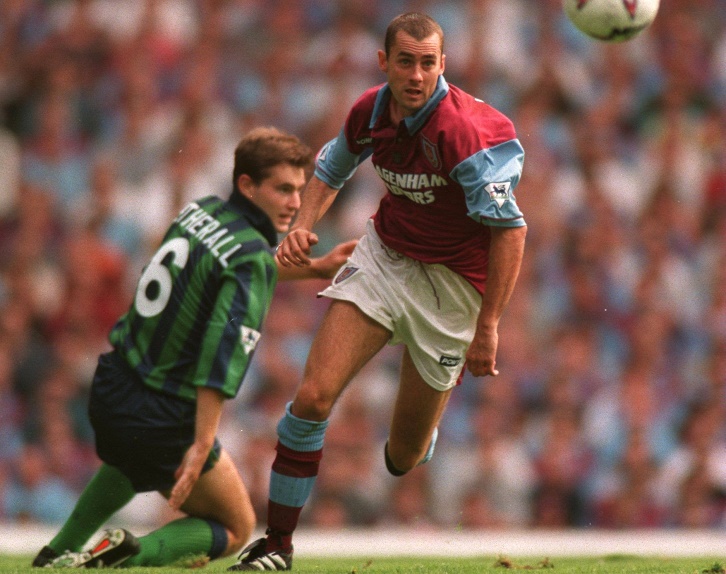 Don Hutchison still holds a special place in the heart of West Ham United fans, following two spells with the Club that will be remembered for some vital goals, a committed, attacking style of play, and a feisty character that endeared him to the supporters of every team he played for.  
Signed by Harry Redknapp for a club record £1.5million fee from Liverpool in August 1994, he scored 11 goals in 27 appearances in his first season, including a vital strike against Blackburn and two more against Liverpool as the Hammers narrowly avoided relegation.
Spells with Sheffield United and Everton were then followed by a successful season with Sunderland under Peter Reid, before Don returned to Upton Park in August 2001 for £5m, another club record fee.
Although a serious knee injury hampered his second spell, the former Scotland international retained his close affinity with Hammers fans and is still guaranteed a warm welcome whenever he visits London Stadium in his role as a successful media pundit, covering Premier League and Champions League football for a number of broadcasters. 
Here Don talks exclusively to whufc.com about his career with both West Ham and Sunderland...
West Ham can look forward to the trip to Sunderland in a positive mood.
I saw the relief on Slaven's face after beating Swansea last Saturday, and he has said this week that the players look more confident having secured that victory. It's been a tough season for the club, on and off the pitch, and Slaven has had a lot to deal with, but that win was huge. I never thought that West Ham would be in any danger this season, and at the same time I didn't think they would crack the top six either, so anywhere in and around the middle of the table in the Premier League should be seen as a decent season.
Slaven Bilic is the man to take West Ham forward, I've no doubt about that.
He has seen his squad decimated by injuries this season, and had the Dimitri Payet situation to contend with, but has stayed true to his methods and it's clear that his players are fully behind him. In my opinion, what Slaven tried to do at the start of the season was build a squad that could be fighting in three or four competitions. Europa League was one that West Ham were hoping to progress in, along with Premier League obviously, FA Cup and EFL Cup. Then they got knocked out of Europe by Astra and, when injuries struck, some of those squad players who perhaps had been signed to initially help out in the cup competitions were suddenly thrown in to the first XI sooner than expected, which shifted the balance and made it difficult for the manager.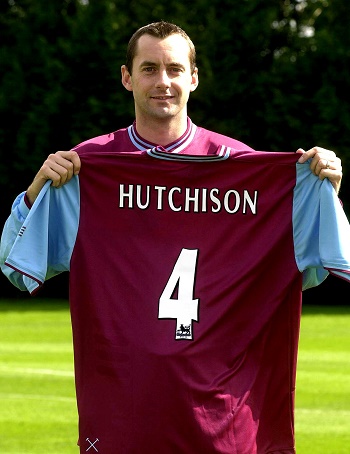 Slaven actually lived with me for a short time when he first joined West Ham in 1996.
He was staying at the Swallow Hotel in Waltham Abbey, and I was living fairly nearby in Emerson Park. We clicked straight away and I said 'Get out of the hotel and come and live with me'. So for a couple of months he stayed with me and we got on really well. He was a sociable guy and we had a good squad, the likes of Kenny Brown, Keith Rowland and Michael Hughes would all be round at mine quite regularly. Slaven was a bit different, he liked his rock music, but he was also one of the lads and everyone liked him.
I have great memories of my first spell at West Ham but I just didn't click with Harry Redknapp.
Harry and I were never the closest, and I still don't really know why that was. I spent many a night at his house down in Bournemouth, because of my friendship with Jamie from our Liverpool days, but I don't think I ever really matched up to what he wanted from me as a player. Harry was a coach who loved his players to keep possession and build an attack carefully, but I was the never the type who was going to play sideways or have a 95% pass completion rate. I would rather give the ball away 20 times trying to find Tony Cottee and the one time I do find him we win 1-0, he gets a goal and I get an assist. We'd have rows over it – Harry would tell me I needed to keep the ball more and I'd stand up for my philosophy of taking one or two risks to get us in good positions.
The most famous clash was the sandwich-throwing incident at Southampton in 1995.
I'd scored to put us ahead, then we had another attack with someone going down the left and I'm racing into the box to try and score another. Matt Le Tissier, being lazy, hadn't tracked me back, and the goalkeeper has caught the cross, thrown it to Le Tissier, and Southampton have gone down the other end and scored. Harry went ballistic, blaming me, and I've gone mad too, shouting 'F****** hell Harry, I'm trying to get us another goal!' The next thing I know, the tray of sandwiches have come flying straight over my head. And the funniest thing was John Moncur, being the joker he was, scrambling around at my feet, trying to rescue the sandwiches and eat them off the floor! Harry was screaming at him to get out of the way, and the whole thing became hilarious. Harry was good at arguments, but so was I and maybe that's why we clashed. But even though we had our moments, deep down I really like him, and maybe if I'd played for him later in my career, when I wasn't so young and brash, we might have got on better. 
I made friends for life during my time at West Ham. 
I played with some fantastic players – the likes of Alvin Martin, Ian Bishop, John Moncur, Tony Cottee Julian Dicks, and the dressing-room was excellent, we had real characters who looked after one another. Martin Allen was a complete one-off, I've never known anyone like him. Before every London derby, he used to buy a new suit from Oxfam – the most horrendous one possible, with loud, lairy shirt and  1970s kipper tie, just to get the lads laughing and relaxed before the match. We had some great times, though. To be honest we got away with murder back in the day, and we wouldn't have wanted Twitter or camera phones around then!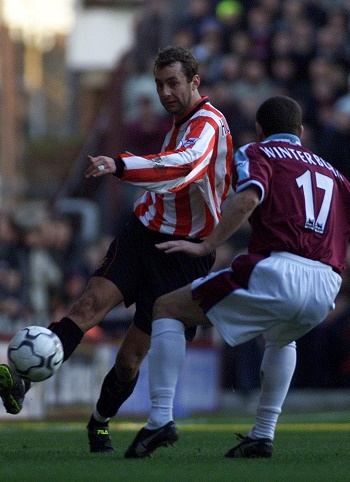 I had a great year with Sunderland in 2000-01 and loved my time there.
It was the first time I had played back near to home since leaving Hartlepool at 19, and it was probably my best year in terms of being fit and physically strong. I was playing under Peter Reid, who I adored and would run through brick walls for, and we were second in the table in January. We eventually came seventh but that Sunderland team should have finished in the top four. It was a fantastic side, with Kevin Phillips and Niall Quinn up front, Julio Arca out wide, Gavin McCann and Stefan Schwarz in midfield, Mickey Gray and Emerson Thom at the back and Thomas Sorensen in goal. Any every one of us loved playing for Reidy.
It was role reversal when I came back to West Ham for a second time the following year.
Having been a young player around more experienced guys the first time around, this time I was a senior player coming into what was a young side, with the likes of Joe Cole, Michael Carrick, Jermain Defoe and Glen Johnson. It was a good year generally, the team fnished seventh under Glenn Roeder, but personally it went sour for me when I ruptured my anterior cruciate ligament against Middlesbrough at Upton Park in February 2002. I can remember it like it was yesterday. The immediate thought was would I ever play again? John Green the physio was brilliant, he told me I would be out for eight or nine months, but that I would definitely be back. The rehab was long and hard, though, and the treatment room is a lonely place to be when you are out for that long.
It was tough watching a relegation battle from the sidelines the following season.
To be fair to Glenn, he wasn't the type to push a player aside if they were injured. In fact, he was the complete opposite, one of the nicest men I've met in football, but I nowhere near fit enough to be any help to him. You can't rush an ACL injury, it takes a long time, and then when I did come back it was right in the middle of a dogfight, when the team just needed to get some results. I spent a lot of time on the bench, making the odd appearance, and always tried to help my team-mates and make myself available, but it was a very difficult time.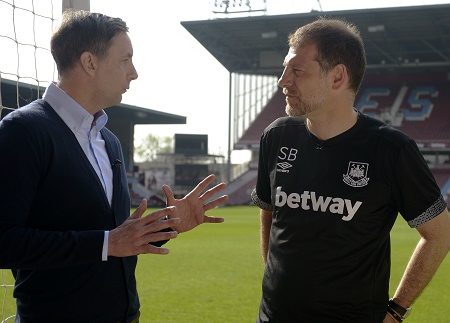 I'm glad that I left the club having seen them win promotion in 2005.
We'd lost in the play-off final to Crystal Palace  and it was a transitional period for the club, but I felt that I needed to give something back. I had a year left on my contract and it wasn't like I was going to go for big money or pick up big wages anywhere. My thought process was just to stay and try to help out in any way I could, having been out for a year through injury. I'd like to think that if you asked any of the young lads who were coming through at that time - people like Anton Ferdinand, Jobi McAnuff, Marlon Harewood, Nigel Reo-Coker - that I was a good guy to have around in the dressing-room, and that I was a good influence on them.
I've always had a good bond with West Ham fans and that means a lot to me.
I think they liked my personality and character, along with the fact that I scored some important goals and always put a shift in. I was a Geordie lad coming down to London, which was a big upheaval for me at the time, but I put everything I had into it, and I think people recognised that. As a former player, you'd like to look back on trophies and honours, but just as important to me is the fact that I can walk back into clubs like Everton, Sunderland and West Ham, get a good reception and people will say: 'Yeah, he did alright for us.'
I'm busy with the media work now, and really enjoying it.
I enjoy it because I love the game. I don't do it for the lifestyle or because it's a way to earn money, I do it because I genuinely love the game of football. And if I wasn't in TV work, I would be coaching or doing something else within the game. It's in my blood, I've loved it since I was a kid, and it's the best sport to be involved in. My son Max, who is 16, is playing for Bishop Stortford and doing quite well, so I support him as much as I can, and I have 10-month twin boys, Dougie and Fletch, so I've got all that to come with them also, and I can't wait. As soon as they are old enough, they will have a West Ham ball at their feet!