Slaven Bilic says confidence has returned after a 1-0 Premier League win over Swansea City
Victory lifted the Hammers eight points clear of the relegation zone with six matches remaining
Manager admits he is not surprised to see Saturday's opponents Sunderland struggling again
Slaven Bilic says confidence has come flooding back into his players after they ended a five-match losing run by beating Swansea City.
West Ham United had not won in seven games going into their Premier League meeting with the Swans at London Stadium, piling pressure on Bilic and his players to arrest their slide with a vital victory.
Thanks to a first clean sheet since January and Cheikhou Kouyate's fine goal, the Hammers got the win they craved and now travel to bottom club Sunderland arguably just three or four points away from securing their top-flight status.
"It's a big game for us," the manager confirmed. "We beat Swansea, which also a big, big game and now we're approaching the second one. Every game is big and Sunderland is in a situation that they are desperate for a win and that's why it's a big game for them, but also it's a big game for us.
"We are looking forward to that game to secure, or getting closer to securing our Premier League status.
"Every win gives you a boost, especially if you're doing it in such a big game as we had against Swansea, after five defeats in a row. Of course, the confidence is back.
"As I said before, belief is permanent and we never lost it, and the confidence comes and goes. Sometimes you lose it in the same game because you struggle in the first five or ten minutes, but belief never goes and it is a key factor and you can't lose it.
"That's the reason why we played so good. Now we have the confidence back, we have to build on that and not lose it again."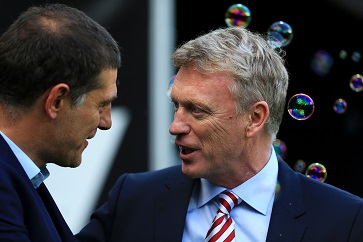 With home games to follow against Everton, Tottenham Hotspur and Liverpool, and away fixtures at Stoke City and Sunderland, Bilic wants his team to reach the 40-point mark as soon as possible, and they can get to 39 with another three at the Stadium of Light.
"Of course, that's what we want, but I have had a look at the schedules for all the clubs and most of them have similar schedules, playing two or three games against the clubs either near you or below you, and two or three games against the top six or seven clubs," he observed.
"We are in no different a situation and now we have the game against Sunderland is going to be extremely hard, like every game is, but it is an opportunity for us to come closer to safety and get some points."
When asked specifically about Sunderland, Bilic admitted he was not surprised to see them struggling again this season, seeing as the Black Cats have not reached 40 points in any of the last four Premier League seasons.
"Nobody expected in the beginning when David Moyes took over that they would suddenly be safe just because they appointed a big name and a great manager," he observed. "They already had big name managers, be they Big Sam or Dick Advocaat, who are massive names in the world of football, and they somehow managed to stay up, but in the last few seasons, sadly for them and unfortunately, it has become a common situation for them.
"They have a lot of the same players, so the majority of their players have been there before and somehow they have done it.
"I know David Moyes is a top manager. I mean, at Everton he made them come back again to the position they should have been with the size of the club and everything – the name of the club, Goodison and Evertonians and Toffees and all that – so he's brilliant, but the manager can only do as good as his set of players."