eSports
Hammers add Jamboo to eSports team
West Ham United add Jamie 'Jamboo' Rigden to the Club's eSports team
Twenty-year-old is currently Europe's No1-ranked FIFA17 player on xBox
Jamboo will represent the Hammers in competitions and events all over the world
West Ham United are pleased to announce the addition of Jamie 'Jamboo' Rigden to the Club's eSports team.
Jamboo, who is currently Europe's No1-ranked FIFA17 player on xBox, will represent the Hammers in competitions and events all over the world.
The 21-year-old told West Ham TV he is excited about the prospect of pulling on the famous Claret and Blue shirt.
"It's a really exciting time for me," confirmed Jamboo, whose YouTube channel has attracted more than 50,000 subscribers in just six months. "Anyone who knows me will know that this is a dream come true.
"I've put in a lot of hours to get to where I am today, so now I just can't wait to get started."
Jamboo has wasted little time in settling into his new role with the Hammers, taking on young fans at FIFA at the Junior Hammers Party this week.
Look out for plenty more opportunities to play against one of the best FIFA players in the world right here.
With eSports growing quicker than any other sport, Jamboo is looking forward to making the most of his big opportunity.
"About six months ago, I finished a four-year apprenticeship in business administration and decided to pursue a career in FIFA and it's obviously paid-off, so I'm just delighted!
"There is so much potential in eSports, as it's only just started being broadcast regularly on TV and things like that. There are lots of tournaments and prize money available too, so hopefully it all goes well."
West Ham is a massive club and clearly believes in the eSports vision as well, so I'm looking forward to working with them

Jamboo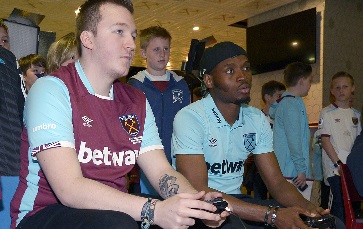 In three recent FUT (FIFA Ultimate Team) Champions Weekend Leagues, Jamboo, who you can follow on twitter @WHU_Jamboo, has compiled a perfect 40 wins out of 40 record.
Now, he is hoping to carry that form forward into his career as a Hammer and represent the Club at the FIFA 17 Ultimate Team Championship Series and the FIFA Interactive World Cup.
"I'm really looking forward to it," he confirmed. "West Ham is a massive club and clearly believes in the eSports vision as well, so I'm looking forward to working with them.
"I'm getting better every week and that's the third 40 out of 40 I've achieved in the last two months, so I feel like I'm improving all the time, so hopefully I can take that forward into tournaments.
"Every weekend you have 40 games to get as many wins as you can, and normally to get into the top hundred in the world you need to win 36, so to get 40 out of 40 needs a lot of consistency and is not easy!"
Jamboo will certainly embrace the West Ham Way, as he employs an All-Out Attack style when playing FIFA.
"I play high pressure, so the issue I occasionally have is that my defence is all over the place because I flood players into attack!" he smiled. "I mainly go to try to outscore the other team.
"My YouTube channel features FUT Champions gameplay content, so people can see how I play, and also revealing of the reward packs that I get from finishing.
"When I'm playing, I use Bobby Moore as he's very solid and good on the ball and at playing out from the back. 
He is just perfect for that and is a really good centre-back. Of the current players, Michail Antonio and Cheikhou Kouyate are good as they are big and strong."
Next up is the qualifying competition for the FIFA Interactive World Cup, and Jamboo is confident he can make his mark on the game's biggest global tournament.
"Obviously I've had a good few weeks, so if I can continue then hopefully I can make it to the World Cup in London!"
Jamie joining the team is another sign of West Ham United continuing their focus on digital innovation and look forward to delivering some fantastic content for our fans moving forward. 
West Ham United would like to thank Sean 'Dragonn' Allen for his efforts and wish him well in his future eSports career.