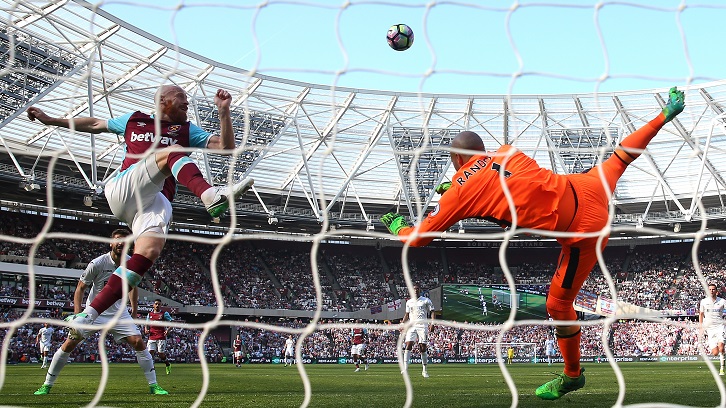 Emotional James Collins admits to feeling 'sheer relief' after Saturday's victory
West Ham United ended five-match winless run by defeating Swansea City
Wales defender made 12 clearances as Hammers kept first clean sheet in 12 games
James Collins admitted he dropped to his knees at the final whistle in 'sheer relief' after West Ham United's 1-0 Premier League win over Swansea City.
The Hammers went into Saturday's fixture on a run of five straight defeats and just five points above the Swans in the third relegation place, heaping pressure on the players and manager Slaven Bilic alike.
However, thanks in no small part to a colossal display from Collins himself, who made 12 of West Ham's 40 defensive clearances, the hosts secured three vital points at London Stadium.
"It was just sheer relief!" said the Wales international of his emotional full-time reaction "I'd been thinking about it all week and we knew how big this game was and obviously coming back into the team I wanted to do well and keep a clean sheet, so it was sheer relief.
"It's massive for this football club. We knew how big this game was beforehand and hopefully we've eased a bit of pressure. I've played in big games like this before and I wasn't nervous, but I did feel anticipation because you don't know what's going to happen.
"They were in a bad situation themselves so were probably as nervous as we were, so we knew if we got off to a good start and with the players we've got, and with a bit of fight and a bit of grit, we could get the three points and that's what we've got."
I'd been thinking about it all week and we knew how big this game was and obviously coming back into the team I wanted to do well and keep a clean sheet, so it was sheer relief

James Collins
Collins returned to the starting XI after a seven-week absence at Hull City on 1 April, and was devastated as the Hammers lost that game to a late set-piece goal.
Having also been defeated 3-0 at Arsenal in midweek, the 33-year-old was desperate to keep a first clean sheet in eleven matches against the Swans – and did just that thanks to a typically selfless performance.
"I don't know about enjoying it, but it was a massive win, a huge win," he said, when asked if he had relished the battle with Spain centre forward Fernando Llorente. "I think we could have probably been a bit more comfortable than we were in the last five minutes. But, as I said in the press beforehand, it didn't matter how we played and was all about getting a clean sheet and three points, and that's what we've done.
"A clean sheet should be the benchmark in any game, then with the boys we've got going forward, we should score goals, so to get a clean sheet and a win is huge for the football club."
The No19 was also determined to ease the pressure on Bilic, admitting the players had not performed well enough for their manager during a seven-match winless run dating back more than two months.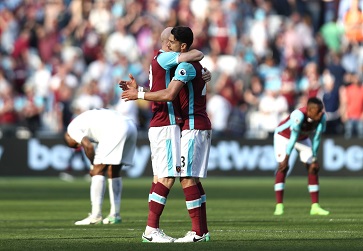 "I said before the game that it's a weird one because I don't see why in football the managers get so much stick sometimes when the players need to take responsibility," he observed. "I said that to the boys, you know.
"A lot of our boys have played in the Premier League for a long time so we needed to take responsibility, step up to the plate, perform and take a bit of pressure off the gaffer himself. Hopefully three points has done that.
"It is easy to hide behind the manager and I've been at clubs before where the manager has taken a lot of stick when the players aren't performing. Personally, I am big enough to come out and say maybe I haven't played well enough, and we needed to look at ourselves and hopefully we've done that.
"Everyone here loves the gaffer, he's such a great guy and a great coach and his staff with him, and we were disappointed with the stick he was getting when it was us on the pitch performing. We needed to go out, so to put in a really dogged and spirited performance for him was great."