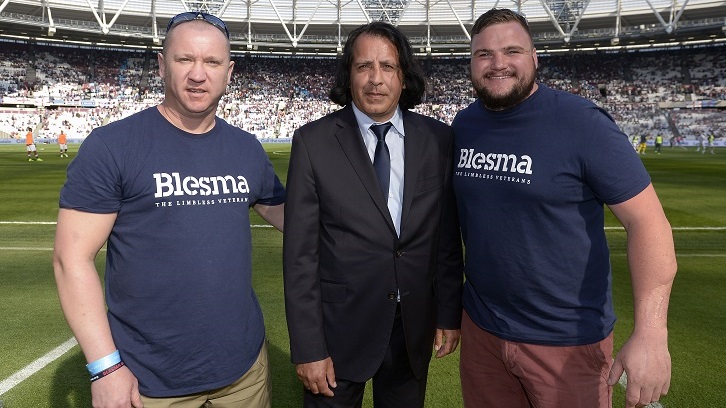 West Ham United welcome Blesma veterans to London Stadium for Awarness Match
Guests from the Limbless Veterans charity enjoyed Premier League win over Swansea City
Among those present was Hammers fan Matty Woollard, who lost his right leg in Afghanistan
West Ham United were honoured to welcome guests from Blesma, The Limbless Veterans charity at Saturday's fixture at London Stadium.
Based in Chadwell Heath near to the Hammers' historic training ground, Blesma is an Armed Forces charity supporting limbless veterans by providing rehabilitative activities, support, and some financial aid.
On Saturday, a number of veterans joined representatives from West Ham United Foundation at the 1-0 Premier League victory over Swansea City.
Among them was Hammers fan Matty Woollard, 28, who had his lower right leg amputated after being injured while serving with the Army in Afghanistan ten years ago. Despite the upheaval of having to learn how to walk and carry out ordinary daily activities all over again, Woollard, from Colchester, is not letting life get him down.
"I was on normal foot patrol in the early morning in Kajaki, Afghanistan, with the Royal Anglian Regiment and I stepped on a landmine, so I got burns to my upper limbs and I lost my right foot," recalled Woollard, pictured above with fellow veteran Stu Pearson and West Ham United Foundation's employability education manager Rashid Abba.
"It was a massive change to my life. It has been a case of learning to do everything again and adapting and adjusting in everything I do. I'm quite lucky in that I still have a lot of balance through my knee, so I'm quite lucky I just lost my foot, but I'm still learning to do everything again.
I've been a member of Blesma for ten years and a Hammer for 12 or 13, so it was great of the Club to pick us as one of their chosen charities for this season. I am at my favourite place and I was lucky enough to meet some of my favourite players, so of course I've still got a smile on my face!"
If there is anything you need, there is someone there who can help out

Blesma veteran Matty Woollard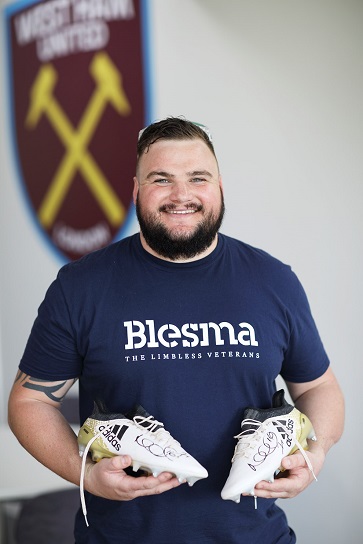 Woollard said the charity, which was formed as the British Limbless Ex-Servicemen's Association in 1932, do an amazing job in ensuring that limbless veterans are not failed, forgotten or left to fend for themselves.
"I've had a few dramas since losing my leg and Blesma have been there through and through," he confirmed. "If there is anything you need, there is someone there who can help out."
Blesma's work ranges from providing expert advice on state pensions and Armed Forces compensation, financial assistance whether a member needs a new wheelchair, stair lift or home/garden adaptations, and it works across the UK for those that have served in the armed forces.
The charity also runs a range of activities that give wounded veterans the confidence to rebuild their lives and regain independence. During 2016, Blesma helped 312 veterans in 42 rehab activities and made 1,620 welfare home visits.  
Blesma receives no government funding and relies on public donations to ensure that we can continue to carry out our work supporting veterans and their families to live with limb loss. You can help by texting 'WHAM86 £5' to 70070 to donate £5 to Blesma.
For more information on what the charity does or how to support us, please visit our website at www.blesma.org, call our Fundraising team on 020 8548 7087 or email them at [email protected].