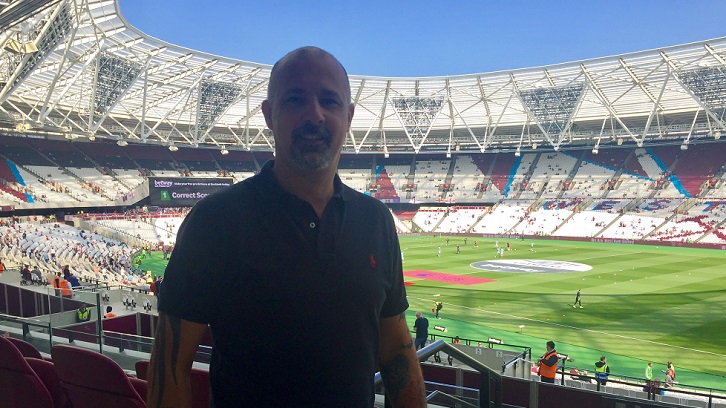 Wayne Cook enjoyed a day in Club London for the victory over Swansea City after winning a prize draw
Season Ticket Holder Wayne has already renewed his seat for 2017/18
Brentwood-based Hammer has supported the Club after meeting Julian Dicks as a youngster
West Ham United Season Ticket Holder Wayne Cook enjoyed a special day out at London Stadium after renewing his seat for 2017/18.
A Season Ticket at the Boleyn Ground, Cook became a Founder at the Hammers' new home in summer 2016, attending matches with his cousin.
Having taken advantage of the Club's decision to freeze Season Ticket prices for next season, Cook won a prize draw which rewarded him with Club London hospitality for Saturday's 1-0 Premier League win over Swansea City.
Instead of his regular seat in the Sir Trevor Brooking Stand, the Hammers fan from Brentwood in Essex enjoyed a pre-match meal in the Londoner Blue lounge, before taking his seat in the West Stand to watch Cheikhou Kouyate score a vital victory for his side.
"Believe it or not, I used to drink in a wine bar that was frequented by Julian Dicks, so I go to know him when I was younger and I followed West Ham from then on, really," revealed Cook, who rides a motorcycle to home matches. "I've been a Season Ticket Holder for the last four years, now.
"It's like being part of a family really, that's what it feels like, because everyone just gets on and makes you feel comfortable.
"I go to matches with my cousin Lisa, who travels with me and sits next to me. I spent my first season as a Season Ticket Holder going on my own, but now she comes along with after getting her first Season Ticket this season."
I renewed early because I just wanted to make sure I kept my Season Ticket and could keep coming to matches and supporting my team

Season Ticket Holder Wayne Cook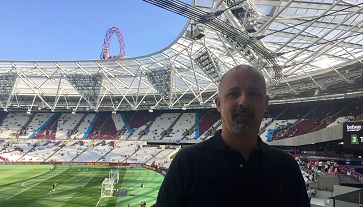 Cook names Dicks and Paolo Di Canio as his favourite Hammers of all-time, having grown up in an era when the two cult heroes were rocking the Boleyn Ground.
Now, he enjoys watching the current side in action and is hoping new heroes emerge at London Stadium.
"I have enjoyed our first season at London Stadium," he confirmed. "Obviously you cannot compare it to Upton Park, because the two are completely different, and it's going to take some time to bed in, but if we all stick together and enjoy it, it'll be fine.
"I renewed early because I just wanted to make sure I kept my Season Ticket and could keep coming to matches and supporting my team.
"I sit with new people here compared to Upton Park and we have a good chat every game. I am planning to stay there at the moment and maybe I'll move in the future and try a different part of the ground. I'd go and watch West Ham play at the bottom of my garden, to be honest, because they're my team!"
"I got pleasant surprise when the Club contacted me to say me and Lisa had won hospitality for the Swansea match and it was very nice indeed, and even better because we won the game!"

Season Ticket Holders have been renewing at a record-breaking rate since the Club fulfilled its promise to continue providing affordable football at London Stadium.
Thousands of supporters have already secured their seat for next season, serving as yet further illustration of the amazing loyalty of the Claret and Blue Army.
Current Season Ticket Holders have until Wednesday 31 May to renew for 2017/18, after which any remaining unrenewed seats will be made available to fans on the 55,000-strong Season Ticket Waiting List.
Supporters can take advantage of the brand new low-interest payment plan that enables the cost of renewal to be spread over monthly instalments, delivered with our partner V12 Season Ticket Finance.
The ten-month plan now offers a low 6% arrangement fee – significantly reduced from the 19.9% previously payable. Alternatively, the four-month plan offers a 0% arrangement fee, with a £30 administration fee.
For Season Ticket Holders looking to relocate their seat once the deadline renewal passes, the low-interest payment plans provide the perfect opportunity to renew as soon as possible in order to secure a prime spot on the priority list for relocations.
The deadline to apply for a payment plan online is Friday 14 April.
For a list of Season Ticket Renewal FAQs click here.
To renew your Season Ticket for 2017/18 click here.