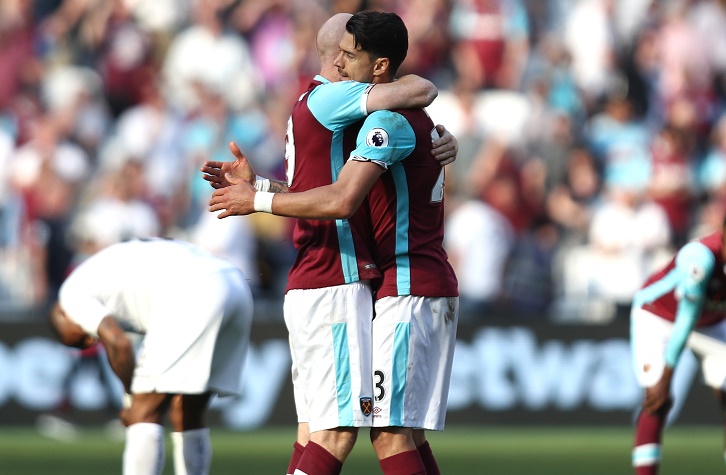 Amid the joy of Cheikou Kouyate's stunning strike and the subsequent relief that greeted the final whistle, it was easy to overlook a crucial aspect of West Ham United's 1-0 victory over Swansea City on Saturday. 
A first clean sheet for Slaven Bilic's men since mid-January provided the solid platform that the manager had demanded in the build-up to the game, and came courtesy of a back four defensive combination playing together for only the second time.
However, for one member of that quartet - Jose Fonte - any personal satisfaction in blocking out the visitors was overtaken by the sheer magnitude of the result.    
"I am very pleased, above all for the fans and everyone involved with West Ham," said the Portuguese defender. "The clean sheet was important, but the three points was more vital. It was a big game, and we are pleased with the result.
"There was a lot of pressure, everyone knows we have been through a bad patch, but we have worked hard.
"We are still working hard, there is a lot still to do, but this was a good day and we are grateful for the three points."
Those three points took the Hammers into 14th place in the Premier League table as the only team in the bottom half to win this weekend, eight points clear of Swansea in 18th.
Despite that leap towards safety, Fonte was adamant when asked if he and his team-mates could now consider their top flight status secure for next season. 
"We don't look at it like that," he insisted. "Our aim is to win the next two matches, then we can start to look at things a little differently.
"Not to relax, but to be more comfortable and to play in a way that we perhaps haven't been able to while the pressure is really on.
"You can't take your foot off the gas in this league," he added. "It's a tough league, the best in the world, and if you are not 'at it' every single game, you are not going to win.
"So it's about giving everything we have in every game, and if we do that we will pick up points."