Slaven Bilic says the supporters, staff, players and everyone connected with the Club will have to come together as one team on Saturday
The Hammers face Swansea City in a crucial Premier League fixture at London Stadium
And the manager knows his squad has the belief required to drive them to a win against their Welsh opponents
Slaven Bilic has urged everyone connected with West Ham United to come together as one team when his team face Swansea City in a crucial Premier League clash at London Stadium on Saturday.
The hosts, on the back of five defeats, are as desperate as their relegation-threatened opponents for maximum points from the fixture which has been labelled by many the Club's biggest in years.
And Bilic, issuing a rallying cry ahead of the crunch contest, believes his side's destiny is in the hands of every single Hammer.
"Now we have to think only about the team," said the West Ham manager. "We're not only the team of eleven – we're a team of nearly 60,000, plus the 18, plus the staff, plus the players not involved. Every single person's aim is to win the game.
"If the fans see us closing down, if they see us running, if they see us doing everything, they are going to give us a big boost.
"It's our job to keep the fans behind us for the whole game, because they are going to be nervous too. It's in our hands. The destiny is in our hands."
West Ham's latest defeat came on Wednesday when a trip to Arsenal's Emirates Stadium saw the hosts claim a 3-0 victory.
And though the boss admitted his squad's confidence may be reaching a low point, he also highlighted the importance of belief around the Club.
"Previous games affect your confidence approaching the next game," he continued. "We can't lie, we don't have it on that level that is required at the moment.
We're a team of nearly 60,000, plus the 18, plus the staff, plus the players not involved. Every single person's aim is to win the game.

Slaven Bilic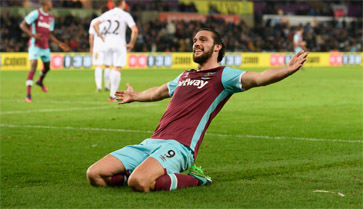 "But we are experienced enough, we have leaders, we have a team, and if we stick together, we can approach the game with a lot of confidence.
"As a team, we can walk around and say we have got confidence, but of course individually it can't be great after five defeats.
"What we have got is belief. And if you have belief you can get your confidence back. Belief is different to confidence."
Bilic's men put in one of their performances of the season in their previous encounter with the Swans, thrashing their hosts 4-1 at the Liberty Stadium on Boxing Day.
And that, coupled with Swansea's late defeat to Tottenham Hotspur in midweek, could give the Hammers a slight psychological edge on Saturday, according to Bilic.
"Of course, when you lose like [Swansea did against Tottenham], that is a killer. We did the same at White Hart Lane – we were leading 2-1 with a couple of minutes to go and then lost 3-2. That's a killer.
"But then again, I would love to lose like that than to get hammered 5-0. Of course, we can't imagine how down they were after the game but they can say 'hey, we lost, but we were almost there, we played good'.
"It will be extremely difficult [on Saturday]. I rate Swansea and I rate Paul Clement. But they are below us and our aim is to win.
"The win against them [on Boxing Day] we will mention to the players, but that was ages ago. 4-1, it was a really good game. We had belief then and we haven't lost that."