West Ham United supporting Blesma, The Limbless Veterans at Saturday's fixture at London Stadium
Veterans visited Rush Green, where they were welcomed by Mark Noble, Andy Carroll, Jose Fonte and James Collins
Charity is based in Chadwell Heath, just a short distance from the Hammers' historic training ground
West Ham United have selected Blesma as a charity partner for the 2016/17 season in honour of the Chadwell Heath-based charity's work providing rehabilitative activities, support, and some financial aid to limbless veterans.
The Hammers and Blesma have further developed their strong relationship through the West Ham United Foundation's Learn to Coach Programme.
Blesma, The Limbless Veterans became a national charity in 1932. However, the foundations were laid 15 years before then, during World War One.
Some 40,000 British Service men had come back from the Western Front having suffered life-changing injuries. Amputation techniques were in their infancy and artificial limbs primitive.
There was no National Health Service, so to fill the gap that the welfare state and Defence Medical Services now provide, these men came together as local networks to share knowledge, support each other and lobby the Government for better employment opportunities for the war disabled.
These networks united to form the British Limbless Ex-Servicemen's Association – Blesma – in 1932.
Although medical practices and opportunities for those who are disabled have come a long way since those early days, there is still a need to support those who continue to feel the physical and mental effects of their life-changing injury.
On Saturday, Blesma exists to guarantee that our limbless veterans are not failed, forgotten or left to fend for themselves. The charity helps everyone from the youngest amputee veterans to those who fought in WWII, some having lived with limb loss for more than 50 years.
CASE STUDY: STU PEARSON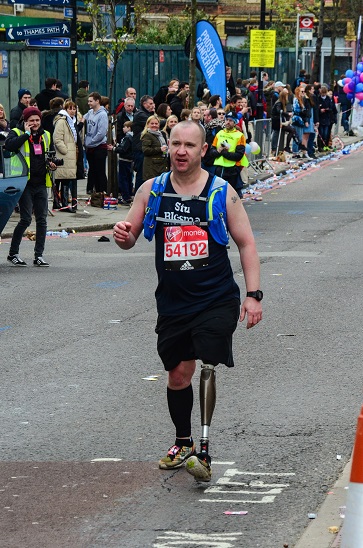 In September 2006, Scottish veteran Stuart 'Stu' Pearson was serving in the 3rd Battalion, the Parachute Regiment in Afghanistan.
Fellow Blesma Member Stuart Hale was leading a separate patrol in a dried out river bed when one solider stepped on a land mine, blowing off his leg. Upon hearing the explosion a few hundred metres away, Stu and several other soldiers went to help.
"We had no idea that we were heading into an old Russian minefield buried in the river bed," said Stu, who now lives in Colchester with his fiancée Julia and 13-year old son Andrew.
"It was only once I stepped on another that we became aware. I'd began to give myself the morphine jab before another soldier, Andy Barlow, safely got to me to help."
Stu's left leg was blown off as a result of the second explosion.
The soldiers remained in the minefield for four hours waiting for helicopter rescue. During that time, there were two further explosions, two more men wounded and Stu suffered further damage to his right leg which restricts movement in his ankle and right leg. When the group of soldiers were finally rescued, three men had lost limbs, seven were wounded and one young Parachute Regiment Corporal lost his life.
Stu, now 42, was awarded the Queen's Gallantry Medal for his actions that day and the event inspired the award-winning film Kajaki.
Like thousands of other wounded veterans injured in conflict, Stu's first encounter with Blesma was from his hospital bed.
"It was five weeks after I was injured and the assistant General Secretary came to visit me in Selly Oak Hospital.  A few months later and I was taking part in Blesma's rehabilitation activities," he said.
"Taking part in their expeditions has changed my life and have enabled me to live a normal life. It's the fact that they understand that I'm not useless because I've lost a leg."
With the charities help, Stu has even relearnt to skydive again and competes with fellow injured veterans against able-bodied teams. His determination also took him to the finish line of the London Marathon last year despite only being able to walk it and this year will climb the Yorkshire 3 Peaks challenge to raise money for Blesma.
During half-time, Stu will be on the pitch answering questions about his story.
Blesma's work ranges from providing expert advice on state pensions and Armed Forces compensation, financial assistance whether a member needs a new wheelchair, stair lift or home/ garden adaptations, and it works across the UK for those that have served in the armed forces.
Blesma also runs a range of activities that give wounded veterans the confidence to rebuild their lives and regain independence. During 2016, we helped 312 veterans in 42 rehab activities and made 1,620 welfare home visits.  
Blesma receives no government funding and relies on public donations to ensure that we can continue to carry out our work supporting veterans and their families to live with limb loss. You can help Blesma now by texting 'WHAM86 £5' to 70070 to donate £5 to Blesma.
For more information on what the charity does or how to support us, please visit our website at www.blesma.org, call our Fundraising team on 020 8548 7087 or email them at [email protected].