A true West Ham United legend celebrated a very special milestone with Slaven Bilic and his players at the Club's training ground this week.
Lifelong fan Mabel Arnold has become an instantly recognisable and hugely popular figure among the claret and blue faithful since starring in the Iron Men film, having reached her 100th Birthday just weeks before our memorable final match at the Boleyn Ground last May.
Almost a year on, she celebrated her 101st Birthday on Sunday, and the following day accepted an invite from Slaven to visit Rush Green as the team began preparations for the midweek London derby clash against Arsenal.
"It's been a lovely surprise," said Mabel, as she effortlessly blew out the candles on the claret and blue birthday cake presented to her by the Hammers boss and the first team squad.
"It's lovely to come here and see everyone, it's a wonderful experience. You dream of these things, but they don't normally happen. And now it's happened to me. Thank you so much."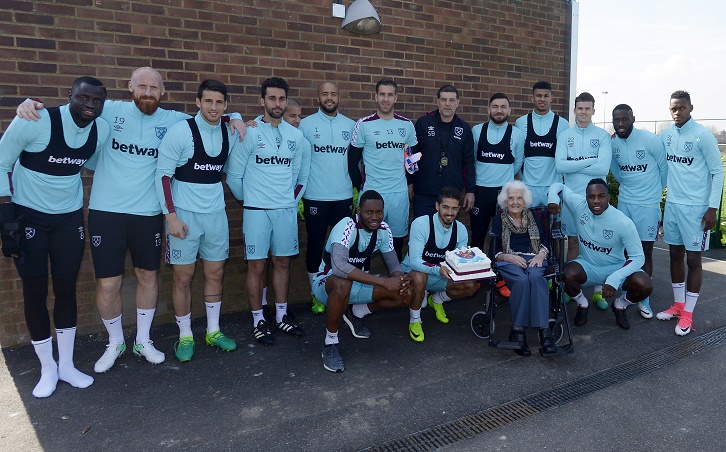 Mabel, who first saw West Ham play at the Boleyn Ground in 1934 and has been to some 2,000 Hammers matches since, spent time chatting with the manager and his players, who were all in awe of such a special lady.
"It has been a pleasure and an honour to welcome Mabel to Rush Green," said Slaven.
"She really is an unbelievable lady, and everyone here has great admiration and love for her. We all saw her in the Iron Men film, when she was the star of the show and summed up what being a West Ham fan is all about.
"The fact that she still continues to follow the team at the age of 101, going to every home match as a Season Ticket holder, is absolutely fantastic.
"On behalf of everyone here, I would like to wish Mabel a very Happy Birthday and thank her for the wonderful support she has given this club over so many years."
Mabel was accompanied to Rush Green by her son Graham, with whom she travels to every home match at London Stadium, having been a Season Ticket holder for more than 80 years, when she began attending with her husband Richard, who later worked for the Club's youth team set-up.
Despite having this week moved from east London to be nearer to Graham's family home in the midlands, Mabel has already renewed her Season Ticket for the 2017/18 campaign, and will be a special guest of the club at this weekend's game against Swansea to mark her 101st Birthday.
Keep checking whufc.com for more stories about some of the people who make West Ham United much more than just a football club. #WeAreWestHam