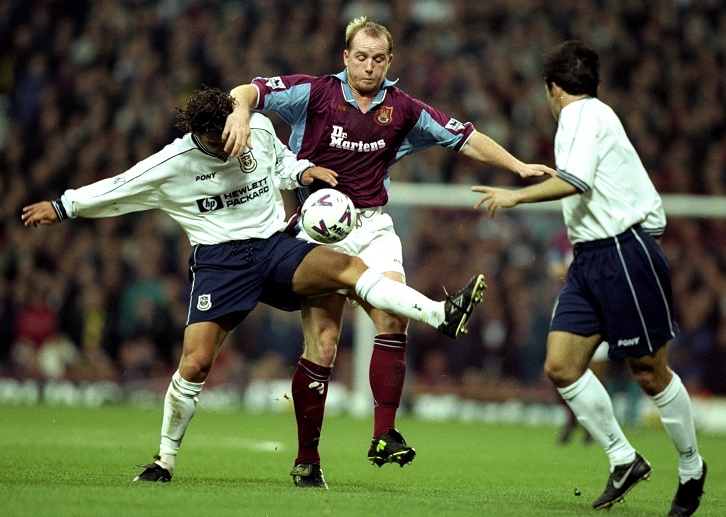 Former Arsenal and West Ham United crowd favourite John Hartson talks exclusively to whufc.com about his goalscoring feats with both clubs…
I won't be at the Emirates on Wednesday night but it will be a typical fiery London derby.
Arsenal had a decent result against Manchester City at the weekend, although they do need wins rather than draws at the moment. There is obviously lot going on there, what with all the speculation around Arsene Wenger and being embarrassed by Bayern Munich in the Champions League. They will still be favourites on Wednesday night, but that might work in West Ham's favour. Nobody is really expecting them to get anything from the game, and in that sense they perhaps have nothing to lose. I'm sure Slaven will set them up to be solid defensively, maybe with Andy Carroll up top on his own, and hope to hit them on the counter-attack.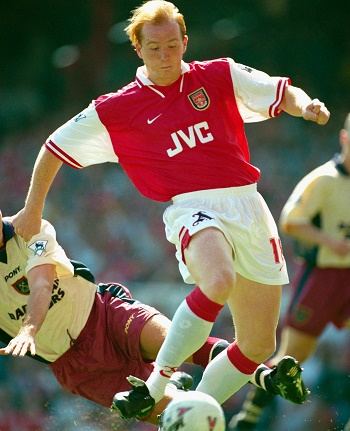 Both teams are under pressure at the moment, for different reasons.
West Ham will have been very disappointed to lose at Hull on Saturday, particularly after going ahead and then taking their lead into half-time. They didn't make it difficult enough for Hull in the second half, which will obviously be a concern for Slaven. When you look back at the away form last season, they picked up some magnificent victories, at places like Anfield, the Etihad and the Emirates, but that hasn't really been the case this season. When you go in front in the Premier League, you really have got to fight to defend your lead.
My old team-mate Slaven has had a lot to deal with this year, but has handled everything well.
Injuries have had a major impact this season. Slaven lost Andy Carroll and Aaron Cresswell early in the season and that was a big double blow. I was at London Stadium for the opening match against Juventus, working as a co-commentator, and Andy absolutely pulverised the Juventus defenders that day. He frightened them to death and looked so sharp, but then a week later he was out for four months. Then there was the Payet situation, which you could tell Slav was really cut up about. He dealt with it very well though, and you can see that the players and supporters are all fully behind him. West Ham's season now is all about solid defiance. I think they will absolutely fine – they have too much quality to be dragged right into the relegation dogfight, and I'm sure Slaven will come out of it stronger next season.
I was privileged to play for both Arsenal and West Ham and score for each club against the other. 
I can remember getting the winning goal for Arsenal against West Ham, back in 1996 in a 1-0 win at Upton Park. Paul Merson squared the ball to me and I tapped it into an empty net after just a couple of minutes. I also scored in a 2-0 win at Highbury on the opening day of the following season, when Slaven Bilic was in the West Ham defence. Then after I joined West Ham, I got a great goal against Arsenal under the lights at Upton Park in an FA Cup quarter-final replay, twisting and turning past my old mate Martin Keown before smashing the ball in the bottom corner. I couldn't celebrate too much, though, because we then lost on penalties!
It was a big decision to join West Ham but it was the right one for my career.
I was only 21 at the time, and Arsene Wenger wanted to me to stay. I was playing alongside Ian Wright and Dennis Bergkamp and had signed a five-year contract, but I decided that I needed a new challenge and when West Ham came along I went for it. It turned out to be a fantastic move, I came at the same time as Paul Kitson and we just hit it off. I still have people tell me, and I know Harry Redknapp has also said it, that our goals saved the club from certain relegation, and it's obviously nice to know that my contribution is remembered in that way.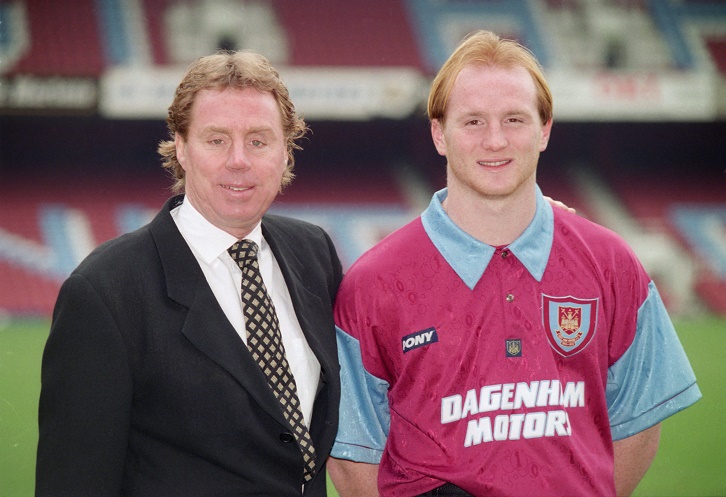 My first full season at the club was one of the best of my career.
I believe, if I'm not mistaken, that I'm still the last player to have scored more than 20 goals in a season for West Ham. I got 24 in all competitions and, to be honest, it should have been more. I missed quite a few games at the end after picking up a second red card for a clash with Igor Stimac, and it was a shame because the majority of the season had been fantastic. I was young and a bit rash at the time, and perhaps didn't look after myself as well as I could have done. I was a little bit lumpy at times, because I did like a few Yorkshire puddings and a few pints now and then! I think the fans could see that I was a genuine, honest lad, though, who came from a background similar to theirs. It was disappointing that my time with West Ham ended the way it did but everything happens for a reason. I eventually joined Wimbledon in 1999 for a fee of £7.5million, which Harry used to buy Paolo Di Canio. So the fans can thank me for the fact that they got to see the legendary Paolo in a West Ham shirt!
The training ground incident with Eyal Berkovic is still one of the biggest regrets of my life.
I should never have reacted in the way that I did, and I've had to carry that around with me for a long time. It does sadden me that a lot of people will always refer to that incident when my time at West Ham is mentioned, but that is something I have accepted. Generally in life, people will focus on the bad things more than the good things. It left a bit of a sour taste for a while, but it doesn't take away the fact that I loved my time at West Ham and I had a great affinity with the supporters, which I still cherish now.
I'm enjoying what I do now with the media work and life is very good.
I had a brief taste of coaching with the Welsh national team when Chris Coleman first took over, but I came away from that as it didn't really work out. A couple of years ago there were actually some suggestions that a role might be on offer at West Ham, when Teddy Sheringham had stepped down as the attacking coach to take the job at Stevenage. Nothing ever came of it, though, and ever since I've been flat out with the media work and my after-dinner speaking, which takes me all around the country. I've moved up to Edinburgh, as that is where my wife's family are from and I'm in a great place in my life right now. I've been clean from gambling and not had a bet for six years now, and health-wise I'm feeling great. Would I go back into the game if an offer came up? You can never say never, but it would have to be something pretty special!