Slaven Bilic dismisses claims Arsenal's players are no longer giving 100 per cent for Arsene Wenger
Hammers travel to Emirates Stadium in the Premier League on Wednesday evening
Bilic says West Ham United need to be organised if they are to secure a positive result
Slaven Bilic is not fooled by suggestions that Arsenal's players are no longer giving their all for manager Arsene Wenger.
Uncertainty over Wenger's future after 21 years in the Gunners' dugout has led some commentators and supporters to claim some of his star players are no longer putting in 100 per cent effort for the Frenchman.
But Bilic does not go along with those suggestions, citing Arsenal's determined display in Sunday's 2-2 Premier League draw with Manchester City as reason to dismiss them.
"I think the players are playing for their manager and playing for their club and individually playing for their futures, either in that club or somewhere else," said the Hammers boss. "The players are sportsmen, so they want to play better.
"I watched their last game on telly on Sunday against Man City and, before the game, those kind of subjects and issues were in the 'papers and on the TV, about whether they were going to play or not. When I saw them in that game, which I watched twice, they were very, very motivated and a team which was very up for it physically, mentally and with determination and all that.
"Some people are saying that they didn't celebrate the [Shkodran Mustafi's equalising] goal the way they should, but I saw Arsenal with a lot of energy and I also saw Arsenal fans who were behind Arsenal and behind the club, but that's basically what I expected."
We want to get something out of the game, but first we have to be solid and organised and to concentrate

Slaven Bilic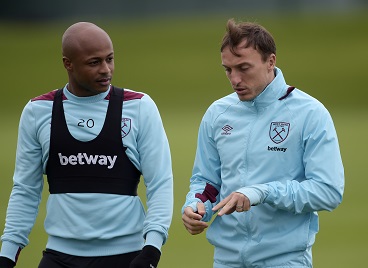 While Bilic was asked to comment on his opposite number's position repeatedly in his pre-match press conference, his overriding concern is ending West Ham's run of four straight Premier League defeats when they visit Emirates Stadium on Wednesday evening.
The Croatian led the Hammers to victory in north London last season in his first league game in charge, and followed up with an Andy Carroll-inspired 3-3 draw in the final meeting at the Boleyn Ground in April.
However, Arsenal won comfortably at London Stadium in December and Bilic is experienced to know Wenger's side will still present formidable opposition this time around.
"We saw a few things we can manipulate on Wednesday in Sunday's game," he explained. "They have their problems, of course, otherwise all this that we are talking about would not be an issue now.
"Still, they are a team with a lot of pace, that you can't afford to lose the ball in your own half against because the transition and pace they have up front are unbelievable.
"They are still attacking with numbers which makes them more likely to create something, but when they lose the ball they are very, very vulnerable because they leave a big space behind and hopefully we can use it."
Before West Ham can think about threatening Arsenal, however, they need to sort out the defensive issues that have seen them fail to keep a clean sheet in any of their last nine Premier League matches.
"We want to get something out of the game," Bilic insistead, "but first we have to be solid and organised and to concentrate.
"We can't expect that we're going to have more possession than they will have, so first and foremost we have to be a good as a unit, close those gaps in between that [Alexis] Sanchez and [Mesut] Ozil are really good in and then mark them two-against-one when the ball goes to one of their players who can really hurt you if they are one-against-one or not marked.
"Then, when we have the ball, we have to try to use the space and keep the ball to frustrate them. If we play like that, we are brave and confident and everything, then we have a chance against any team in this league."