A decade on from West Ham United's famous win at Emirates Stadium, Wales defender James Collins prepares to face Arsenal again...
Ten years ago this week, West Ham United travelled to Emirates Stadium seeking to achieve an unlikely victory over Arsenal.
The Hammers set off for north London sitting 19th in the Premier League table, five points adrift of safety, but with confidence rising after vital victories over Blackburn Rovers and Middlesbrough.
In West Ham team on 7 April 2007 was a 23-year-old centre-back named James Collins, who had returned to the starting XI for the 2-1 win at Blackburn after a two-month absence.
A decade on and Collins, now 33, returned to West Ham's starting XI after a two-month absence on Saturday, and looks set to keep his place as the Hammers prepare to face Arsenal again.
Ginge, you must have had mixed emotions on Saturday, returning to the starting XI but in a 2-1 defeat at Hull City?
"I was obviously buzzing to be playing but then very disappointed after the game. I thought we were really comfortable, but then their first goal has got the crowd lifted and they've got a bit of inspiration from it and we've conceded again from another set play so bitterly disappointed.
"I have done it a lot in my career but I was disappointed to come out of the team in the first place. The last time I played we beat Crystal Palace 3-0 and it was a good performance and a clean sheet, but then I didn't play for seven weeks, which was disappointing when I thought I probably should have.
"But that's football, I kept my head down and got a chance. I was disappointed Saturday but I'm ready to go again on Wednesday."
You played as the left centre-back on Saturday, which was not your normal position…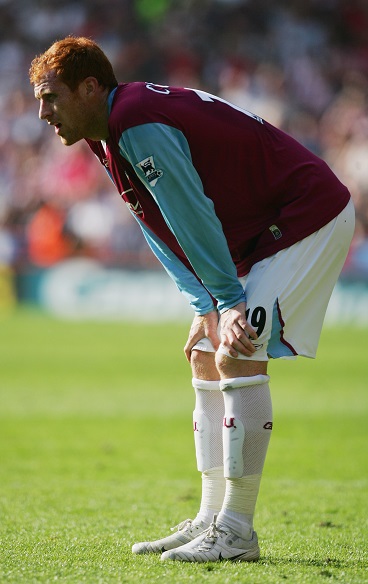 "I played there a fair bit, I played there at Villa a bit. It's the same really, you just have to deal with it. I am right-footed but I've been a professional footballer for 18 years so I can use my left a bit! But I don't mind where I play, I'd play in goal for West Ham!"
You made your 150th Premier League appearance for the Club on Saturday, which must have been a decent milestone to reach?
"Yeah it is. I saw it in the programme on Saturday and I would like to have made more appearances, but so would anyone you ask. I've had a couple of serious injuries in my time, one that kept me out for a year-and-a-half and then some other little niggles, but it is good to get there and hopefully there's many more in me yet.
"I still feel good, so here's to another 150!"
You mention you had a serious injury in your first spell with West Ham back in 2008, but you have been largely injury-free since returning to the Club in 2012…
"It's just little niggles and muscle injuries but I've been quite lucky. I'm quite intense the way I play, and I have been lucky. The little ones have kept me out for a few weeks in my time but I'll take that in my career."
So, next up we go to Arsenal on Wednesday. What are you expecting there?
"It's going to be tough, obviously. Going there is always tough but we've gone there before and got results. We certainly need to defend better as a team, in any game, but especially there.
"We have to be more solid as a group without the ball. When we have got the ball we're looking good and creating chances. At the minute without the ball we aren't really defending as a team which means we are conceding silly goals. Obviously set-plays are an issue at the minute, too, which we are working on.
"It's going to be tough but we have to go there with confidence that we can get a result and perform. It's vital that we do that, as everyone is a bit down at the minute, but going to somewhere like the Emirates and getting a win or even a draw would be a lift for everyone."
Can West Ham take any heart from Arsenal's own recent struggles?
"You can't go there thinking anything other than it's going to be a tough game. They're getting a bit of stick at the minute, as are we, but you have to go there and be solid and try and take your chances when they come.
"The main thing is being solid and keeping a clean sheet. We've gone there before and done it so why not? We need a lift and I think a clean sheet at the Emirates would do it."
Can you believe it is a decade this week since you, Mark Noble, Robert Green, Bobby Zamora and company went to the Emirates and won 1-0 during the Great Escape season?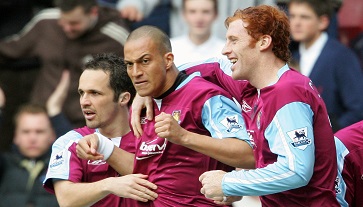 "It's crazy that's ten years ago. I think Robert Green had the game of his life! We defended well as a team and I was speaking to Bobby only a couple of weeks ago about how I read after the game we had one shot on goal and they had 38 and we won 1-0. But all that matters is the result and we won and stayed up that year."
Another miraculous defensive performance would be just the ticket on Wednesday, wouldn't it?
"I think that's the secret to all football. If you keep a clean sheet, you only need to score one goal to win a game.
"So, while it's all attacking football and the flair players going forward nowadays, at the end of the day, for 20 years after I've gone, you'll still need one goal to win the game with a clean sheet.
"Everyone is for attacking play but I'm a centre half and I want to keep clean sheet."
And just finally, on Saturday we host the Premier League's only Welsh representatives Swansea City before travelling to bottom side Sunderland…
"It's a huge game, there's no point beating around the bush, we need to get three points on Saturday. It's a huge game. We've got two huge games after Arsenal and there's no doubt it my mind that we need to get six points.
"There's no doubt in my mind that a good result and performance against Arsenal will bring confidence to everyone. If we can get that there we'll go into Saturday obviously confident that we can win anyway, but maybe with that little edge. So obviously Arsenal is in the front of our minds, but Saturday is a huge game."