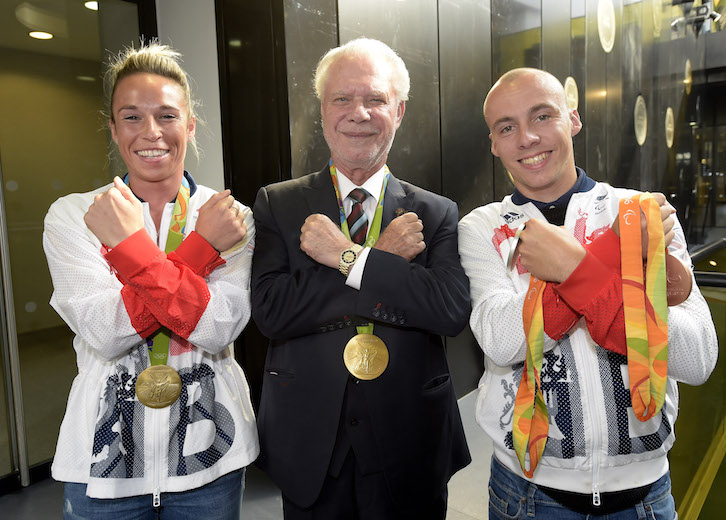 Olympic Gold medalist and lifelong Hammers fan Susannah Townsend made an emotional return to east London and attended her first ever game at London Stadium on Sunday.
Despite the disappointing result against Southampton, Townsend still had a day to remember after she proudly showed off her gold medal and met up with Joint-Chairman David Gold and Vice-Chairman Karren Brady before the game to talk about her amazing achievement.
Townsend enjoyed one of the best moments of her life when she was part of the Team GB hockey side who recorded a famous penalty shoot-out win over Holland to clinch Gold in Rio during the summer.
After receiving a great ovation from the West Ham fans at half-time, Townsend is convinced the Club will turn their season around and grow even stronger playing at the new Stadium....
Without a doubt it was one of the best nights of my life. For all of us that was our first Olympic gold medal and the first time that GB Women had won a gold medal so I don't think we will experience that feeling again.
To be honest it is all a bit of a blur trying to remember what happened that night.
You train your whole life for a gold medal and when it finally happens, you look back and think 'what actually happened?'
You don't think about anyone watching back home and you are in this zone and bubble. It is just the most incredible feeling I will ever experience.
For me it is something that I will always remember.
We made a decision months before we went to Rio that we were not going to check social media regardless of if we were doing great or badly.
We had no idea the amount of people who were watching the final. Some of the players have said if they did realise the number who were watching us, it would have made them more nervous.
I realised the impact we had when we arrived home and looked out the window and saw all the media and photographers waiting to greet us.
We don't get that attention playing hockey so when we saw that, it made me realise we had done something special.
When people talk about how close Team GB is, that is not a lie at all. We stick together as a team and eat in the dining hall as one team and also walk to meals together.
When you have that support in the Olympic village it is not a pressure that they put on you and you want to do it for yourself, the rest of the GB team and everyone back home.
They make it an environment where it is a lot easier to achieve than other nations because of the support they give you.
The secret to a penalty shoot-out win is lot's of practice. We were practising every scenario that we could have faced and we do it so much as a team.
The goalkeeper does so much homework and our outfield players do their homework on what the goalkeeper is going to do.
When I have seen our players interviewed after the game and they were asked what it was like taking a penalty, they all said it was like taking one on our training base at Bisham Abbey and just doing our thing.
Of course they are going to feel the pressure in an Olympic Final but when they stepped up it was just like taking a penalty on any other night and thankfully it paid off.
The London Stadium is an incredible venue, especially when you look at the number of fans that can come in here.
I was a massive fan of Upton Park because of the memories that I had there. But for West Ham to expand and become a world class team, moving to this stadium will put us on the world map a lot more.
My dad is a massive West Ham fan and he first took me to a game when I was four-years old.
I think no matter what happens in your life, if you have a disagreement with your dad, you can forget all of it when you go to football and I have always had that special bond with my dad coming to West Ham.
My brothers support Arsenal and maybe last year they wanted to support West Ham a bit more.
West Ham has always been a special place for me and whatever has happened in my life, it has always been a release for me coming to football and maybe not be Susannah Townsend, the hockey player, but Susannah Townsend the West Ham fan and sitting among normal people who share the same passion.
I play in a central midfield position and obviously like to follow Mark Noble a great deal.
I do a lot of player cam watching and the reason I like Mark Noble is because he has so much passion and loves West Ham.
His work-rate, whether he is having a good or bad game is so good and he never gives up. You can see he loves this club and I like to put in a few tackles like he does. He is a great ambassador for West Ham.
I was gutted that Lanzini wasn't at the Olympic Games. Everyone was trying to meet Usain Bolt and I just wanted to meet Lanzini!
We are a very exciting team and although results have not gone our way so far, there is still a long way to go and we have a lot of quality players. I think we will have a very good season and beyond.
When you walk out as a player into a packed stadium you don't feel much emotion because you are trying to get into the zone ahead of the game, but West Ham is a special place for me so for me to walk out in front of the crowd was something special.
I used to sit with a lot of the fans in the Bobby Moore lower at the Boleyn Ground and they are now in different parts of the new Stadium and I don't think that any of them realised that I play hockey so it was probably a nice surprise for them as well to see what I do!