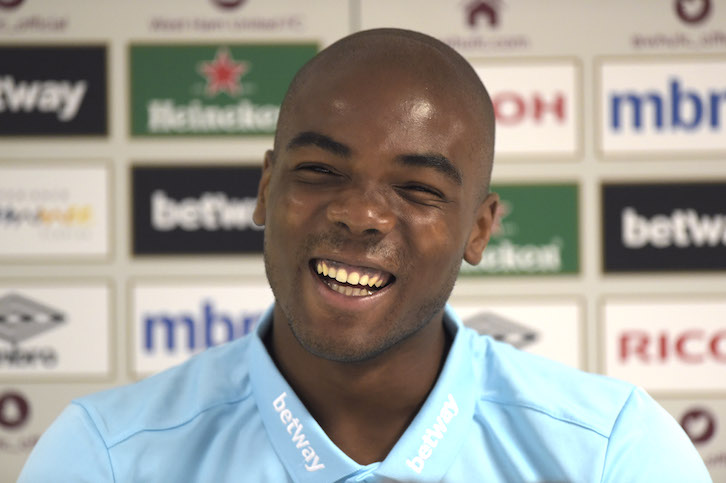 In the second part of our brand new feature on whufc.com, we start a regular column with Hammers defender Angelo Ogbonna where we go behind-the-scenes with our Italian central defender.
Ogbonna will share his views on life both inside and outside the camp and will give his honest opinions on all the matters that count.
In the second blog, the 28-year-old gives an insight into his life away from football and why he spent the day in central London with Manchester United defender Matteo Darmian.....
Hello everyone,
You may have seen pictures of me out with Manchester United defender Matteo Darmian in central London last week.
I am good friends with Matteo and I have a very good relationship with my team-mates in the national team and back in Italy. We are a family as well.
I met up with Matteo last weekend and showed him the sights of London.
We went to Oxford Street and did some shopping. I think he enjoyed going to all the big stores and London has so much to offer.
I enjoy showing people around this great city and I have still yet to see a lot of things that it has to offer. I hope to see a lot more.
I also spend a lot of time with Pedro, Zaza, Adrian, Lanzini, Payet and we socialise with our girlfriends which is very good.
I like to go to the markets and you can find a lot of secrets and good prices at places like Notting Hill and Camden Town. My girlfriend always like a good bargain!
London is amazing and I love being here. I like all the different cultures and the history around the city and it is very important.
It was fantastic for me to live in Rome as well, and although London can be chaotic I think it is an unbelievable place.
I also love going to the museums and you can enjoy the different backgrounds and see so many different things in one day.
Sometimes I get spotted out in London but I have no problems with that and enjoy meeting the fans whenever I can.
I will be fully focused for the game on Sunday and we know the importance of getting back to winning ways in the Premier League when we play Southampton.
It is so important for us and everyone at the Club. We are preparing everything the right way and we need to keep our concentration and not make the same kind of mistakes.
If we can do that then we will hopefully manage to come away with the three points.
We will all be hoping to see another great performance from Dimitri Payet and he showed once again during the Accrington game that he is on a different level. But the key is Manuel Lanzini.
He can keep the ball. Dimitri needs someone like Lanzini because he doesn't like to throw away the ball.
He runs with the ball, he fights. He looks small but he's not. He's so tough. Both of them, they keep a good balance for us and they play very well together.
Maybe this year we were a little bit relaxed – and it is more competitive this season. Maybe when we are too confident you think it is going to be too easy.
Sometimes we didn't play like us. We played so sloppy, two or three mistakes. After this I hope there are no more mistakes. Maybe everything is going to be all right now.
Enjoy the game on Sunday.
Angelo