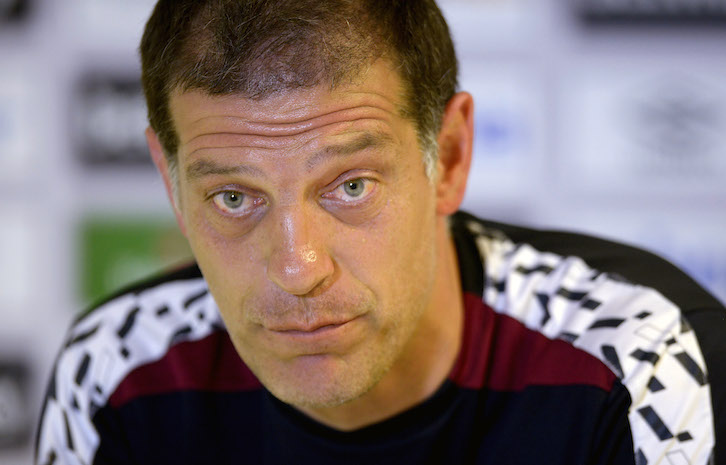 Slaven Bilic faced the media ahead of the Premier League game against West Brom on Saturday.

The Hammers boss provided the latest team-news and hopes to see his team get straight back on the winning trail when they travel to the Hawthorns.....

How do you view what happened last weekend and how do you propose to put things right when you play West Brom on Saturday?

SB: "It was not good last weekend. We had individual mistakes and lost confidence as a team.

"The second goal was not about team defending, it was simply a mis-understanding between a couple of players tat you see once a season in a team.

"I was not happy with the defending for some of the other goals but we have worked on that and spoke about things behind closed-doors. We had a really good meeting and now we are waiting to see the reaction from the team."

Are you going to make any changes to the defence ahead of the game?

SB: "We can make a couple of changes but with every goal you are always going to say it is always the defenders who are to blame for the goals.

"This is a game of mistakes but we have to defend better and defend like we did this season against Bournemouth and the way we defended last season."

Would it help you if Alvaro Arbeloa is ready to make his debut for the Club?

SB: "Alvaro has more experience and we brought him here to play. He is not here to be on the coaching staff. We needed one more player there and he is available. He has quality.

"We are happy to have him here. But we also have Sam Byram and he is part of the team. He is a young player who needs the team around him to play well and then he can flourish.

"You cannot put all the blame on his young shoulders. Like any young player he needs help from the team. He cannot be left isolated and one on one situations. We have seen Ighalo do that every week and it was not about Arbeloa playing or not playing."

On a positive note you must be very happy with the partnership that Michail Antonio and Dimitri Payet forged last weekend?

SB: "Michail is scoring goals and has been brilliant. He has scored with four headers and is very direct. He is linking up with Dimitri and it is good. It happened last year many times.

"When the ball goes into the box if we don't have Andy Carroll, then it is Michail who has the best opportunity to beat the defenders to the ball."


How close is Andy Carroll to making a first-team return?

SB: "Andy is much better now and has started running now. He will not be available for West Brom but he is improving big time and very soon we will have a full squad.

"Sakho and Cresswell will be back soon. Aaron is sprinting already and Ayew will be back sooner than what was expected."

What do you make of West Brom this season and how much would you would like to repeat the 3-0 victory you had at the Hawthorns back in April?

SB: "They have a good team and have been playing good football. Even when we won 3-0 they started the game very well and had a shot blocked on the line.

"They are playing good football and we know Tony Pulis and I have a big respect for him and the job he is doing every year.

"We are confident because of what happened and it is good to have positive memories because the result was only back in April."