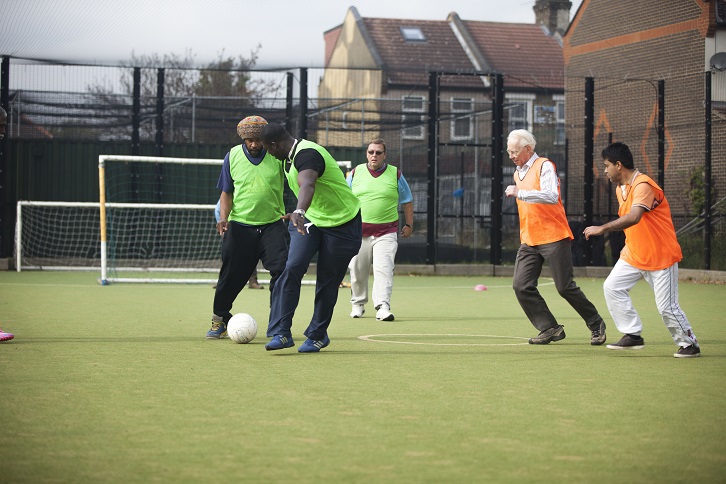 The West Ham United Foundation will be bringing walking football to thousands of people living with multiple sclerosis (MS) at MS Life – the biggest MS lifestyle event in Europe – hitting East London this week.
 
MS Life, organised by the MS Society, is taking place on 17-18 September and for the first time in its 10 year history, it will be held in London at the ExCeL Centre. Thousands of people from across the UK will be attending MS Life this year to hear about the latest MS research and to take part in a variety of workshops.
 
The Foundation will be hosting an interactive demonstration of walking football as part of the 'Get Active' zone at MS Life. Walking football is an adaptation of the sport aimed at keeping those with limited mobility, or otherwise unable to play traditional football, involved in the game – the main difference  being that teams are penalised if a player moves more quickly than walking pace.
 
The West Ham United Foundation started the first pilot session two years ago, and they now run several weekly sessions across East London and Essex. They believe walking football has the power to boost socialisation and interaction through the positive environment it creates.
 
Sham Motin, Community Sports Manager at West Ham Foundation, said: "We are privileged to be working with the MS Society to support this fantastic event and encourage increased activity using the power of football. In the future we look to develop further sessions to enable more users to participate in a healthy environment, and hope that by getting a taste of walking football at MS Life, attendees will be encouraged to take up the activity in the future."
 
Michelle Mitchell, Chief Executive of the MS Society, said: "There are more than 100,000 people affected by MS in the UK and just under a third of them live in London and the surrounding south east area. I'm really excited by this opportunity to bring the MS community together – from people living with MS themselves, to world leading researchers trying to find treatments for the condition. From yoga, wheelchair dancing, hoola hooping to café culture, we hope there'll be something for everyone at MS Life."
 
The MS Society is the UK's leading charity for people living with MS in the UK. MS is unpredictable - one day you'll be fine, the next you might lose your sight or be unable to move. People typically start experiencing symptoms in their 20s and 30s, which can include fatigue, sight loss, incontinence and disability.
 
Around 5,000 people are expected to attend MS Life this year and just under 3,000 have already secured their place. Tickets are free and people can register to attend at www.mssociety.org.uk/mslife.