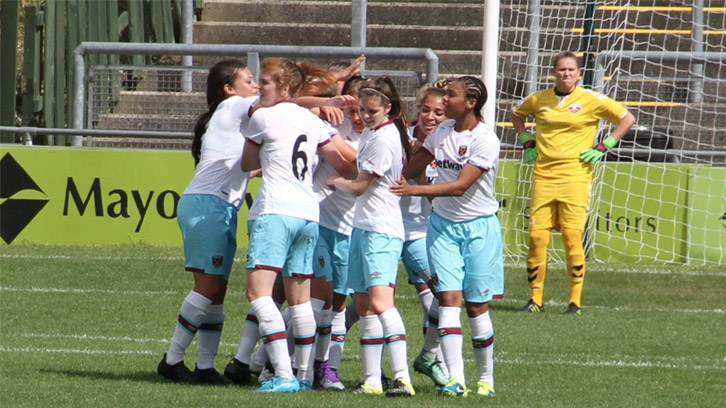 Coventry United 1-0 West Ham United 
 
West Ham United Ladies were beaten 1-0 at Coventry on Saturday though they were unfortunate to come away with nothing to show for their efforts after an impressive display.
 
Manager James Marrs put out a defensive line-up as he looked to recover quickly from last week's cup defeat to Tottenham Hotspur as Olivia Sammon, Kat Clifton, Sasha Kelly and Steph Bent came into the starting XI.
 
And the Hammers frustrated the hosts throughout the first half with Clifton, Kelly and captain Karen Ray pressing the ball in midfield and the defence standing firm.
 
Coventry were restricted to long range efforts for the most part and goalkeeper Deger Zekhi – in fine form – was equal to all the hosts' attempts.
 
West Ham had their own chances throughout the first half with Molly Peters playing the lone striker role and pestering the Coventry defence with her pace.
 
The Hammers faithful, who had made the trip up north to support the girls, met the half time whistle with cheers and applause with the scoreline goalless.
 
The second period continued in the same vein with the Hammers sitting deep, though the breakthrough came quarter of an hour into the 45.
 
The Sky Blues' right midfielder broke through the visitors' defence and, finding the striker, Coventry made no mistake inside the six yard box and made it 1-0.
 
The lead brought confidence and the hosts continued to press, but Hannah Wheeler and Chantelle Mackie stood firm in the centre at the back and dealt with everything thrown at them.
 
A rare second half break on 75 minutes gave the Hammers a chance, as Peters skinned the back line to dance down the left only to be tripped. Chloe Burr's resulting free-kick was agonisingly just inches away from Whitney Locke's head.
 
With five minutes remaining, Marrs introduced Shellie Sumpter and, deployed on the right wing, she made a difference. The alteration in formation led to a chance for Burr to strike, and she was just millimeters from grabbing a late equaliser.
 
The clash finished with Coventry taking the spoils but all of the West Ham players could be proud of their performance ahead of their C&K Basildon match on Wednesday night.
 
West Ham Ladies: Deger Zekhi, Steph Bent,Olivia Sammon, Karen 
Ray, Chantelle Mackie, Hannah Wheeler, Whitney Locke, Kat Clifton, Molly 
Peters, Sashe Kelly, Chloe Burr.
 
Substitutes: Imogen Bennett, Shellie Sumpter, Sarah Wilson.