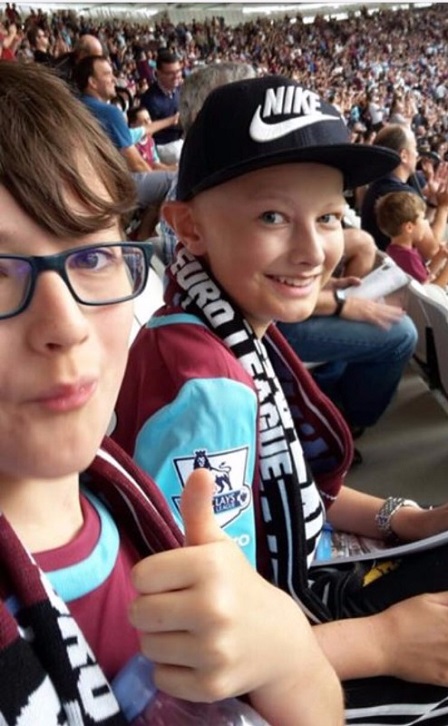 Young Hammers fan Jack Howard is battling kidney cancer for a second time
Jack's family hope to raise £250,000 to take him to the US for pioneering treatment
West Ham United have pledged a £5,000 donation towards the fundraising cause
West Ham United are donating £5,000 to help a young supporter get the emergency treatment that could save his life.
 
Jack Howard, who is battling kidney cancer for the second time in four years, has been given just weeks to live, but his family are hoping to raise £250,000 in a bid to fly him to the United States for pioneering treatment.
 
Jack's father Nick said, "The NHS has done absolutely everything they can for Jack but the cancer is not responding to conventional treatments. Now they are out of options."
 
The Hammers' Board heard about Jack's plight and wanted to help raise awareness and funds to help the young Hammer get the treatment that could save his life.
 
The family have been advised it could be in the region of £250,000, subject to an initial examination, and a £75,000 deposit is also required.
 
West Ham United's donation will take the current total above £35,000, and Club officials are hoping the pledge may help encourage further donations to Jack's fund.
 
Jack's aunt Keely Howard, who set up the crowdfunding page said, "We want to be ready to go straight away, there is no time to lose, every day, every week counts against us."
 
To donate to the fund to help Jack Howard receive the pioneering treatment in the United States,click here. To help raise awareness of Jack's cause, please use the hashtag #HelpJack on Twitter.