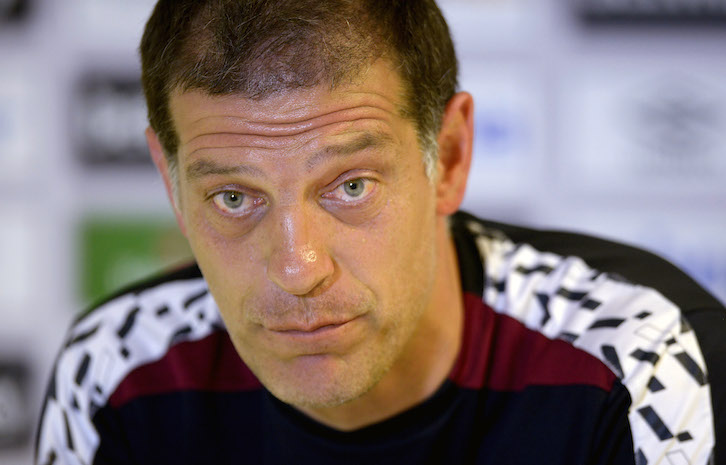 Slaven Bilic faced the media ahead of the Premier League game against Watford on Saturday.
The Hammers boss was asked about the fitness of Dimitri Payet and Manuel Lanzini, Michail Antonio's call-up to the England squad and the tough task that Watford will pose for his side at London Stadium....
Slaven, can you provide the latest team-news and give us updates on how Dimitri Payet and Manuel Lanzini are doing ahead of the Watford game?
SB: "After the international break we will have training with the full squad for the first time as they are all back now.
"The rest of the guys who have not been involved in international duty have been training for the last couple of weeks and we have to wait for today's training, but we should have some of the injured players back.
"Manuel Lanzini is back and came on against Manchester City. He is fully fit and all the players who came back from their countries have not reported any injuries. A few of them should be involved in the game against Watford."
Dimitri Payet appeared as a second half substitute for France on Tuesday night. Will he be in a position to start the game on Saturday?
SB: "I have just seen him before the press conference. He has not played for us since the opening game against Chelsea but he played 45 minutes for France in a friendly against Italy and then came on against Belarus.
"We will see how he is but he will definitely be in the squad. I am expecting him to be fit and ready and he will start the game."
How much have you missed him?
SB: "Of course we have missed him. It is the same for any club who are without their key players.
"France missed him and I watched the game. France were a better team when he came on with his quality from open play and delivery from set-pieces."
What have you made of Watford this season and how do you see this game going?
SB: "They are a good team. Last year they did really well and were very active in the transfer market last summer after their promotion.
"They bought a lot of experienced international players from Europe and now they have changed the manager.
"They were very active again and if you look at their roster, they have 18 players who are very familiar to football fans across the world. They have a good team with energy, pace and stamina.
"They are a very good team. I watched them even more over the international break and saw their three games and one in the cup. They had a tough schedule against Chelsea and Arsenal.
"We are expecting a tough game."
How much will it help Michail Antonio's confidence that he has been called up to the England squad?
SB: ""It will help Michail to be part of the England squad. He was confident before that. He doesn't need to change the way he plays or the way he trains. We have to help him with that.
"That will give him even more confidence. I spoke with him and said that he should not forget the way of playing that gave him the opportunity to get into the England squad."
There is another big event in London on Saturday night with a big boxing match involving Kell Brook and Gennady Golovkin. Golovkin came to West Ham in January and declared himself a Hammer. Will you be cheering him on at the O2 Arena?
SB: "I remember he came to the Manchester City game and we chatted for a few minutes. He declared himself as a big Hammer.
"We wish him luck."