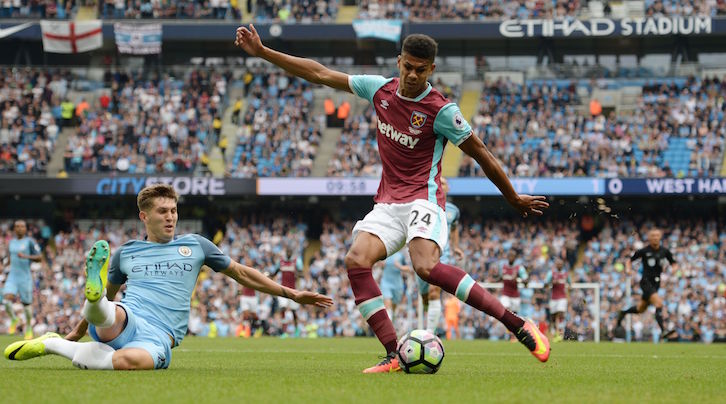 Ashley Fletcher has wasted no time settling into his new surroundings following his summer move from Manchester United and has become an established first-team member in the opening part of the season.

The talented forward impressed as a second half substitute against Astra Giurgiu in the Europa League and made his first full start in the last Premier League game against Manchester City.

Fletcher is now hoping to cement his place in the squad and show he is good enough to compete in the top flight on a regular basis....
Ashley, how special was it for you to make your Premier League debut in Manchester at the Etihad Stadium and do you feel ready to compete at the highest level?
AF: "It was everything I dreamed it would be, to be fair. Making my debut back in Manchester, where I've grown up and doing it against City, one of the best teams in the country, unfortunately we couldn't get the result, but it's a day I'll never forget.
"The manager said he thought I had a good game and that he hopes it's the first game of many.
"We know we let ourselves down against City, in the first half we couldn't really lay a glove on them, but in the second half we came out fighting. The manager said to go out there and prove that we are a good team.
"We were missing a few key players but that wasn't enough of an excuse for our performance, we know we should have done better.
"I think I've settled in very well, everyone's welcomes me with open arms really, the players, the fans and all the staff so I'm loving every minute."
How much are you enjoying playing at the new Stadium and performing in front of nearly 60,000 fans every home game?
AF: "The fans are a massive part of the club, and every home game is very special. Obviously it's up to us to make them happy.
"It was fantastic to play at the new Stadium. The atmosphere was unbelievable, for me to come on in such an important game (against Astra), and I'd like to think I made a bit of a difference.

"The result didn't go our way, but the match was about trying to show the manager what I can do."
How disappointing was it for you to see the Hammers go out of the Europa League before the group stages took place?
AF: "It was very disappointing to be knocked out of Europe so early, but it does give us an opportunity to do well in the league.
"I think we've added a lot of quality to the team with some of the new signings; Simone Zaza, Lanzini, Feghouli – players of that calibre. It just shows the club's ambition and I hope the fans see that. Added to the new stadium, we could be in for a very exciting season."
Following the defeat against Manchester City, how important is it that the team gets straight back on the winning trail when they face Watford on Saturday?
AF: "Watford are a good team. They have also added to their squad in the summer so it's going to be another tough game."

What are you hopes for the rest of the season and what would you like to achieve at West Ham United?
AF: "My personal ambitions are to get as many games and as many minutes as possible.
"Whether it's starting games or coming off the bench, I want to be involved as much as possible. I think I've made a good start and made an impact so far and hopefully that continues."
Finally, what is it like for you to hear the West Ham fans singing Bubbles when you first go out onto the pitch?
AF: "It's incredible, hearing 57,000 fans signing bubbles is amazing, I got goosebumps the first time I heard it, I'd never heard it live before, so when I heard that, I thought "wow, what a club."