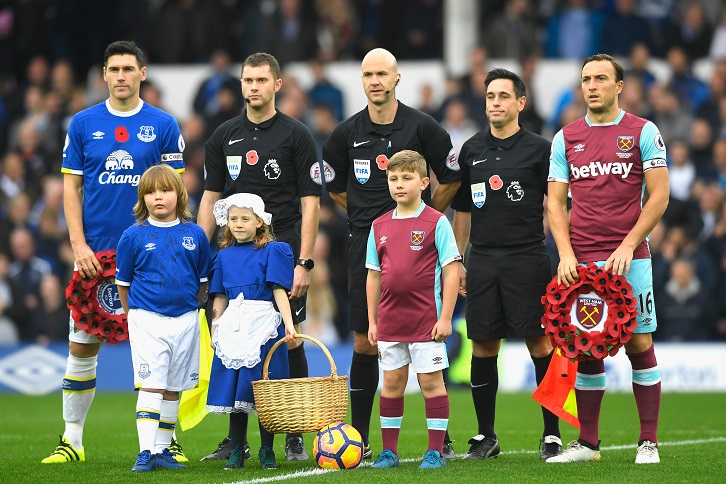 West Ham United supporters impressed their hosts at Everton on Sunday
3,000 travelling fans paid tribute to the fallen in poignant Remembrance ceremony
Hammers also stood and applauded late Evertonians Howard Kendall and Rhys Jones
West Ham United's travelling supporters have been praised for the respect they showed to Everton Football Club at Goodison Park on Sunday.

The 3,000-strong Claret and Blue Army's conduct was recognised by Evertonian Lenny Jameson, who wrote to fan website Knees Up Mother Brown to thank them.

The Hammers' away support is always outstanding, but those who made the trip to Liverpool truly surpassed themselves by the way they embraced the hosts' Remembrance commemorations.

As one would expect, the West Ham support fell silent during a wreath-laying ceremony, a moment of silence and the playing of the Last Post before kick-off.

Then, on four minutes, the visiting fans joined their Everton counterparts by applauding in memory of late Toffees player and manager Howard Kendall, who passed away in October 2015.

Kendall, who won the league title with Everton as both a player and manager, became the youngest-ever FA Cup finalist when he turned out for Preston North End against the Hammers in 1964.

Finally, at half-time, the West Ham fans gathered in the Bullens Stand stood and applauded in tribute to the late Rhys Jones, the eleven-year-old Everton fan who was tragically shot on his way home from football training in 2007.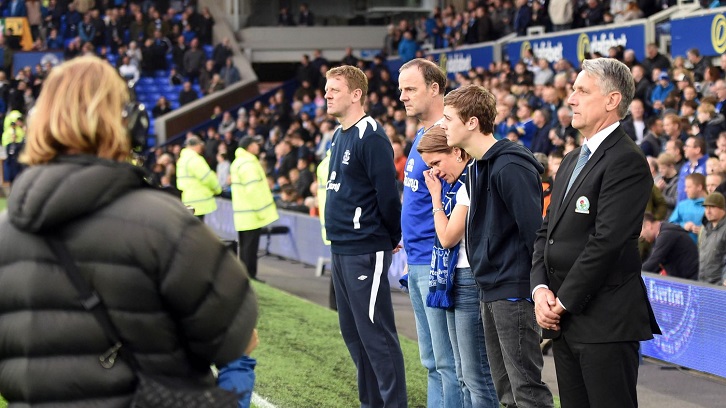 A drama series being made in Jones' memory entitled Little Boy Blue was being filmed in and around Goodison Park on Sunday, and the half-time filming saw actors re-enact the afternoon Everton paid tribute to the young Rhys nearly a decade ago.

"As an Evertonian," wrote Jameson to KUMB.com, "I was at the game today, seated with my disabled friend behind the goal right next to the West Ham supporters. The support for their team was first-class throughout the whole game.

"My main point however is their reaction to the minute's silence and two different minute's applause that were held today.

"The Remembrance Day silence was, as it should be, impeccably observed. And the response from the West Ham fans to the minutes' applause for Howard Kendall and Rhys Jones was absolutely fantastic.

"The wholehearted way in which they all joined in was a wonderful sight to see. I hope you can pass this message on from us Evertonians and thank them all from the bottom of our hearts.

"They were an absolute credit to their club and to football."