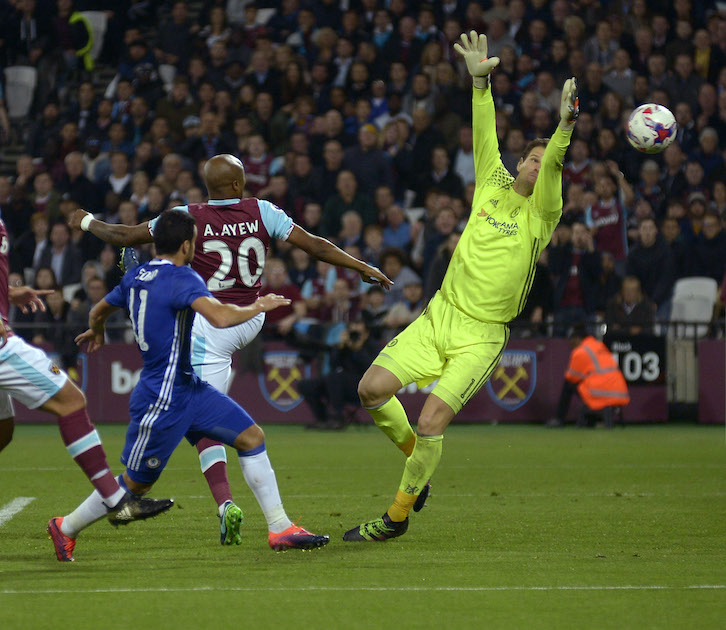 Andre Ayew is thrilled to be back out on the pitch and is ready to show why the Hammers spent a club record fee to bring him to the Club during the summer.
Ayew suffered heartache during his Premier League debut for the Club against Chelsea after he was forced to leave the field after just 35 minutes with a thigh injury.
The original prognosis suggested the Ghana international could be ruled out of action for four months but after consulting specialists, it was decided he would not need surgery and he has made a speedy recovery.
Having worked closely with the medical staff at West Ham and spending some time in France to work on his rehabilitation, Ayew finally made a return to first-team action when he appeared as a second half substitute during the memorable midweek cup victory over Chelsea.
The talented forward is now hoping his injury problems are behind him and says he is ready to take his chance when Slaven Bilic brings him back into Premier League action.
Ayew said: "It is a great feeling to be back. I was supposed to be out for a very long time but the medical staff worked hard here and also in France.
"I want to thank all the people who helped me get out to play because we worked really, really hard. Now I hope it is just the beginning.
"There were different ideas from different specialists and we took the decision not to have the operation. Now things are going well. Hopefully I can keep on training and get back to my fitness.
"I am not a player who had a lot of injuries in the past. It is part of the game. It was tough to accept that in the first game. I had to relax, do the treatment I had to do to get my leg right again.
"It wasn't easy but I knew the sacrifice that were ahead of me if I wasn't going to have the operation. Hopefully, it was a good decision we took.
"I hope and pray that the next games will be the same so my confidence level will get higher. Every day I am getting stronger from training and I feel better."
Ayew has also drawn strength from his fellow team-mates in the Hammers squad and says they have been fully supportive in helping him make a quick return.
Ayew added: "I get more confidence from the guys around me. They players when I was injured. They were calling me, etc.
"It was a difficult moment but at the end of the darkness you always see the light. Hopefully it will now continue. It was so frustrating what happened in that first game. But that's football. You learn from that.
"You need to stay focused in the good moments and the bad moments and try to give your best on the field."
Ayew would love to play his part in helping the Hammers make it four back-to-back victories with another win over Everton at Goodison Park on Sunday.
Having appeared late in the game against Chelsea, Ayew is growing stronger by the day and says he will be ready to take his chance when Bilic feels the time is right for him to get back into the team.
"It is good - but this is just the beginning. Three wins in a row in England is not easy. We shouldn't get swollen-headed. We have a tough one coming up at Everton and it is another important game for us.
"It is only time that will tell when I can get back to full fitness. Game time, bit by bit, like I did against Chelsea. I know I am ready to get on the pitch. As soon as the gaffer needs me I will be there."