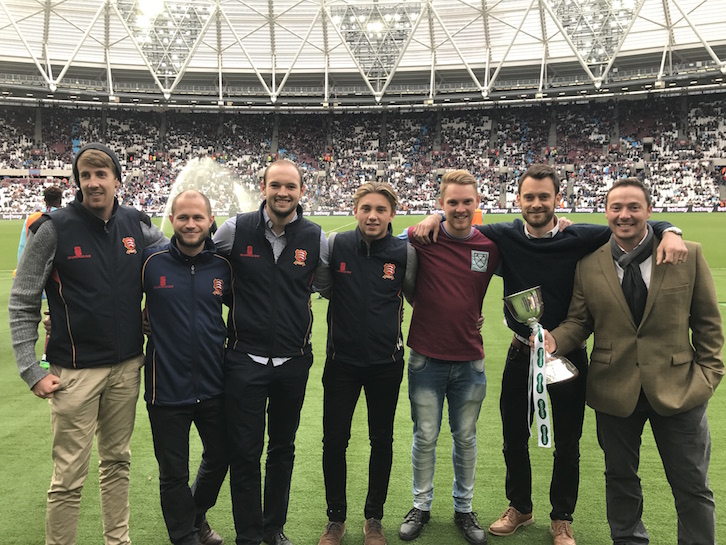 Essex Cricket Club had a day to remember when they were invited as guests to London Stadium for West Ham's dramatic last minute victory over Sunderland.
Wicket keeper James Foster joined all-rounder Graham Napier, opening batsmen Nick Browne, fast bowlers Matt Quinn and Aaron Beard and lifelong Hammers fan Jamie Porter for a day they will always remember.
It was a dream day in particular for Porter who donned a retro Claret and Blue shirt and proudly showed off the County Championship Division Two trophy to the Hammers fans at half-time.
The Essex Cricketers have certainly enjoyed a memorable few months after winning promotion back into the top flight and were thrilled to be shown around West Ham's new home.
Foster is a well known figure with a number of West Ham fans having captained Essex and played for England and believes the move into London Stadium can only help the Club as they look to compete with the big clubs over the next few years.
Foster said: "We were all blown away when we first came into the Stadium and everyone had a fantastic day.
"There are a couple of West Ham supporters in our squad who have been here a couple of times, but for the majority of us it was a thrill to see it and it is a phenomenal Stadium. Leaving Upton Park was emotional for a number of West Ham fans, but I'm sure they can create a lot of memories here."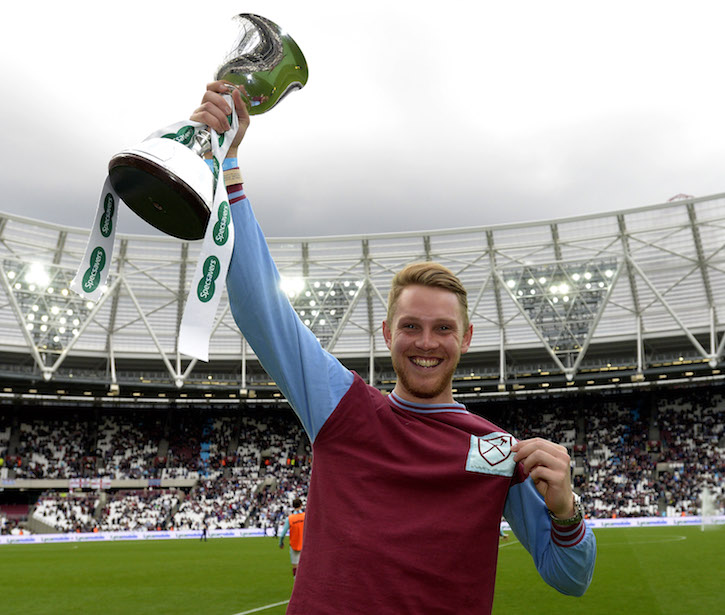 "Jamie Porter has been to London Stadium quite a few times and is a die hard West Ham supporter. We knew he would be like a kid in a sweet shop going pitchside and going around ground, but it was a great experience for everyone.
"It obviously has so much history with the Olympics and the thought of actually playing here must be something special. Maybe one day we can get to play a bit of cricket here!
"We obviously have a lot of West Ham fans who come to watch in Essex and there can be a great atmosphere if we have a Twenty20 game on a Friday night.
"It is great having fans coming from the East End to Chelmsford to support Essex and it makes a huge difference.
"Winning a Championship and getting promotion was an amazing feeling and everyone is delighted. The hard work starts again and we want to make sure we stay in the top division."
There have always been strong connections between the Hammers and Essex with one of the biggest links being cricket legend Graham Gooch who is a big West Ham supporter.
Foster added: "Graham always talks about West Ham. He is a great man and everything he gives towards Essex is phenomenal.
"As a player he used to train at West Ham during the winter and we have seen some pictures of him - he looked pretty silky on the ball!"
Foster can draw a number of comparisons with Hammers skipper Mark Noble having come through the ranks and go on to captain his side.
The 36-year-old says he is not finished just yet and hopes to achieve even more success next season and keep Essex challenging the top teams in the country.
Foster added: "Being an Essex boy and playing for the county for the Under-9s and now playing at 36, it has been fantastic.
"It has been a tough year but we got our rewards and it is fantastic that we could show off the trophy to all the West Ham fans.
"We are now back in Division One and have a lot of ambitious young players. Hopefully we can build on what we did last season."