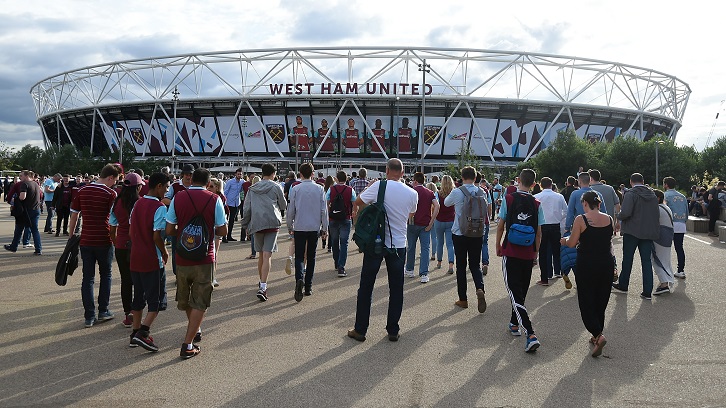 The following message from Joint-Chairmen David Sullivan and David Gold will appear in tonight's Official Programme for the EFL Cup fourth-round visit of Chelsea to London Stadium...

Hello everybody as we look ahead to tonight's historic EFL Cup fourth-round tie with Chelsea at London Stadium.

We would like to extend a personal welcome to the staff, players and fans of both teams on the occasion of the first London derby at our aptly-named new home.

While there has to be a winner and a loser this evening, tonight's game is one for us all to relish and enjoy.

We would once again like to extend our heartfelt thanks to our fantastic supporters for the way they have come and put their support behind the team so far this season. Saturday's victory reminded us once more of the stunning atmosphere we can create inside this Stadium when our famous support reverberates around the roof, and we certainly need that more than ever this evening for what will be a tough game under the lights.

We feel it's very important to note that the overwhelming majority of supporters attending matches at London Stadium so far this season have behaved impeccably during their visits.

We have been proud to welcome week-in-week-out our 10,000 Under-16 Season Ticket Holders and 25,000 supporters who attend as part of a family unit.

We have been working closely with our partners E20 Stadium LLP and London Stadium 185, the Metropolitan Police Service and of course our supporters to make for a safe and pleasant environment in which fans of all ages can watch their team in action.

This evening we could have sold the Stadium out twice over but the safety and security of our supporters is and must remain our primary concern and therefore working with guidance from our safety advisory expert colleagues, we opted to limit the sale of tickets to only those with a certain level of purchase history. This meant that many fans who have bought multiple tickets previously were only able to purchase one ticket for this fixture. Hopefully we will not need any restriction on sales in the future.

Despite that we have achieved a record breaking crowd of close to 50,000  that will eclipse our own EFL Cup attendance record that has stood for nearly 45 years, and for that we once again commend our supporters and hope that together we can achieve another landmark win over one of England's top sides.
Extensive and appropriate plans and arrangements have been put in place to make for what we all hope will be a thrilling and entertaining cup tie
Joint-Chairmen David Sullivan and David Gold
Extensive and appropriate plans and arrangements have been put in place to make for what we all hope will be a thrilling and entertaining cup tie.

Please remember that every one of you is an ambassador for the club and we urge everybody to behave impeccably tonight as the vast majority do week in week out, both inside and outside the ground, and to respect the travelling Chelsea supporters.

Through the decades we have supported this Club, we have enjoyed many famous cup nights under the floodlights, including that memorable 4-0 victory over Manchester United in the snow back in 2010.
Surprisingly, this will be just the third occasion on which we have faced Chelsea in the EFL Cup – or League Cup, as it was historically known – in the 57 years since the competition was introduced in 1960.

Currently, the head-to-head stands at one-all, with our win coming 22 years ago to the day. We are delighted that members of the team which won that tie will be with us this evening, so please give them the welcome they deserve before kick-off.

The EFL Cup is one of two competitions we can realistically aim at winning this season – the other being the Emirates FA Cup – and we know how much every West Ham fan would love a day out at Wembley.

We have come very close to reaching the final twice in recent seasons and, with the strong manager, staff and squad we have now assembled, there is no reason why we should not aspire to go all the way this season.

We also go into tonight's game off the back of two confidence-boosting Premier League victories over Crystal Palace and Sunderland.

At both Selhurst Park and again on Saturday, your support for the team was second-to-none, and unquestionably played a big part in the team collecting six points out of six.

It goes without saying that together, we are a formidable force that will take some stopping, so let's unite positively behind Slaven and his players tonight and cheer them through to the fifth round.

Come on you Irons!

David Sullivan & David Gold
Joint-Chairmen