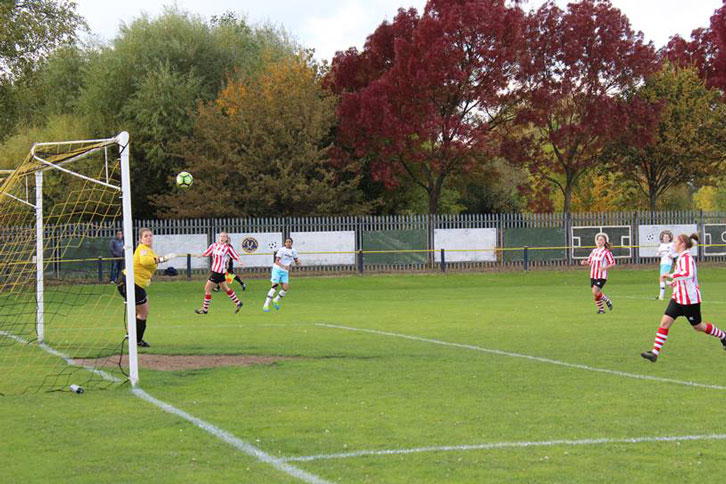 Cheltenham Town Ladies 1-2 West Ham United Ladies
 
On a sunny October afternoon in the Cotswolds, West Ham United Ladies edged past a gritty Cheltenham Town Ladies team to earn a place in the next round draw for the Women's Premier League Plate trophy.
 
The new management team of Greg De Carnys, Josh Ewens and coach Karen Ray got off to a winning start at Cheltenham's Petersfield Park thanks to an injury time wonder goal from striker Chloe Burr.
 
The game was billed as Cheltenham's biggest match in their recent history and they dared to dream of causing a major upset against their illustrious opponents, who have had a hectic week themselves.
 
There were the only two changes to the team that had lost 4-0 to Crystal Palace Ladies the previous week, with Olivia Sammons and Kat Clifton dropping to the bench to make way for Dayna Chong and Jasmine Auguste. 
 
West Ham's first effort came after just six minutes when good work from Chloe Burr put in Sasha Kelly but she pulled her shot wide. Burr was seeing a lot of the ball and another great solo run was thwarted by a last ditch block by the defender.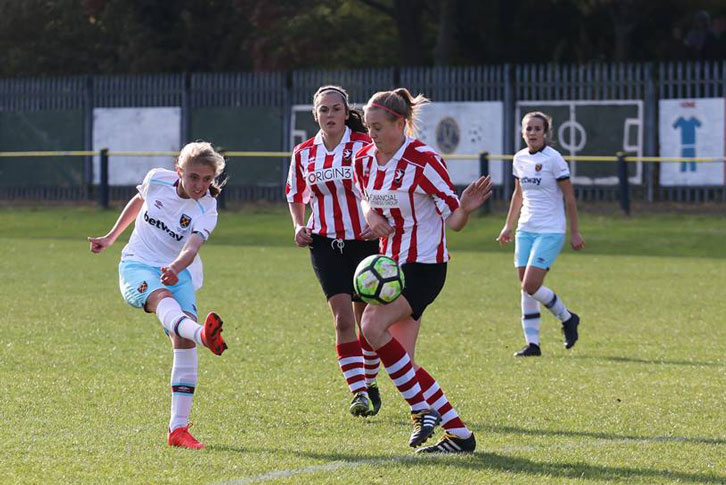 West Ham were not having it all their own way though and in the 14th minute, Aditi Chauhan had to dive bravely at the attacker's feet to save a certain goal.
 
A minute later West Ham were ahead. Katie Bottom broke into the penalty area and was tripped. Befitting of the Cotswolds, West Ham were awarded a stone-wall penalty, which Katie Bottom dispatched with aplomb, sending the keeper the wrong way to make it 1-0.
 
The game turned into a midfield battle, with Amy Cooper and Dayna Chong stroking the ball around for the West Ham Ladies whilst Cheltenham Ladies worked tirelessly closing them down to protect their back four. The last chance of the half fell to Burr, who after a mazy solo run blasted the ball high and wide. 
 
The longer the second half went on, there was a sense that if there was a next goal it would go to Cheltenham. And that proved to be the case.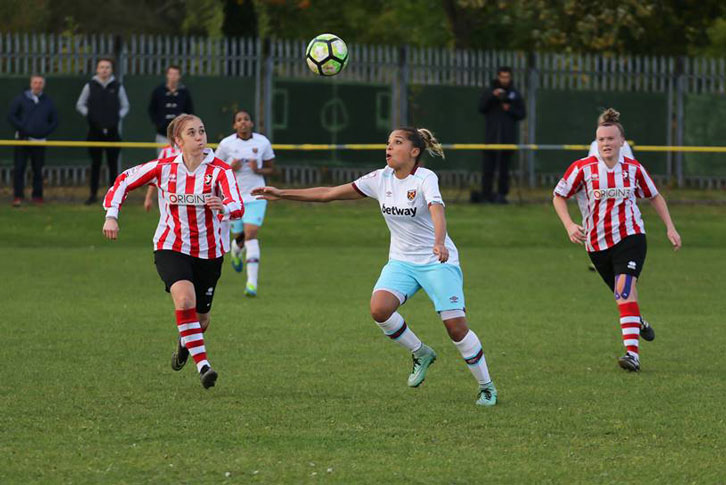 Cheltenham were awarded a soft free-kick which was launched into West Ham's penalty area, and the industrious Louise Fensome hammered it past the diving Chauhan.
 
A minute later Cheltenham nearly took the lead when a 30-yard Sophie Wyatt free-kick flew just over the bar. 
 
With the prospect of extra time looming, Burr weaved her way down the right-hand-side and from what seemed like an impossible angle, rifled a curling shot into the top corner of the net.
 
Manager Greg De Carnys said after the match: "I'm really happy about the way the girls have taken to how we want to play. It was an encouraging start and certainly some of the things we have worked on in training were there to see.
 
"Now we can take that performance and hopefully keep adding to it week on week. It will take time but I am confident we will keep progressing.
 
"Josh, Karen and I are keen to get back out on the training field and I get the sense the girls are too. They seem to enjoy solving the problems we throw at them in training and there's an appetite to keep improving which will take them far.
 
"It's also been great to see the girls looked after so well by the club and I'm sure they'll remember their day on the pitch at Upton Park and the reception they got from the fans for a very long time."