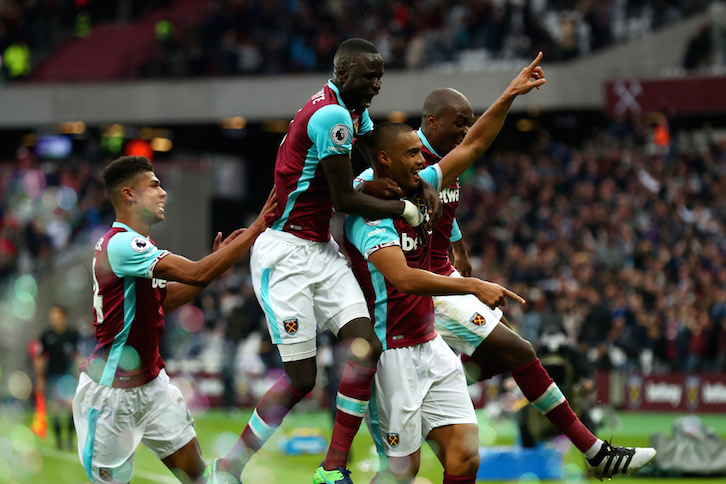 Tickets available on Ticket Exchange for 5 November game against Stoke City
Stoke game is a sell-out but some Season Ticket Holders have made their seats available to purchase
Scheme will enable supporters to attend otherwise sold out London Stadium matches
You can be there for the sell-out Premier League clash with Stoke City on Saturday 5 November, as tickets become available on our Ticket Exchange.
 
The visit of the Potters sold out to the Claret Members' ballot - as all Premier League games at London Stadium have - but Season Ticket Holders can relist theirs and Claret Members have first priority until 5pm on Wednesday 2 November.

After the priority window for Claret Members, all supporters will be able to buy tickets made available on the Ticket Exchange.
 
Click here to purchase your tickets on the Ticket Exchange now

Once a Season Ticket Holder's ticket has been exchanged, his or her Season Card will be disabled for the game, while the buyer's Claret Membership Card will be activated. If you are not a Claret Member, you will be able to print your ticket at home.
 
The credit for the ticket sale will be made available in the seller's Season Ticket Holder account, minus a 10% administrative charge.
 
For full details of how to release your seat to the Ticket Exchange, and for terms and conditions, please click here to view our helpful User Guide.
 
Season Ticket Holder seats which become available on the Ticket Exchange will be available to purchase online here.
 
If you are a Season Ticket Holder unable to attend this game, please relist your ticket to allow another fan to experience the Hammers at London Stadium and you will benefit with ticket credit in your account which you can use towards a future game.

Supporters who are successful in the Stoke ticket ballot will have received a confirmation email by 6pm on Monday 24 October.