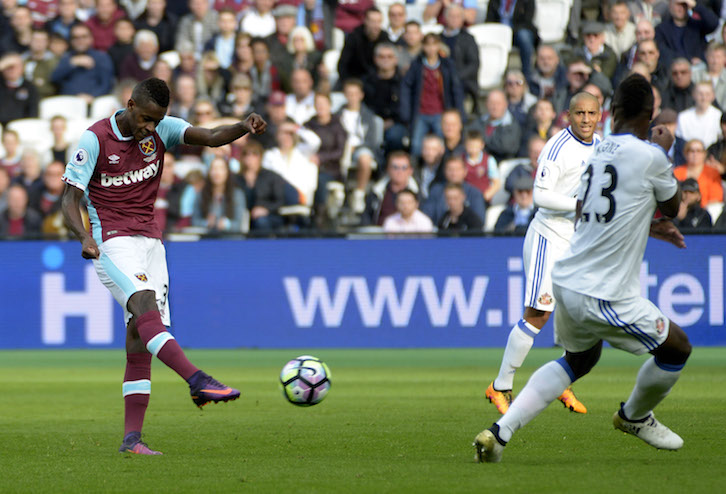 There were a number of positives to take from Saturday's dramatic 1-0 win over Sunderland – none more so than the impressive Premier League debut by highly-rated youngster Edimilson Fernandes.
Fernandes was one of the star performers for Slaven Bilic's side even though he was asked to play out of position at left wing-back.
The Switzerland U21 international arrived at the Club during the summer with a big pedigree from FC Sion and Slaven Bilic had no hesitation in handing the talented midfielder a first-team start on Saturday.
Fernandes repaid his faith with a superb display and could have even got his name on the scoresheet.
The 20-year-old says he will never forget the experience of performing in front of 57,000 fans inside London Stadium and hopes this is just the start of a memorable career in east London.
Fernandes said: "It was fantastic for me to make debut in such a great team and we played a great game.
"I was very happy to win and it was very important for the team. I am now looking forward to the next one!
"The London Stadium is a brilliant Stadium and to play in front of 57,000 fans who push you forward is an unbelievable feeling and I hope to play a big part in the future.
"I feel very confident when I play and work very hard in training. The management train me hard and explained to me what they expected from me playing in this position so I felt confident. I try and take that confidence onto the pitch.
"I would love to be involved in the next game against Chelsea on Wednesday night."
Fernandes admits the Chelsea game in the EFL Cup on Wednesday night is one of the biggest of his career and says the derby games in England are a lot different to the ones he has encountered in Switzerland.
The Swiss midfielder says he will have no problems playing out of position once again if Bilic needs him to and hopes he can keep producing his best form for the east London Club.
Fernandes added: "I felt a bit of pressure going into the match but I thought I had a good game playing my first game in the Premier League.
"I don't normally get nervous before games as I have quite a lot experience, but I felt the pressure this time because I was playing in a different position. However, I was just happy to play.
"I train very hard and want to play in every game. My preferred position is central midfield but I will play in any position – except for goalkeeper!"