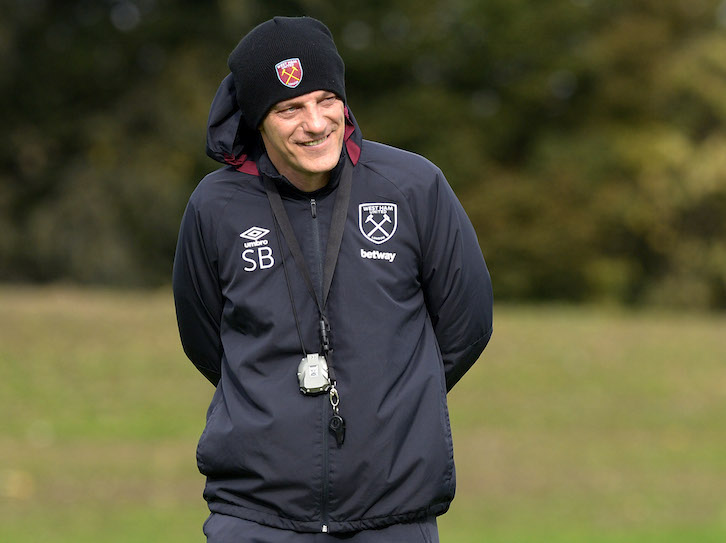 Good morning everyone,
We are all hoping to build on the performance over Crystal Palace last weekend and get a similar result when we return to London Stadium today.
We know it is a great Stadium to perform in and with 60,000 people we should be proud to be performing in such a great arena.
It is our home and with a couple of victories we know it is going to be great.
The whole team performed so well last week and there were a number of good individual performances.
I was asked about Simone Zaza at the pre-match press conference and it was a really good performance from him.
I told him that he won more duels in that game than the games before and against a couple of centre-backs in Tomkins and Delaney, who are good at that part of the game.
He was fighting, he was defending, he was good on the ball, he kept the ball well, he linked up really well with Lanzini and Payet.
You could see after the game that he was really happy and proud about the performance.
I also told him the goals will come. It's not all about goals of course but if he plays like that it helps the team a lot and of course they are one of the reasons why we wanted him.
We are hoping to have more good news with Diafra Sakho. I said last week that he is back on the pitch and this week he has been doing more and more.
It looks very good, touch wood and the plan next week is to let him train with the U23s.
It is different when you are just working with the physio's and can control your moves. This is now going to be the next big step and if everything is okay after that he will be ready to join us after the game against Everton.
I have spoke with him a few times and he is ready. He has got to perform and play well and he knows I have always rated him. I'm expecting a lot from him when he comes back.
We know the dangers that Sunderland can pose on Saturday and one of the biggest threats will come from Jermain Defoe.
I have spoken in the past with Niko Kranjcar who was my midfield player for Croatia.
He played with Jermain at Tottenham and Portsmouth. As a number ten he has played with some great strikers and he told me by far the best movement of a striker was from Jermaine Defoe.
You can see that when you're watching the game, when you're analysing the opponent: the freshness is there. It's still there. You talk about his finishing, it's absurd, he's got it, a clinical finish, so he's still a great player.
He came back (from America), maybe better than before which is amazing.
I hope we can still come out on top and get another victory on Saturday.
Enjoy the game this afternoon.
Slaven