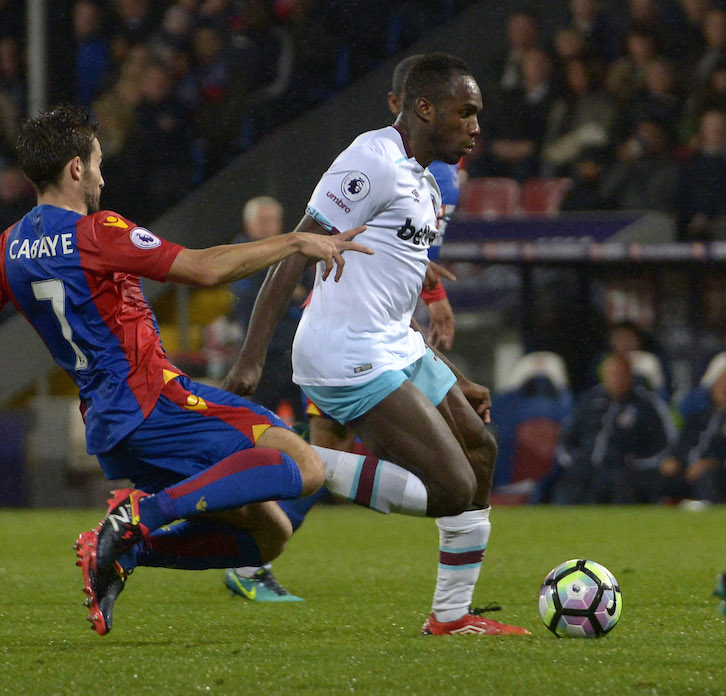 Michail Antonio is convinced West Ham can enjoy another successful season and hopes his side can maintain their winning run and challenge in the top half of the table.
Antonio played his part in a memorable 1-0 victory over Crystal Palace last weekend which helped the Hammers move out of the bottom three.
Slaven Bilic's side were back to their best in south London and will be hoping to re-produce that form when they host Sunderland at London Stadium.
Following a successful final season at the Boleyn Ground which saw the team challenge for a top six finish, Antonio sees no reason why they cannot compete with the big teams once again and believes the luck is finally turning their way.
Antonio said: "I believe we can achieve something similar to what we achieved last season. We have managed to get out of the bottom three and if you look at the league, we are not far away.
"Whoever can go on a good run now can move into the top half of the table.
"It was a very important victory against Crystal Palace last weekend. We have been playing well and have started games well. We have been on top of teams but then experience a lot of bad luck.
"I have never known a run where every time someone goes forward they put the ball in the back of the net. Things have not been going our way but it seemed to turn at Palace last Saturday.
"We scored our goal and then gave away a penalty. Benteke then missed it and hopefully our luck has now turned and we can continue pushing forward.
"People have spoken about the London Stadium but the facilities are even better and I put it down to bad luck. We want our ability to come through and the results will get even better.
"We need to have a strong mentality and we always believe we can win. It has had nothing to do with us not believing."
Antonio feels the key to beating Sunderland will be stopping former Hammers forward Jermain Defoe getting on the scoresheet.
Sunderland have yet to win a Premier League game and although Antonio is still expecting a tough encounter, he is hopeful that his team will have enough quality to come away with all three points.
Antonio added: "In the Premier League any team can beat anyone on their day because all the teams have quality players. This season things have not gone Sunderland's way and this is the game where they could turn up.
"But I don't think that is going to happen and I think we are good enough to come away with all three points.
"We know that we need to stop Jermain Defoe. He is a prolific goalscorer and if we can stop him, we can hopefully stop Sunderland scoring."