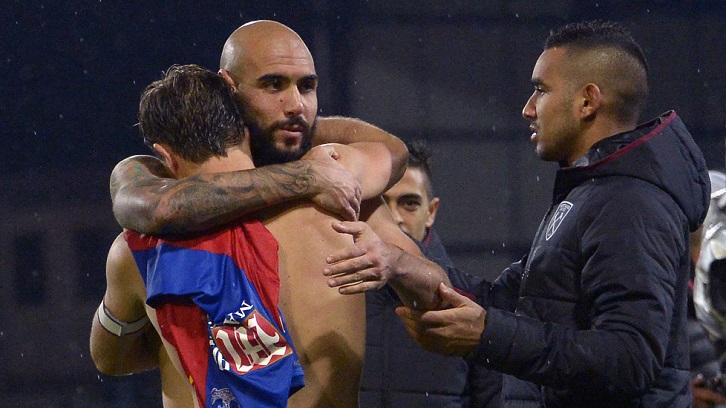 Simone Zaza is determined to reward the Claret and Blue Army with his first West Ham United goal against Sunderland this weekend.

The Italy striker freely admits his opening performances in a Hammers shirt did not give supporters much to cheer about.

However, the No11's non-stop running and commitment in Saturday's victory at Crystal Palace saw him receiving a rousing ovation which he reciprocated by throwing his shirt into the Away section at Selhurst Park.

For Zaza, his improved display was down to two main factors – being match-fit and becoming accustomed to the relentless nature of English Premier League football.

"We had a good feeling after the win, of course," he said. "I feel like I'm performing well now I'm physically fit. I am happy for myself and also for the team because we really needed the win. I feel like we're turning things around."

"The manager told me after that he had seen the 'Real Zaza' and yes, yes, I agree with that. I knew that when I arrived it would be hard, because it's a completely different league, but I didn't think it would be this different.

"I'm gradually getting used to it, feeling more confident and I'm very positive at the moment.

"My relationship with the supporters is much better now! The fans expect me to give my best, and so they should, but sometimes the difficulties a player is experiencing are not so clear.

"What is important to the fans is the team scoring goals and winning games and they're right about that. I know this is the right club for me, with the fans, the culture, the team and the whole concept of not giving up.

"I really appreciate the fact that the fans appreciated my performance at Crystal Palace and I hope my first goal comes soon so we can celebrate together."
Of course I want my first goal to come and Saturday would be a great time for that to happen, particularly as we're playing at home
Simone Zaza
Next on the agenda for Zaza is a first goal for his new Club, and the shaven-headed striker is determined to break his duck against Sunderland at London Stadium.
If he does hit the net, the chances of West Ham registering welcome back-to-back Premier League wins will be greatly increased.
"Of course I want my first goal to come and Saturday would be a great time for that to happen, particularly as we're playing at home," he said.
"While I want to score, of course, the most important thing is for the team to win and if we do that it will be a big step forward in terms of improving our league position.
"If we win on Saturday against Sunderland, I think we can say that our league season has begun."