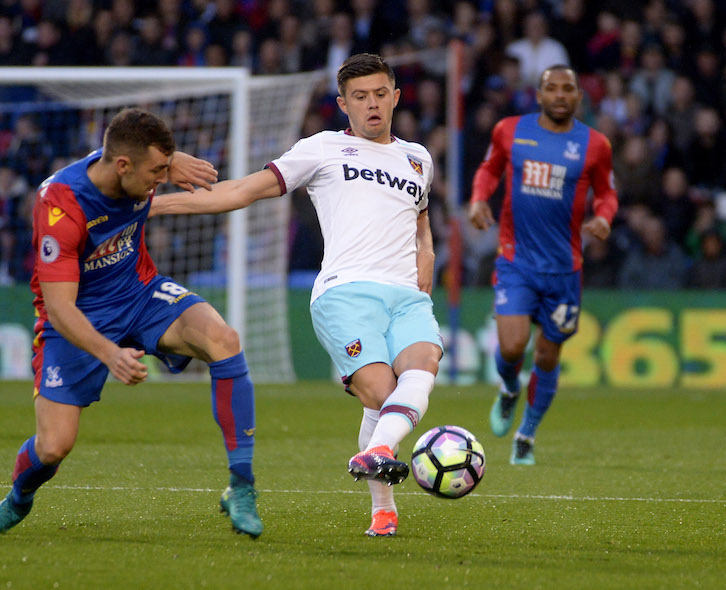 Aaron Cresswell faced a rollercoaster of emotions on his comeback for the Hammers but was thrilled to play his part in a crucial 1-0 win over Crystal Palace.

Cresswell was making his first appearance of the season after damaging knee ligaments during the pre-season trip to Austria, but looked as if he had never been away with a superb display at left back.

The Hammers full-back played a major role in the only goal of the game when he linked up with Dimitri Payet and played in the perfect ball for Manuel Lanzini to produce a clinical finish.
Cresswell's return was marred by his sending-off late in the game after he picked up two yellow cards within the space of 51 seconds – even though both incidents were extremely harsh on the 26-year-old.
Despite being forced to watch the final stages in the dressing room, Cresswell was delighted that his team-mates were able to hold on for the victory and hopes this can be a major turning point in the season.
Cresswell said: "It was a rollercoaster game for me with a lot of ups and downs. I am a little bit disappointed to be sent off but it was great to be back with the lads and to get three points which we desperately needed.
"It is not about me or the other lads, it is about the team and we came here to get three points and that is what we have done.
"Everyone knows we have had a slow start and coming off the back of last season when we finished seventh, to start the season the way we have is very disappointing getting just one victory from seven games.
"To come to Palace which is one of the toughest places to come because the crowd are on top of you and there is a great atmosphere – to get three points is massive. The times we have been here we have got some good results.
"Thankfully I was able to set Manu up for the goal which was a great feeling and it as something we had worked on in training. Tonks and the back four are all six foot plus and we only had Zaza up top with Manu and Dimi.
"I needed to put the cross along the floor and it was a great finish from Manu. The main thing was to be involved with the lads and get the three points.
"It was a battling performance and we were fortunate that they missed a penalty. That gave us a chance and we defended brilliantly.
"For me to sit inside and watch the final 15 minutes was very nervous and I am glad we held on to get the three points.
"It was not about individual performances today. It was about us being a team and I thought we worked hard for each other."
There were a number of impressive performances from the West Ham players but Cresswell had special praise for Simone Zaza who was one of the unsung heroes in the victory.
Cresswell added: "I thought Zaza was brilliant upfront and he is just missing a goal but he will get one soon.
"I am delighted to be back with the lads and it is disappointing I cannot play against Sunderland next week.
"There is nothing I can do about that now and I am sure the lads will do well and take this victory into next week."