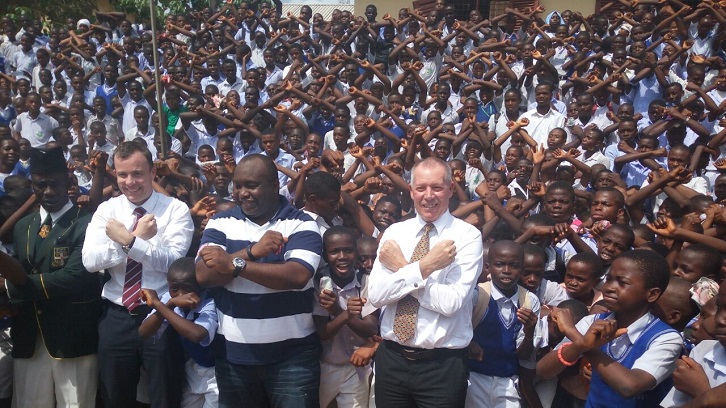 West Ham United's relationship with African partner Capital Oil and Gas Ind. Ltd strengthened
Managing director Angus Kinnear welcomed to Nigeria by founder Dr Patrick Ifeanyi Ubah
Agreement was signed in August 2016 with aim of boosting football in the African nation
West Ham United's strong relationship with the Club's first African partner was confirmed at a star-studded ceremony in Nigeria.

The Hammers agreed a historic partnership with Nigeria Premier League side FC Ifeanyi Ubah as part of the long-term agreement signed with the club's principal investor Capital Oil and Gas Ind. Ltd in August.

The partnership between West Ham and FC Ifeanyi Ubah, which will see the clubs work together to produce and develop young Nigerian footballers, was confirmed at a gala event in the West African country's largest city, Lagos.

Dr Patrick Ifeanyi Ubah, who founded Capital Oil and Gas in 2001 and bought the club which now bears his name in 2015, welcomed West Ham's managing director Angus Kinnear and a host of leading dignitaries from Nigeria's political and sporting worlds to the launch event.

Also present at the partnership launch event were the Chairman of Nigeria's National Assembly Sports Committee Senator Joseph Ogba, Nigerian Football Federation Chairman Amaju Pinnick, League Management Company Chairman Mallam Shehu Dikko, Ministry of Sports Permanent Secretary Solomon Dalung and members of the FC Ifeanyi Ubah coaching staff.

Alongside them sat a who's who of Nigerian football, including former internationals Taribo West, Peter Rufai, Victor Ikpeba, Victor Agali, Julius Aghahowa and Henry Nwosu, as well as current Super Eagles midfielder John Ogu.

There, Dr Ubah spoke passionately of the major benefits of the partnership for young Nigerians, saying: "Our vision is to get kids involved in football. Nigeria is a nation of over 180 million people. Nothing should stop us from producing the future Cristiano Ronaldos and Lionel Messis of these world.

"We have at least 18 areas why we are partnering with West Ham United ranging from scouting and merchandising to going to England to play friendly matches, among others. We chose West Ham United because they are famed for running the best academy in the world.

"With this partnership with West Ham United, we are going to be producing over 50,000 footballers in [FC Ifeanyi Ubah's home state of] Anambra soon."
Our vision is to get kids involved in football. Nigeria is a nation of over 180 million people. Nothing should stop us from producing the future Cristiano Ronaldos and Lionel Messis of these world
Dr Patrick Ifeanyi Ubah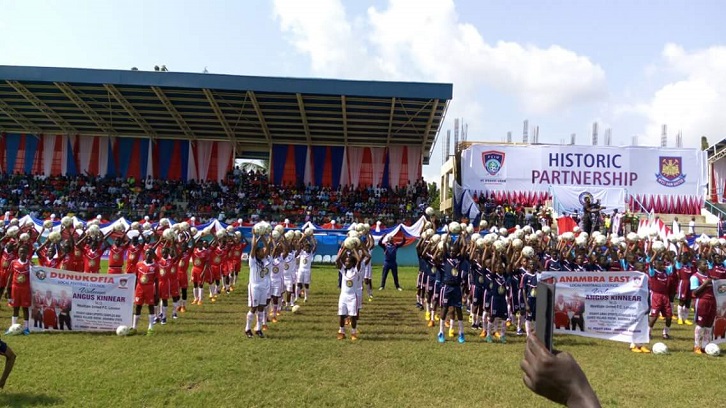 Dr Ubah's enthusiasm was shared by Kinnear, who also presented a £35,000 donation to the Anambra State Football Association and Okongwu Memorial Grammar School towards the development of youth sport in the state.
"We believe FC Ifeanyi Ubah are ideal partners as they share West Ham's vision and ambition for youth football development," Kinnear confirmed. "We are delighted to seal our first partnership in Africa and this trip has proved we could not have made a better choice. Whilst we are confident this partnership will deliver elite playing talent we will focus initially at the grass roots level where it has the capacity to turn young lives around.
"The fantastic on pitch achievements of FC Ifeanyi Ubah since their foundation less than two years ago demonstrate that the driver of this partnership, Dr Patrick Ifeanyi Ubah, is a man who is passionate about football and has a unique vision for the development of the game across Africa.
"In the next two to ten years, we want to look back and see that we have created a lot of value for Nigerian football, whilst simultaneously building the West Ham fan base in Africa's most populous nation."
The duo's visit to the businessman and philanthropist's home state to promote the 'Made in Anambra Football' project was graced by the supportive presence of Secretary to the Anambra State Government, Chief Solochukwu Lobelu and the traditional supreme ruler of the city of Nnewi, HRH Igwe K.O.N III (Igwe of Nnewi), who was presented with a West Ham United shirt.
Also present were local cabinet members Crown Prince Obi Orizu and Senator Alphonsus Igbeke, alongside former Nigeria and Arsenal forward Nwankwo Kanu and Nollywood actor and comedian John Okafor.