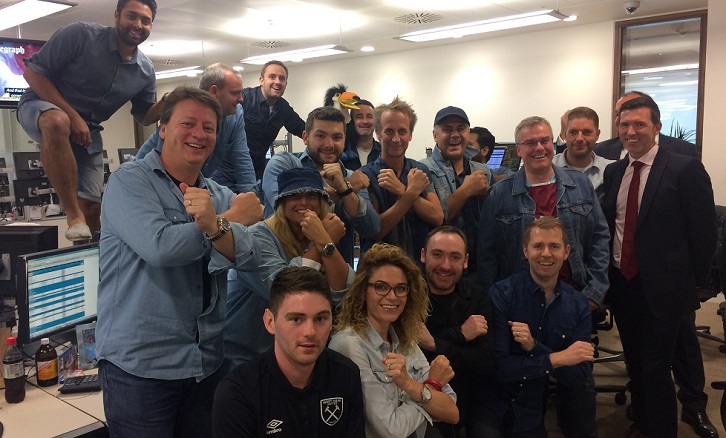 A trading desk at top City brokerage firm, Tradition, took on a new look last month, as employees donned 'double denim' in memory of their colleague and Hammers fan, Nick Olney.

An employee of over 10 years, Nick was a respected member of the team who worked on the Emerging Markets Desk. Following his death in May, colleagues took it upon themselves to raise money for a cause close to his heart, sporting the double denim combo's they were so used to seeing him wear.

Tradition arranges financial trades between the world's biggest banks, making a sum of money each time a transaction is completed.  The entire revenue made by the desk on one trading day in October is being donated to the Moore Family Foundation, which works in east London and Essex, providing one-to-one opportunities with disadvantaged Year 6 pupils.

Richard Munns, Nick's friend and colleague, said: "The team and I worked with Nick for well over 10 years. We knew he wasn't well for a while, but were expecting him to get better and to meet him for drinks once he got the all clear; unfortunately, that never happened.

"The whole team wanted to do something in his memory. We all knew he was a huge West Ham fan, regularly attending games, so we decided to focus an entire day's trading on raising money for the Moore Family Foundation.

"As well as the team here at Tradition, we've had overwhelming support from our clients, many of whom knew Nick well."

Stuart Tully, CEO Tradition UK, said: "It's tragic to lose one of our own.  But I'm proud of the support shown by his colleagues and our clients, and happy that Tradition can contribute to such a great cause."

Roberta Moore, Founder of the Moore Family Foundation, said: "We are incredibly grateful to Will Hornby and all of Nick's colleagues at Tradition and to their clients for their tremendous support and generosity in his memory.  I hope that they and Nick's family will draw some comfort from their loss in knowing that their fundraising efforts will make a huge difference to the disadvantaged Year 6 children that the Moore Family Foundation's programme supports."

Find out more about the Moore Family Foundation here.