Preview
Slaven Speaks - Crystal Palace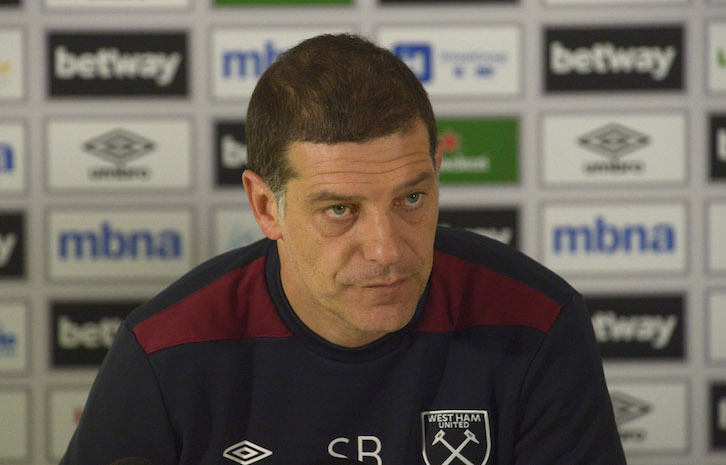 Slaven Bilic faced the media ahead of the London derby against Crystal Palace on Saturday and was asked about the latest team-news including the return of Aaron Cresswell.
Bilic was also asked about the mood in the squad over the international break and the importance of moving out of the bottom three....
Slaven, what is the latest team-news ahead of the big London derby on Saturday?
SB: "A few of the players who were away on international duty are coming back today. Winston Reid is the latest one because they played in the States, he is back today and tomorrow we have a full team.
"The other players who were here trained really hard over the break.
"Aaron Cresswell is back. He has started training for a couple of weeks with the physio's and the fitness coaches. He has started to train with us and has had 10 days training. He looks good, sharp and will be in the squad."
How much do you put the bad results this season down to the number of injuries which have affected the squad?
SB: "I am not looking for excuses but definitely they are one of the reasons why we didn't start as we wanted to and definitely we had injuries from the pre-season and a lot of them were long term.
"Now, a lot of the players are coming back and the injury list is not that big. Cresswell is already back and we are expecting a few of them to come back soon."
A lot of people have said the big move into the new Stadium has also played a part in the results. How much do you agree with that?
SB: "The stadium is not a reason, the stadium is great. Many clubs changed stadiums and needed time to settle in, get used to the stadium. It is  great stadium and we have to win a few games to feel more at home.
"Make no mistake, we would rather play at home because there we feel 60,000 people. Of course it is not a relief, we would like to play Palace at home on Saturday."
Dimitri Payet scored a wonder goal in your last game against Middlesbrough. How much would you love to see him repeat that against Palace on Saturday?
SB: "He had the Euros and then he was injured, then he came back and he is sharp and fit, with quality of course, and he produced that kind of magic with a goal that was amazing.
"We are expecting him to continue - not to score those kind of goal, not a one-off in his case but very hard to score those goals.
"In every side, you have players who you are expecting to do that. Last year it wasn't only him, there were a few players doing that stuff in the games. Dimi is one of them. That's why he was one of the best players in the Premier League last season."
Have you had time to reflect on the opening part of the season over the international break and how much has it helped the injured players like Andy Carroll and Andre Ayew move a step closer to a first-team return?
SB: "We used the international break to train a bit more with the players who were injured before the last international break. We used this couple of weeks to get them in the state that is required for the Premier League.
"I am happy the way they trained and I am expecting them to be fit and good. This break gives us two weeks to the next game, the players who were really close are back training with us.
"A few like Ayew, Sakho, Carroll are still not fit but are closer. The spirit in the group and the shortening of the list of injuries is giving us belief and hope and optimism before the games."
What do you make of the game against Crystal Palace on Saturday and how much would you love to repeat the 3-1 victory you had at Selhurst Park last season?
SB: "Palace didn't start well in the first three games and got one point. In the last four games they got 10 points.
"Benteke gelled straight away and they probably didn't want the break as they were playing good.
"We went there last season at this stage and we played very well and we won the game 3-1 so hopefully we are going to do the same, although we are expecting a very difficult game."
Finally, you will be facing James Tomkins for the first time since he left the Club during the summer. Do you have any regrets over your decision to let him leave?
SB: "I tried to explain the situation with James. I didn't want him to leave or go but last year he played many, many games for us in different positions and he was very good for our squad.
"But I couldn't guarantee he would play week in week out and that is the reason he left. He didn't want to leave because he is West Ham born and bred.
"He wanted guarantees basically and I couldn't give him that."