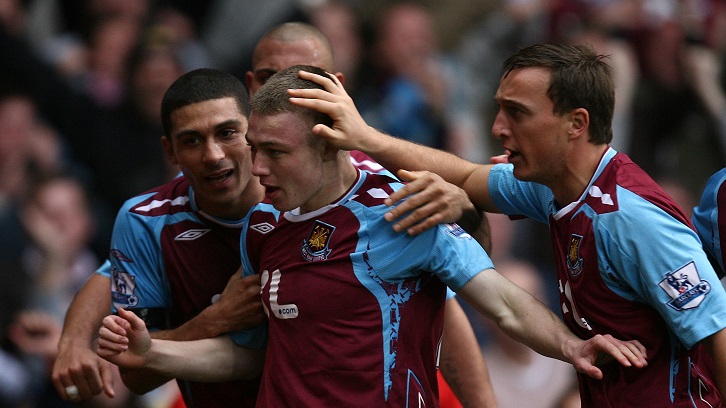 Lifelong Hammer Freddie Sears came through the Academy of Football before scoring on his debut against Blackburn Rovers as an 18-year-old in March 2008.

After 58 first-team appearances, Sears joined Colchester United and is now a regular starter for Championship club Ipswich Town.

Hello everyone,

I'm a lifelong West Ham fan and I'm hoping to get down to see another game at our new home soon.

I came to the Astra game in the Europa League and I like the new Stadium. I went down there with five or six mates and it was like a trip to Wembley.

It was the first time most of us had seen the Stadium and it is lovely. The move is brilliant for the Club going forward and now it's about getting the results and making people happy.

It was a European night and there weren't many away fans, so the atmosphere was a bit different from a big Premier League game, when I'm sure it will be rocking.

Everyone knows Upton Park was a special place and it's going to take a while for people to get over it, but hopefully we've got some good times coming, we'll push up the league and everyone will forget about everything else.

Upton Park was a special place, and I'm sure the London Stadium can be special as well.

I left West Ham in 2012 and joined Colchester, where they gave me the chance to play regularly and get my career on an upward curve again.

I did quite well there and luckily enough Ipswich Town came in for me, a good Championship team, in January last year and I'm really enjoying it here.

I've only missed three or four games out of 70-odd since I joined, so I've been playing regularly and it's nice to feel important. When you're in a team and know you're going to play, it gives you confidence, so it's been good.

The Championship is a tough league. You can win or lose every week, and you seem to spend the whole season five points from the Play-Offs and five points off relegation.

There are some massive clubs in there, it's like a mini Premier League, and some of them can't get anywhere near the promotion places.

I have been playing on the left wing this season, but I still see myself as a centre forward, as I was when I came through the ranks at West Ham. In football nowadays, teams prefer to play one up front, so you don't see two strikers playing together too often.
Upton Park was a special place, and I'm sure the London Stadium can be special as well
Freddie Sears
 Talking of West Ham, I can't look back on my time playing for my Club as anything other than a good time.

I can't believe it is eight-and-a-half years since my debut, when I was lucky enough to come on and score against Blackburn.

I still remember it. I had been travelling around for ages with the first-team squad alongside Jack Collison and James Tomkins waiting for a chance to play. We were all in the same position, really.

I was on the bench for the team I supported and it was crazy. The manager told me to warm-up and I was going on and I came on with about 15 minutes to go. I remember I came on and made a tackle, which was probably the only tackle I've made in my life!

The game is pretty much a blur, but I remember Dean Ashton back-heeled it and my shot was saved by Brad Friedel and followed up to score the rebound.

I have watched it back and it's something nobody can ever take away from me – I've scored in the Premier League for West Ham and it's a brilliant feeling.

West Ham is my team, so theirs is the first result I look for after our game. It's been nearly five years since I left and there are only really Mark Noble and Winston Reid left of the players I knew.

Tonks was also there until recently and West Ham will come up against him at Crystal Palace on Saturday. They paid good money for him and we all know what a good defender Tonks is, and Alan Pardew has taken him and he's fitted in straight away.

I had my first loan spell from West Ham at Palace and it was great. It was a real eye-opener to proper football, playing there under Neil Warnock, but what I'll always be remembered for there was my 'ghost' goal against Bristol City, which hit the net and the advertising board and bounced out and wasn't given!

It's a good club and it's good to see them doing well, and it's going to be a tough game for West Ham, but they need a result. I'm going to sit on the fence and say it will be a draw!

Freddie

The opinions and views expressed in his article are not necessarily shared by West Ham United.