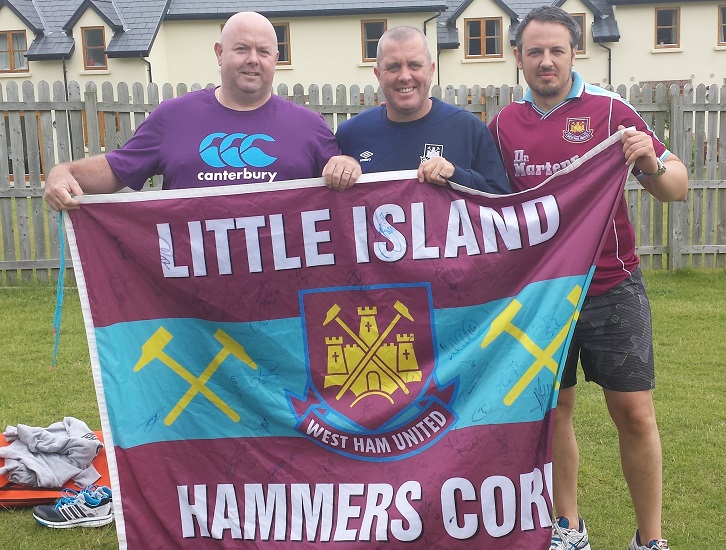 West Ham United have had close links with the South West of Ireland for more than 80 years.
The 1930s saw hundreds of men move from County Cork to work at the Ford factory in Dagenham, where they manufactured tractors.
The 1940s and 1950s saw a steady stream of players swap the Rebel County for east London, including Republic of Ireland captain Noel Cantwell and wing half Frank O'Farrell.
Those links have held firm in the intervening period, as was clear by the warm welcome the Hammers received on pre-season visits to Cork in the summers of 2013 and 2015.
Many of those supporters who turned out to meet their heroes were members of the region's various supporters' clubs, one of which is the thriving Little Island Hammers.
The group is run by pharmaceuticals process operator Ivan Murphy, whose love for all things Claret and Blue started when he moved to Upton Park at the age of 17 nearly three decades ago.
"I started following West Ham in 1987 when I used to live in Plashet Grove for seven years," he began. "The Duke of Edinburgh was my watering hole, along with the Old Green Man on the corner of Katherine Road, but both pubs have gone now.
"My girlfriend back then, now my wife, got homesick and wanted to move back to Cork, so I did the decent thing and took her home, mind you it had to be during pre-season!
"My first game was Norwich in 1987, we won 2-0 and that was it – I was addicted. I purchased a Season Ticket in the old North Bank a few weeks later and since then it's been nearly 30 years of torture!"
I purchased a Season Ticket in the old North Bank a few weeks later and since then it's been nearly 30 years of torture!
Little Island Hammers' Ivan Murphy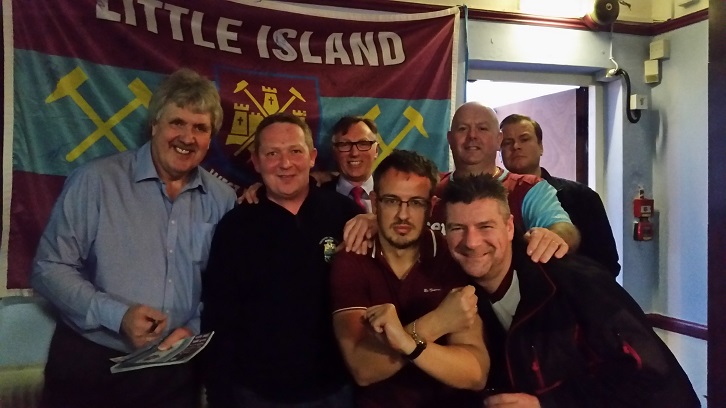 Murphy became good friends with his fellow fans and remains part of a 30-strong group who regularly meet up to socialise on matchdays, having swapped the Duke for a new watering hole near the London Stadium.
Having moved home in 1994, he became a member of the Cork Hammers Supporters' Club and joined the group on many trips over to the Boleyn Ground over the next few years.
However, a move to the Cork city suburb of Little Island (it is actually no longer an island, as the channel separating it from the mainland has filled over) tempted Murphy to form his own supporters' club, fittingly named Little Island Hammers.
"I and a few of my good mates started doing our own thing, so I ordered our flag from England with 'LITTLE ISLAND HAMMERS CORK' stitched onto it, just to be different," he continued. "That was 15 years ago now and we now have 14 of us in the group.
"We meet every week in my house two watch the matches on TV as I have a room that has turned in to a West Ham shrine over the years with posters, jerseys and tickets on the walls – my two daughters did all the work and it's great to have an understanding West Ham wife, to be fair!"
While a good number of Cork-based fans fly from the city's airport to London on matchday mornings, Murphy is one of many who remain in Ireland and watch matches on television.
He confirmed that the links forged by the Ford Motor Company and players such as Cantwell and O'Farrell have endured.
"The support for the Club here in Cork is fairly decent, to be honest," he said. "We have lots of fans who don't travel but love the Hammers. There must be a few hundred around in Cork, I reckon."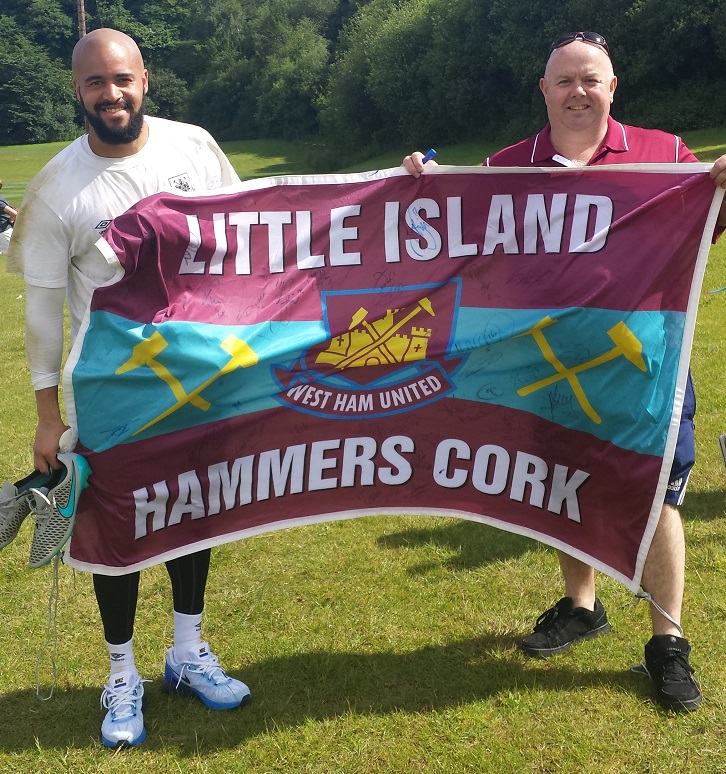 One of Murphy's favourite moments came in 2013, when Sam Allardyce took his squad to Fota Island Resort on neighbouring Great Island for a pre-season training camp, before facing local League of Ireland Premier Division side Cork City.

The Hammers won 6-2 on a balmy afternoon at Turners Cross, where Murphy and the Little Island Hammers were out in force.

"When we played Cork City, there were comfortably 4,000 fans in the ground, with a few hundred coming over from England," he recalled.

"The training camp was in Fota Island Resort just three miles from my house – what a bonus! My mates and I watched them train every day on both trips to Cork, met the players, chatted with them, had pictures taken and they all signed our flag, which was great.

"I got interviewed by West Ham TV during the Big Sam trip, got some nice pictures and chatted with Slaven last year and put a lot of my photos on KUMB, including one revealing our new backroom staff!"

One member of the squad proved particularly popular during West Ham's second visit to Cork – Ireland's international goalkeeper Darren Randolph.

The No13's presence at the Club has seen the Hammers' popularity grow even larger, according to Murphy.

"I am nearly always wearing a West Ham top and a lot of kids now say to me 'Darren Randolph plays for ye!' so it can only be a good thing," he said. "It's nice to see an Irish name playing for West Ham, as it helps fans to support us rather than Manchester United or Liverpool!"
I am nearly always wearing a West Ham top and a lot of kids now say to me 'Darren Randolph plays for ye!' so it can only be a good thing
Ivan Murphy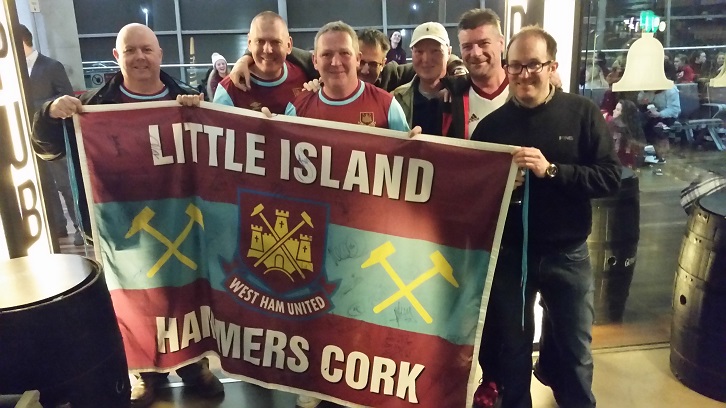 The Little Island Hammers were regular visitors to the Boleyn Ground and were also present at Wembley to see their heroes promoted back to the Premier League in 2012.
"We travel to seven home games every year and one away game as well," he confirmed. "I've got loads of great memories, starting with the Final Game at the Boleyn against Man United, when I cried.
"I also remember Chelsea at home a few years back when we went one down and won 3-1, getting promotion against Wolves at home, beating Blackpool at Wembley, the atmosphere against Ipswich in the Play-Offs…
"I can remember going on an away trip to Oldham and sitting alongside Alvin Martin and Adrian Whitbread, who were injured, while I had the honour of meeting Tony Cottee at Coventry after one game."
Like so many Hammers, Murphy names Paolo Di Canio and Julian Dicks as his favourite players of all-time, and recalls meeting his hero in Cork last summer.
"I had the great honour of meeting Julian in Cork and chatting with him and got some nice pictures of us – what a nice guy!" he recalled.
"Of the present squad, Dimitri Payet is class and Mark Noble knows what it's like to be one of us, being a fan, and he's a true legend in my eyes. I've got a photo of me, my daughter and Nobes taken at Fota Island on our hallway at home for everyone to see!"
Despite the challenge of travelling from Ireland for home matches, Murphy and his fellow Little Island Hammers have become Founders at London Stadium and have already been over for the home games with AFC Bournemouth and Middlesbrough.
"We will be over again for the Stoke and Hull City games before Christmas and, long-term, we had to move to the new Stadium to keep up with the so-called big clubs," he observed.
"At the moment every time we visit it's like a day out, but that feeling will change with time. I would love to see the Club rise slowly and I think David Sullivan and David Gold are doing a good job.
"Off the pitch it can only get better surely as we have the Stadium to attract sponsors, new fans and big players."
While Murphy is looking forward to his next trip to east London, he concluded by extending an invite to any Hammers heading to Cork to join the Little Island Hammers for a drink.
"If anybody is on holidays or over for a weekend and wanted to meet up, we would be delighted to accommodate them with meeting up for a match here in Cork!" he confirmed. "Likewise, if fans want advice on how to get the best accommodation or where to go out, they can contact me on email at 
[email protected]
."